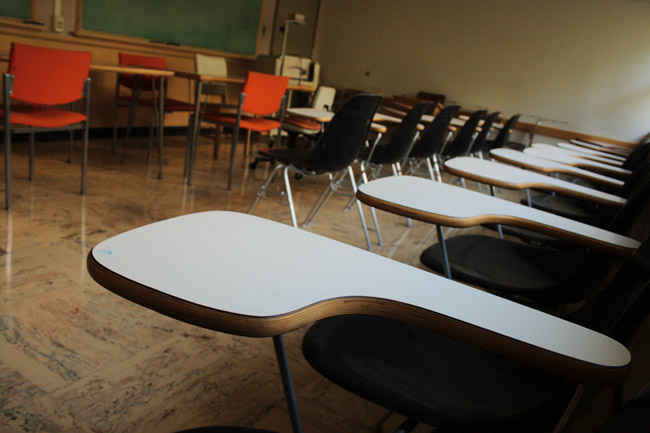 The state's largest teachers union is pushing for lawmakers and Gov. Rick Scott to delay a new system of teacher evaluations, saying the formula for measuring teachers' performance is flawed and could wreak havoc on their careers.
In some ways, the fight is a continuation of a long-running battle between the Florida Education Association and state officials over whether and how to pay teachers for their performance. The union has repeatedly stressed that it is not opposed to accountability — but that the systems that the state has designed so far are flawed or unworkable.
At a press conference Tuesday morning, shortly before the Legislature convened for its organizational session, a parade of teachers talked about how they feel the "value-added model" — which relies on test scores to help measure a teacher's impact on students — doesn't represent their work.
Several teachers talked about being evaluated based on test scores for students who aren't even in their classroom – for example, third-graders do not take the FCAT, so third grade teacher Margaret Goodwin was rated based on the scores of other students at the school – and not on the work of the kids she actually teaches.
"The reality is that the value-added model has nothing at all … to do with my proficiency as a teacher," said Goodwin, who teaches at St. Petersburg's Westgate Elementary and was ranked "needs improvement."
FEA President Andy Ford said the new system "is not ready for prime time" and that Scott or lawmakers should pause the system until it can be overhauled. Under a state law approved by the Legislature in 2011, teachers could see their pay and ability to keep their job affected by the numbers within three years.
"Florida would rather be first than get it right, and it's affecting real people's lives at this point," Ford said.
Ford had already raised the issue with Scott through letters; in response, the governor and interim Education Commissioner Pam Stewart indicated they would move forward.
Lawmakers also said Tuesday they weren't inclined to stop the system.
"I'm shocked, shocked that a union doesn't want to have their members evaluated on the basis of performance," newly-elected Senate President Don Gaetz, R-Niceville, said sarcastically when asked about the complaints.
Some opened the door to considering a change to the value-added model, but still ruled out pushing back the start date of the evaluations.
"When you pause, you're moving backwards," said Sen. David Simmons, R-Maitland, who chaired the Senate education budget panel last year. " … We want to hear what they have to say but there will be no pausing."
And new House Speaker Will Weatherford, R-Wesley Chapel, also sounded open to considering changes. But he said the specifics of the issue would be dealt with by House committees that handle education issues, which will be appointed soon.
"We're going to make sure we have accountability and measurement in our education system, but what we're also going to do is make sure that the accountability and the measurement forms that are there are fair," Weatherford said. "And so if they're not fair, we should look at that."
–Jim Saunders, News Service of Florida