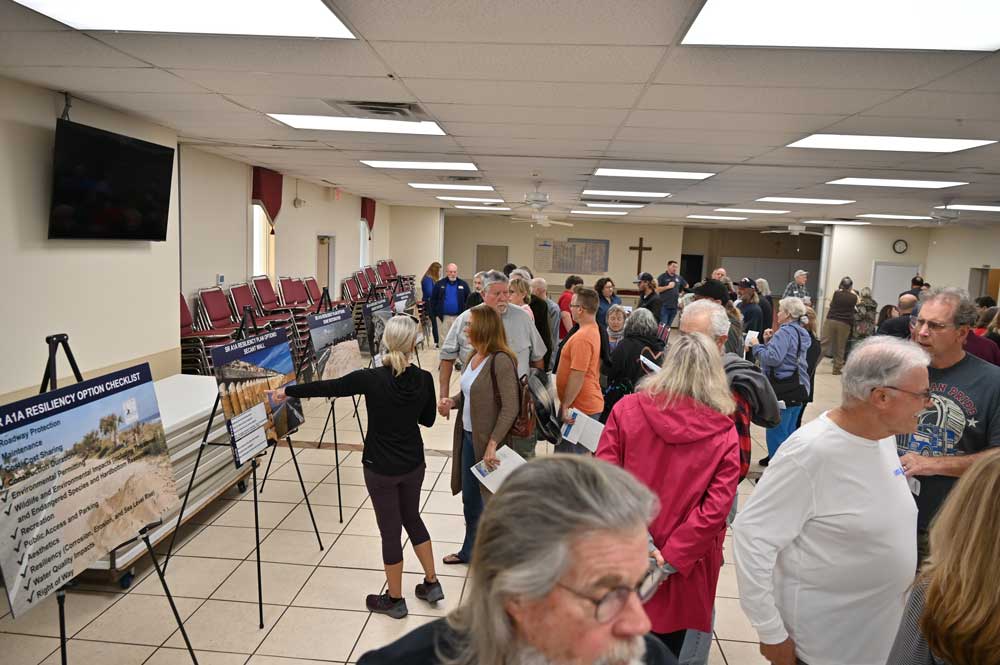 Some 150 people, including numerous Flagler Beach and county officials, turned out for the state Department of Transportation's "listening sessions" Tuesday evening at a church's hall in Flagler Beach, on options to make State Road A1A more resistant to recurring storms.
The storms are shredding the road and eroding beaches with increasing frequency and ferocity as sea levels continue to rise and protective measures, like a beach-renourishment project in its fourth year of delays in Flagler Beach, continue to languish.
The "listening session" was organized by the Florida Department of Transportation. Department officials said Tuesday evening they will be issuing a plan ahead of the Legislature's session in March to enact more durable methods protective of the scenic road, assuming it can secure funding from lawmakers. The plan will be based on the options presented Tuesday, and will likely be a combination of those options, depending on the location in question.
The department is looking to reinforce A1A from Osprey Drive at the north end of Flagler Beach down to Roberta Road in Volusia County, a distance of 13 miles–less, when the secant wall the department built in Flagler Beach, and a 2.6-mile U.S. Army Corps of Engineers project to renourish the beach south of the pier, are subtracted. Cost estimates were not on display.
The listening session, the second in two weeks–another was held in Volusia County, dring just over 100 people–was intended to give residents an opportunity to examine the four options on offer, ask questions and give feedback, verbally or in writing. Dozens of written comments are being compiled into a spreadsheet that DOT officials say should be made publicly available likely later this week.




"If they don't do something, they're going to lose A1A and the benefit to tourism in this area," said Brian Walsh, who owns property along A1A and has seen dune erosion grind at the sands in front of his beachside house rapidly in the last few years.
Those who turned up did not see or hear anything they had not seen or heard before, at least regarding the options.
The transportation department is proposing four options:
The options were presented as the synthesis of the work of a so-called "resiliency strike team" that has been meeting weekly since Hurricane Nicole shredded A1A. The team consist of representatives from the transportation department, Flagler Beach, Volusia County and Flagler County governments. (See all DOT links relevant to the proposals here and here.)
When John Tyler, the transportation department's district director, originally described it at a Flagler Beach city commission meeting, the team was to include the Department of Environmental Protection and the U.S. Army Corps of Engineers. Those agencies' logos did not appear alongside those making up the "strike team" on a handouts issued Wednesday evening.
While the strike team has been portrayed as a joint effort, it was clear, at Santa Maria del Mar's Parrish Hall, where the listening session was held, who was leading the charge: it was transportation department personnel, and transportation department personnel only, that rimmed the long tables with the elongated maps of the seashore on display, answering residents' questions, taking their comments, handing out literature. Flagler Beach, county, Army Corps and other officials were certainly there, but they were mingled with the crowd within the rim, and might as well have been asking questions and seeking answers just like residents were. There is no question, in other words, that the plan to be issued by March will be a DOT product.




Not surprisingly, local officials like Flagler Beach City Commissioner Jane Mealy, whose nearing two-decade tenure on the commission witnessed many a shredding of the beach and A1A, took this latest projection by DOT of a joint effort with a grain of salt.
"How would these agencies be working together? Are they really working together? I don't really know," Mealy said. "FDOT's main thing is to save the road. Of course I want to save the road. But I also want to save the dunes and the beach. So I'm getting all these mixed messages today when I got here. And then I talked to Secretary Tyler. And he said–I confirmed with him–he said the Army Corps will still do their project for 2.6 miles, and these other options will be in the remaining 10. That's what he said to me. And I'm good with that. I'm not in love with sea walls. I think that secant wall that's up on 18th Street, it's ugly as sin. I want to go the beach and look at that?" But in limited stretches, and in combination with other options, that's what Mealy says she'd be good with.
The Army Corps project is the now 20-some year promise of renourishing the beach, or rebuilding the dunes, from South 6th to South 28th Street in Flagler Beach. The project was funded in 2018, but it's been awaiting Flagler County's securing of all easements from property owners along the way, to permit the Corps to do its work. It was to dredge 500,000 cubic yards of sand from a borrow pit offshore to rebuild broad dunes along the 2.6-mile stretch. The Corps would not do so if DOT were to build a seawall there, since the justification for renourishment–to protect property behind the dunes–would be pre-empted by the wall.
Jason Harrah, the Corps' project manager all along, confirmed again Wednesday: if there's a wall, there's no Army Corps project. He said Rep. Mike Waltz, who represents this area, could always introduce a bill that could have Congress directing the Corps to renourish the beach in addition to a wall. But don;t hold your breath: "I haven't seen it in my tenure in the Corps for 20 years," Harrah said. "But stranger things have happened."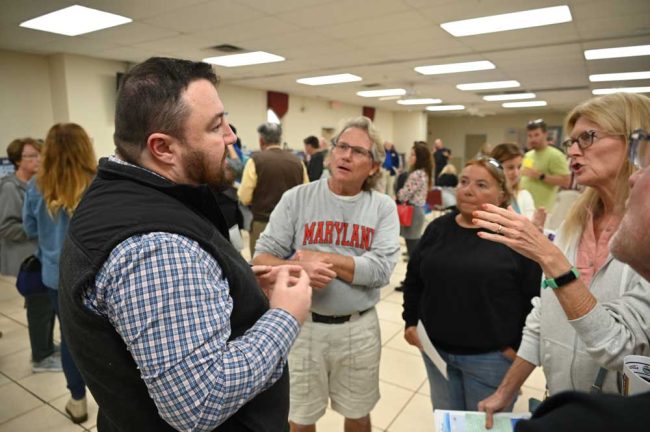 There was this contradiction Wednesday evening, too: DOT's options present beach renourishment as more expensive than walls. Harrah said that's not the Corps' view. "The dune and beach renourishment came to the top because it provided the most benefit for an average cost," he said. "Seawalls were certainly looked at. For us they were screened out because of the large expense of a sea well, and they were not as environmentally friendly as a dune or beach renourishment program." For one, sea walls accelerate the erosion of a beach, Harrah said.




DOT officials said their secant walls would not be duneless. To the contrary. Broad sand dunes are an integral part of the seawall approach, with sand burying the wall, as it once did all along the wall in north Flagler Beach. But all that sand was eroded in the storms and high tides since 2019, and was not replaced. It still hasn't been replaced. That raises the concern that while sea walls could be built with the promise of sand dunes on top, the commitment to keep renourishing those sand dunes has not been clear–certainly not as clear as the Army Corps' commitment to keep renourishing the beaches under its jurisdiction.
The burial of the seawall at the north end of Flagler Beach and the rock revetments at the south end are examples of how DOT doesn't necessarily confine the scope its work only to its right of way, which is rather narrow. "Because there's some areas where the dune goes outside of our right away and revetment goes outside of our right away, they have historically maintained for a long time," a DOT official said Tuesday.
But funding for such projects is not as systematic as a federalized beach's renourishments, which follow a pattern: those beaches get renourished every so many years, with costs shared between the federal government and the locality. When the sands erode even before their time, the beach gets renourished ahead of time. If the beach were to be wiped clean by a storm–as was the case in a federalized beach in St. Johns County–the renourishment is carried pout at the federal government's full expense.




While resistance to sea walls has diminished since 2016, when Flagler Beach was adamantly against them, skepticism about DOT's plans remains, even as the agency's options were welcomed. "It's long overdue and it cannot be something that supports only one entity of the government," Harry Cepura said. "They've got to look to the people and to the beach, not just the road, and that's what they're looking at, just the road."
The transportation department is emphasizing "resiliency," meaning the sort of plan that would end the cycle of storm-destruction-reparation that has defined A1A's fate over the years. "Resiliency" is now a term favored in all state and local agencies in the state, but it's as much an assertion of resolve to rebuild in place as it is a mask for what the state is not doing: Florida remains a laggard, if not an opponent of, climate-change policy at a more comprehensive level: the state is enacting policies that allow property owners to rebuild stronger homes, and shoveling money at projects to strengthen beaches, but it is doing nothing to address its role in contributing the greenhouse gases that are melting glaciers and pushing sea levels against the Florida coast.
At least this time, the transportation department did not propose transporting A1A further inland, as it briefly had in the wake of Hurricane Matthew in 2016, before that storm's fury was overwhelmed by that of Flagler Beach residents.
Reader Interactions