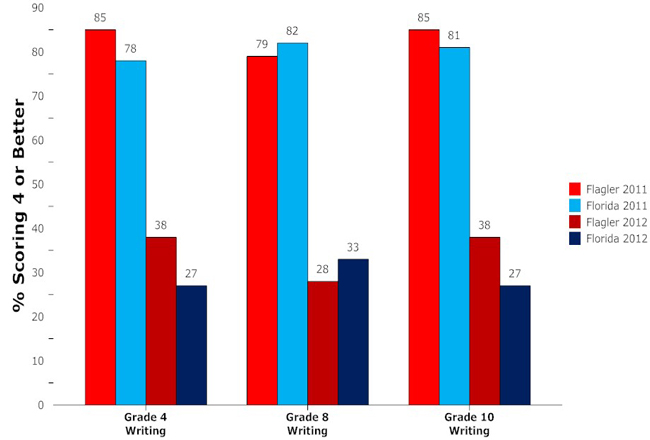 It's an old tactic PR specialists learn their first day of school: when your organization has no choice but to release bad news, do it on a Friday, and as late as possible. Fewer people are paying attention, and the Saturday papers are the week's thinnest and least read. The Florida Department of Education flubbed its 2012 FCAT planning dismally–failing, by its officials' own admissions, of preparing teachers and students for new standards the department was imposing on writing tests. But the department remembered its basic PR lesson well today, finally releasing district0-by-district and school-by-school writing scores for 4th, 8th and 10th grade.
The statewide scores were released earlier this week, showing a precipitous drop across the board, now that a passing in 4th grade grade is no longer a 3, but a 4, on a scale of 6. Even that 4 is scored differently: to earn it, the student must comply with stricter rules of syntax, punctuation, capitalization and so on. Those passing went from 81 percent last year to 27 percent this year. The collapse was almost as steep for 8th and 10th graders.
Flagler County schools' numbers are not brighter. When comparing the proportion of students who scored a 4 last year to those who scored a 4 this year, Flagler County's 4th graders went from 85 percent to 38 percent. One bright note: it's still better than the state average of 27 percent.
But 8th graders did worse, going from 79 percent to 28 percent, five points below the 33 percent state average.
For 10th graders, the mean score across the district fell from 85 percent to 38 percent, 11 points above the state average.
The grades would normally be calculated into school grades. In an emergency meeting this week, the state Board of Education decided to lower the "passing" grade back down to 3–but only in so far as school-wide grades are concerned. For individual students, the so-called "cut score," or passing grade, is still a 4. And it still leaves teachers and principals with the task of dealing with students' dashed expectations. Beyond the confusion created by this year's jagged and uneven standards (a 4 is required to pass writing, but a 3 still passed reading and math), the state's mishandling of the year's testing puts in question the validity and credibility of the scores in many educators' eyes, especially when the scores are laid out side by side, year over year.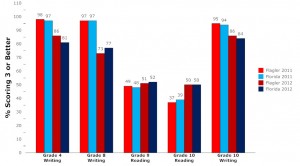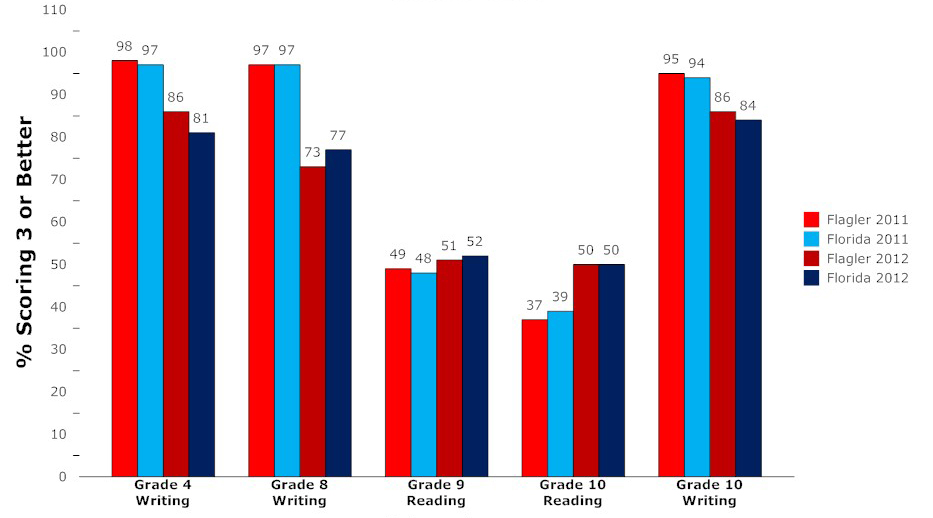 The district did better when comparing this year's achievement level 3 to last year.s See the chart to the right. On the other hand, in reading scores for 9th and 10th graders, which were also released (and where the passing grade remains 3), the district 10th graders only matched the state average, with 50 percent passing, while 9th graders were one point below the state average, with 51 percent passing.
State and local school board scrambled all week in preparation for today's release in efforts to manager the news, putting as good a face on the numbers as they could muster.
"The majority of Flagler County Public Schools scored above the state average," read a news release from Flagler schools. The stand-out was Wadsworth Elementary, where fully 62 percent of 4th graders managed to get a 4 or better, by far the highest proportion of any school at any level in the county (compared to 89 percent last year, under the old standard). The next-closest school at the elementary level was Rymfire, with 40 percent getting a 4 or better. Belle Terre Elementary, always a high-scorer in FCAT in the last few years, had 39 percent of its 4th graders scoring a 4.
"We are proud of how our schools performed and are currently making plans to implement a writing across the curriculum initiative for all grade levels and all subjects to ensure that we are adequately prepared for next year when the state reverts back to the standard of proficiency of 4 and above for writing", said Superintendent Janet Valentine in the release (which had syntax and punctuation issues of its own, and a misuse of the word contributed, where the word attributed, was the correct usage).
"We do believe that the change in scoring guidelines was a significant contributor to the overall change in the data. However, we also believe that our overall district results indicate that Flagler County students were better prepared for these changes than other students throughout the state," Assessment Coordinator Shawn Schmidli said.
Old Kings Elementary School scored significantly lower, with just 26 percent of its 4th graders managing a 4 (compared to the district average of 38, and the state average of 27). The school is analyzing its data "to identify strengths and weaknesses," the district said in its release. "They will then utilize this data to plan for professional development focused on the identified areas weaknesses (sic.)."
"We are asking more from our students and teachers than we ever have, and I am proud of their hard work," Education Commissioner Gerard Robinson said, though he provided little by means of analysis regarding the new numbers. "Florida's higher standards help ensure students are learning what they are expected to know so that they are prepared for college, career, and life. As Florida transitions to higher standards and higher expectations, we can expect our assessment results to reflect those changes."