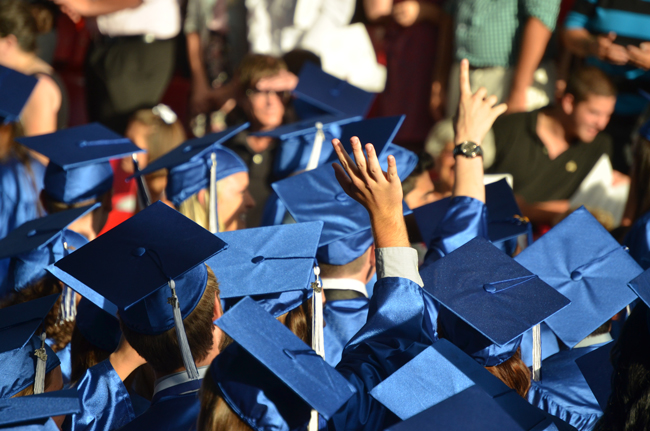 School's out, but FCAT scores, bane and bounty of students, teachers and administrators–depending on where the scores' stresses fall, keep coming. Friday, the Florida Department of Education released reading, math and science scores for most FCAT-eligible grades. That follows the release two weeks ago of writing scores for three grades, and reading and math scores for grade three.
As with that release, which gave Flagler County Schools quite a few totals to celebrate, today's release has its many bright spots. It also has a few worrisome spots.
In the brightest categories, Flagler County sixth graders' ranking statewide improved in reading from 11th to 3rd best. Fifth graders improved in reading from 11th to 6th best. And 8th graders improved from 17th to 10th best. (That's out of 67 county school districts.)
That sixth grade class appears to be strong in math, too: it improved from 14th last year to 7th in the state. Keep in mind that the comparisons are between last year's 6th graders, who are now in 7th grade, and this year's sixth graders. Those seventh graders, who were ranked 5th in math last year, dropped to a ranking of 21 this year, one of the steepest drops of any grade in any discipline.
Also in math, fourth graders improved from 27th to 18th, and 8th graders improved from 28th to 11th.
In the science FCAT, traditionally a weak spot for Flagler County students, there were marked improvements this year, with 5th graders improving from a state ranking of 36 to a ranking of 28, right about the midpoint, and 8th graders improving from a ranking of 43 to a ranking of 28.
"I applaud teachers and school leaders for their focus on increasing student academic performance," Commissioner Pam Stewart said in a Department of Education press release focused on Central Florida counties, including Flagler. (The department has taken the more aggressive marketing track of writing individualized press releases by region, hoping to spin media stories more favorably, hoping that the local press across the state cuts and pastes the lines). "As we transition to new standards and assessments next year, I am confident students will continue to succeed."
But there were set-backs, too, in reading especially: 4th, 7th, 9th and 10th graders all lost ground, at least in terms of rankings, with 9th graders falling the steepest, from an already middling 24th ranking last year to 37th this year. Tenth graders went from 26 to 32 (again, out of 67 districts), while 4th graders went from 11th to 17th. Seventh graders also dropped, but by just one ranking, to a still very respectable 11th.
In math, only 7th graders fell back, quite steeply too, from 5th last year to 21st this year.
Overall, and counting the score releases from two weeks ago, students improved their rankings in 12 categories while dropping back in seven.
Point for point (rather than rankings), improvements outpaced declines for most students in the state, the education department said.
Next year, the department cautions, a new assessment based on the Florida Standards will replace the FCAT 2.0. The Florida Standards for mathematics and English language arts stress a broader approach for student learning, including an increased emphasis on analytical thinking. With the new and more rigorous standards, a new assessment was needed to measure student progress.

Shawn Schmidli, the Flagler County School District's assessment coordinator, compiled the following highlights from today's and May's scores, as he transmitted them in an email to Superintendent Jacob Oliva:
State Rankings
·          Flagler County is in the top 17 in FCAT Reading in grades 3-8
·         Grades 3, 5, 6, and 8 for FCAT Reading are all in the top 10
·         Grade 5 Reading was ranked 6th in the state
·         Grade 6 Reading was ranked 3rd in the state
·         Grade 3 FCAT Math improved from 31st to 19th
·         Grade 4 FCAT Math improved from 27th to 18th
·         Grade 6 Math improved from 14th to 7th
·         Grade 8 Math improved from 28th to 11th
·         Grade 5 Science improved from 36th to 28th
·         Grade 8 Science improved from 43rd to 28th
Longitudinal Improvements
FCAT Reading
·          BES improved Grade 4 FCAT Reading by 7% year-over-year
·         WES improved Grade 4 FCAT Reading by 3% year-over-year
·         WES improved in Grade 5 FCAT Reading by 7% year-over-year
·         BTES improved in Grade 5 FCAT Reading by 3% year-over-year
·         RES and BES both improved in Grade 5 Reading by 2% year-over-year
·         Flagler County improved Grade 5 FCAT Reading by 3% year-over-year (vs. State improvement of 1% year-over-year)
·         BES improved Grade 6 FCAT Reading by 8% year-over-year
·         OKES improved Grade 6 FCAT Reading by 9% year-over-year
·         RES improved Grade 6 FCAT Reading by 7% year-over-year
·         ISTC improved Grade 6 FCAT Reading by 6% year-over-year
·         WES improved Grade 6 FCAT Reading by 3% year-over-year
·         Flagler County improved Grade 6 FCAT Reading by 6% year-over-year (vs. State improvement of 1% year-over-year)
·         BTMS improved Grade 7 FCAT Reading by 1% year-over-year
·         ITMS improved Grade 8 FCAT Reading by 4% year-over-year
·         ISTC improved Grade 8 FCAT Reading by 11% year over year
·         BTMS improved Grade 8 FCAT Reading by 3% year-over-year
·         Flagler County improved Grade 8 FCAT Reading by 4% year-over-year (vs. State improvement of 1% year-over-year)
FCAT Math
·          BES Improved Grade 4 FCAT Math by 9% year-over-year
·         RES Improved Grade 4 FCAT Math by 16% year-over-year
·         ISTC improved Grade 4 FCAT Math by 9% year-over-year
·         OKES improved Grade 4 FCAT Math by 6% year-over-year
·         WES improved Grade 4 FCAT Math by 2% year-over-year
·         Flagler County improved Grade 4 FCAT Math by 5% year-over-year (vs. State improvement of 2% year-over-year)
·         WES Improved Grade 5 FCAT Math by 8% year-over-year
·         ISTC improved Grade 5 FCAT Math by 8% year-over-year
·         OKES improved Grade 5 FCAT Math by 4% year-over-year
·         BTES improved Grade 5 FCAT Math by 3% year-over-year
·         BES improved Grade 6 FCAT Math by 21% year-over-year!
·         OKES improved Grade 6 FCAT Math by 11% year-over-year
·         RES improved Grade 6 FCAT Math by 7% year-over-year
·         ISTC improved Grade 6 FCAT Math by 7% year-over-year
·         WES improved Grade 6 FCAT Math by 3% year-over-year
·         Flagler County improved Grade 6 FCAT Math by 5% year-over-year (vs. State improvement of 1% year-over-year)
·         ITMS improved Grade 8 FCAT Math by 6% year-over-year
·         BTMS improved Grade 8 FCAT Math by 3% year-over-year
·         Flagler County improved Grade 8 FCAT Math by 5% year-over-year (vs. State DECLINE of 4% year-over-year)
FCAT Science
·          Flagler County improved its proficiency in Grade 5 FCAT Science by 15% over a 2 year time frame (state is only up 3% over that same time frame)
·         Flagler County improved its proficiency in Grade 5 FCAT Science by 5% year-over-year (state is only up 1% this year)
·         BTES improved Grade 5 FCAT Science proficiency by 11% year-over-year
·         WES improved Grade 5 FCAT Science proficiency by 14% year-over-year
·         RES improved Grade 5 FCAT Science proficiency by 7% year-over-year
·         OKES improved Grade 5 FCAT Science proficiency by 3% year-over-year
·         Flagler County improved its proficiency in Grade 8 FCAT Science by 6% over a 2 year time frame (state is only up 3% over the same 2 year time frame)
·         Flagler County improved its proficiency in Grade 8 FCAT Science by 5% year-over-year (State is up 2% year-over-year)
·         ITMS improved its Grade 8 FCAT Science proficiency by 8% year-over-year
·         ISTC improved its Grade 8 FCAT Science proficiency by 2% year-over-year
·         BTMS improved its Grade 8 FCAT Science proficiency by 3% year-over-year