Farting.
Dealing drugs.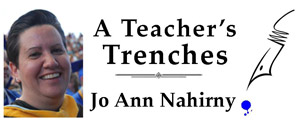 Not exactly politically correct topics for polite dinner table conversation. But to two Flagler County teens, these activities seemed like fodder for essays they were recently assigned to write in their respective English classes.
Last month, I asked the 75 students in my three Advanced Placement English Language & Composition periods to write a process analysis piece–essentially, an essay which explains how to do something or how something works. Among the many compositions I received included essays about banal subjects such as how to look smart, how to apply make-up, how to dump your roommate, how to throw a curveball, how to make lasagna, how to set up a Facebook account and how to procrastinate.
Hu-hum. Yawn.
On Farting
---
"You can't choose when the urge strikes. Remove your home setting and replace with vulnerability. This devil in a gaseous state doesn't play fair, nor worry about potential embarrassment. It has a job to do. A low grumble echoes within your body cavity. That quick stop for fast food or that cabbage loaded coleslaw sneaks back up on you. Gas bubbles build. However, all the cheek squeezing in the world can't hold back the inevitable. You will have to pay for those extra black beans in that burrito. But why not embrace this passing of gas? Through perfect positioning, you can escape awkward, pathetic toots here and there and release all of that built up gas at once. Don't deny what lies inside. Feel better, stand straighter, and move on with your day."--From Madi Beckman's essay on farting. Read the full experience.
Then I read Madi's essay. Madi wrote to explain how to fart. I mean like how to really let it rip. I laughed my head off  – and awarded her a grade of 100. She wasn't the only one to merit an A.  A handful of others did too.  Madi earned that score not just because she displayed a nearly impeccable mastery of every writing technique I'd tried to inculcate in my students so far this year, but also because of the essay's pure entertainment value-–and her nerve. You've got to have guts to submit an essay about flatulence. I'd been encouraging students to think outside the box, so how could I not reward her creativity?
"That quick stop for fast food or that cabbage loaded coleslaw sneaks back up on you. Gas bubbles build…you will have to pay for those black beans in that burrito. But why not embrace this passing of gas?," she wrote. "Through perfect positioning, you can escape awkward, pathetic toots here and there and release all of that built up gas. Don't deny what lies inside…play the butt trumpet."
I hadn't had so much fun reading an essay since Dylan's narrative last year about the Chicken McNugget challenge previously published on Flagler Live.
While my 11th-graders were writing and editing process analysis essays, my 10th-graders had yet another wonderful "opportunity" to polish their skills for Florida's FCAT Writing test by using a costly practice program the Flagler school district yearly pays thousands of dollars for called "Write Score." Write Score purports to prepare students for the FCAT Writing test (to be administered to 4th, 8th and 10th graders on February 26) by providing teachers with practice essay prompts for students to respond to. Then the company scores the essays and provides the school with data which is supposed to pinpoint students' writing problems-–as if I (or any instructor worth her salt) need a for-profit company to point out what's already so painfully obvious from the first day my students set foot into my classroom. What kind of English teacher would I be in the first place if I couldn't diagnose my own students' writing deficiencies and devise ways to help them improve?
Sophomores found Write Score's latest prompt particularly insipid:  they had to write to explain a "good habit" which would benefit someone physically, emotionally and financially. B-O-R-I-N-G! The topic proved especially limiting because really, what could kids possibly choose? Exercise? Diet? Eat? Pray? Love? Honestly, there's not a whole lot you can expect 15- or 16-year-olds to do with a topic like that in an hour. And therein lies the main problem with both the FCAT Writing test and Write Score. Students don't write especially well about topics which don't pique their interest and can't possibly get their creative juices floating. Unless you're Dylan or Madi.
Or JW.
JW, a 10th-grader in a colleague's class, wrote about how dealing drugs could benefit someone physically, emotionally, and financially. He started off his essay with a disclaimer that he himself did not take part in this activity, but that his own observations had led him to this conclusion. He admitted it might be "taboo" or "dumb" to write about, but implored his reader to at least "listen to the possibility" that this activity could be a good habit.
As far as FCAT-style essays go, I'd have scored JW's paper a solid "5" on a scale of 1 to 6. A score of 5 indicates the student has focused on the topic, that ideas progress logically from the introduction to the conclusion, that there is ample development of supporting ideas through use of specific details and examples, and that the response generally follows the conventions of grammar, punctuation and spelling. JW's essay is included here, so you can decide for yourself.
Subject matter notwithstanding, JW's essay clearly met the criteria for a 5, and in fact, the quality of his writing surpassed that of more than 90 percent of the other 10th graders who responded to the same prompt.
But unlike the 100 Madi earned in my class, Write Score flagged JW's paper as inappropriate. The student's reward was a conference with an administrator, where he was met with the threat of a behavior referral and a phone call to his parents.  Additionally, because he plays on sports team at school, his essay was turned over to his coach who was directed to "deal with this." JW's coach shared it with me saying, "You're an English teacher. What do youthink?"
I think JW's on track to become Florida's next Carl Hiaasen or Dave Barry. That is, if frequent forced formulaic writing doesn't prematurely snuff out his creativity. Heck, I want to recruit this kid for my AP English Composition class when he's a junior next year so he can do some real writing.
I've literally prepared thousands of students to take the FCAT Writing test since the very first year the state introduced it. Yet I loathe it-–"it" referring to the test and to the act of preparing students for an absurd assessment which I know in no way measures their ability to write. As Columbia University professor William Zinsser (author of the classic On Writing Well explains, "Rewriting is the essence of writing." That is to say, the clumsily-written first drafts kids produce under duress in an hour rarely, if ever, resemble what they could ultimately produce, given the opportunity to proofread, edit, revise and rewrite–-and learn from their mistakes.
Zinsser points out  "Good writing doesn't come naturally…Writing is hard work. A clear sentence is no accident. Very few sentences come out right the first time, or even the third time." Even Pulitzer Prize and National Book Award winning writer Tracy Kidder still writes an average of 10 drafts of all his work.
In his guide, Zinsser also asserts that humor is the secret weapon of the nonfiction writer, and that it's sometimes the only tool writers can use to make an important point. "Writers of humor live with the knowledge that many of their readers don't know what they are trying to do."
The Write Score company, as student humorist JW discovered, is a perfect example of one such reader.

Jo Ann C. Nahirny, a 1985 graduate of Columbia University and a National Board Certified Teacher, teaches English at Matanzas High School in Palm Coast. Reach her by email here.