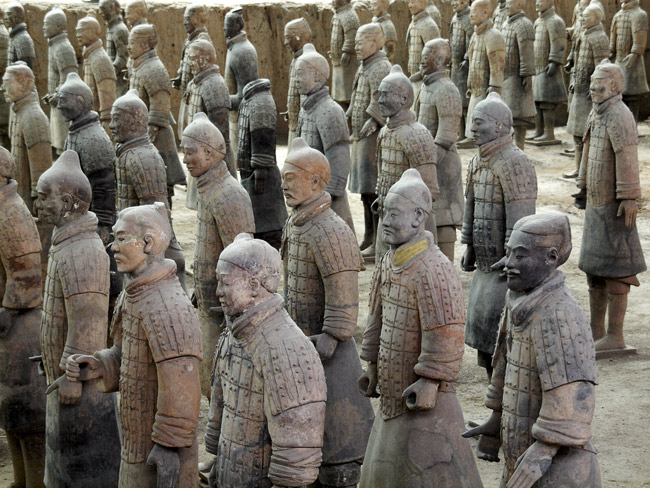 I jolt awake in a cold sweat, my heart palpitating. I sit up, confused, wondering if what just transpired was real or if I'd imagined it.
"You alright?" my husband mumbles groggily. "What's wrong?"
"Sorry I woke you. Just a nightmare," I announce sheepishly. "Go back to sleep."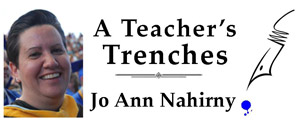 A few hours later, as we make the bed before heading to work, Mike asks, "What was your nightmare about this time?"
"Same as the night before," I reluctantly admit.
"Shut off your mind when you go to bed," Mike advises. "You're not at work 24/7. When school's over, it's over. Just switch off that busy brain of yours."
Would that it were so simple. He's right, of course, though I've never been nearly as good at drawing the home versus work line as he is, especially not at this time of year. Hence the subject of my nightmare: FCAT (the Florida Comprehensive Assessment Test, now in full season at a school near you).
This time, I'd dreamt I'd incorrectly distributed the sequentially numbered, pre-assigned materials to students. In this nightmare, I'd  also gone to the wrong room and couldn't figure out what duties I was supposed to perform  – all because I hadn't read the dozens of FCAT memos and  the 360-page FCAT testing manual I'd received before Spring Break (though in reality I'd dutifully reviewed everything I was supposed to).
If FCAT evokes such a reaction in me, imagine what it does to students.
And it's not just FCAT, because FCAT now only comprises just one small component of what's grown into a literal testing nightmare for teachers and students alike, one that's worsening with every passing school year.
For example, for the past several weeks, teachers have been deluged with emails (like the one that follows) regarding training, preparation and "the master plan" for the testing season. Yes, you read that right: testing season.  It used to be standardized tests took only a few days to administer. Now testing at the high school level takes nearly a quarter of the school year. What used to interrupt instructional class time for a couple of days now encompasses a full nine-week grading period.
"Teachers, please be aware there will be passes in your mailbox for the next six weeks. We have students who are not in regular classes and are scattered across the schedule on various days due to spacing issues. Only ninth and tenth grade FCAT reading tests are timed. All others are untimed with a broad spectrum of completion times. EOC's (end-of-course exams) actually can run anywhere from three to six hours each because they are untimed and many students will take their time checking answers.
April 9-13: FCAT retakes for some 11th and 12th graders.  Passes will be in first period teachers' mailboxes.
April 16 & 17: 9th & 10th grade FCAT reading from approximately 8 to 9:30 a.m. Students will test with regular English I and II classes followed by a shortened class schedule, while juniors will attend a presentation by Flagler Technical Institute in the auditorium and seniors will be in the cafeteria or the gym.
April 23-30: Geometry EOC exams; May 1 to 11: Biology EOC exams; May 14-18: Algebra 1 EOC exams; May 21-25: U.S. History EOC exams; May 7—18: Advanced Placement (AP)  exams. (Some students will also be on campus either Saturday, May 5 or June 2 taking the SAT.)
During testing, teachers become mere robotic proctors charged with reading page after page of scripted directions to students.  Our professional duties are debased to rearranging our normal classroom seating arrangement to ensure five feet between desks, to covering up word walls, posters or other decorations which might provide "unauthorized assistance," and to collecting and safeguarding cell phones and other electronic devices which could interrupt or compromise test security. We are forbidden from grading papers, writing  lesson plans or performing  any other tasks except monitoring for cheating or other "irregularities."
During my many years of administering standardized tests (everything from FCAT to ASVAB to the PSAT and more), my experiences have run the gamut from the humdrum to the outrageous. During FCAT a decade ago, a girl in my class vomited so violently that she hurled right into the hair of the student seated in front of her, thus inducing others to literally get sick to their stomachs as well. The worst part was trying to preserve the puked-upon tests (in plastic baggies) as evidence of what happened, to prove to state officials that we weren't lying or trying to abscond with a test.
You see, when it comes to FCAT, test booklets are more closely guarded than highly classified military secrets.  Every test must be accounted for or people can lose their teaching licenses.  And pity the poor kids who get sick during the test.  They must attempt to complete the FCAT while ill. If they feel too sick to continue, or choose to go home or to the nurse, then that's that. End of story. We're supposed to encourage them to try to finish, because they'll get no further opportunity to pick up where they left off once their stomach bug's run its course in a day or two, as such tests are typically flagged "do not score."
And it's absurd, really, because although the Florida Department of Education wants you to believe these "high stakes tests" benefit your children and ensure they're getting a high quality education, the bar for some of the newer tests is ridiculously low.  For example, on last year's Algebra 1 EOC, students could earn up to 52 possible points; each question counted as one point. Students had to answer 30 questions about  "functions, linear equations and inequalities,"  10 about "polynomials" and  12  dealing with "rationals, radicals, quadratics and discrete mathematics."   Such jargon would lead you to believe that any student who passed  must have displayed a  prodigious mastery of algebraic concepts. But in reality, the average student who took the Algebra I EOC last year earned a measly 20 points, meaning he or she got only 20 questions out of 52 (about 38 percent) correct.  It's sickening enough that the average score in Florida was only 20 out of 52. More distressing, however, is the fact that Florida deemed 20 to be a passing score. (That 20 equates to a  399 scaled score on a 325-475 scale).
The original FCAT itself is really no better at assessing student competency than the new EOCs, despite what our governor and other "champions of education" would like you to believe about these tests. For example, students who do not pass the FCAT in tenth grade get additional opportunities to pass the test to meet graduation requirements. The vast majority ultimately do pass. But for those who struggle, there are other options, such as taking a college entrance exam like the SAT or ACT and earning a score "high" enough to equate to a "passing" score on the FCAT.
I had a student in my class last year who attempted to do just that.  She scored a Level One in both FCAT reading and  math as a tenth-grader, indicating she'd demonstrated little success with the so-called "challenging" standards FCAT is supposed to assess.  She also did not pass the FCAT retake in eleventh grade. So she registered to take the SAT in lieu of FCAT.  On the SAT, she scored a 460 in Critical Reading and a 390 in Mathematics.  (Believe me, these are not scores you'd want your college-bound child to bring home!) But guess what? Those scores were high enough for her to substitute for "passing" scores on the FCAT.  That's because the Florida  DOE requires a mere 420 on SAT reading (about the 25th percentile) and just 340 on SAT math (about the 20th percentile) to deem a student "competent" enough to meet the "standards"  to graduate from high school.
That's the real nightmare.

Jo Ann C. Nahirny, a 1985 graduate of Columbia University and a National Board Certified Teacher, teaches English at Matanzas High School in Palm Coast. Reach her by email here.