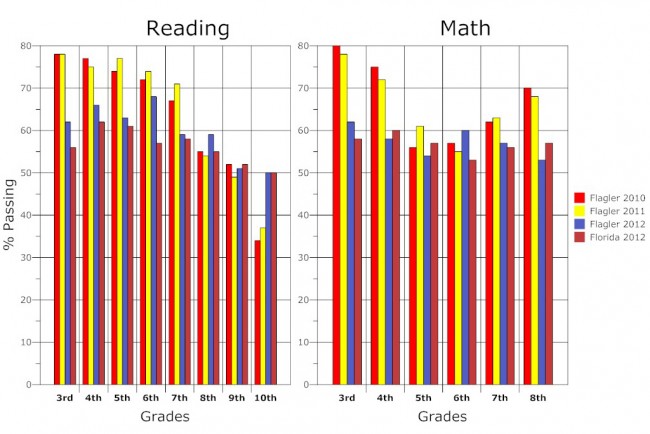 The Florida Department of Education today released reading, math and science scores for many grades, and with little news to cheer for Flagler schools.
When compared to 2011, the proportion of students scoring a proficient 3 or above in math fell for all grades (third through 8th) but the 6th, which saw an improvement from 55 percent last year to 60 percent in proficiency scores this year. Flagler County students outperformed the state average in 3rd, 6th and 7th grade, but fell short in 4th, 5th and 8th grade. The FCAT is no longer administered to 9th and 10th graders, who now take end-of-course exams in geometry and algebra.
In reading, grades 3 through 7 all lost ground between 2011 and 2012, but grades 8, 9 and 10 gained. Flagler's 10th graders in particular improved from 37 percent proficiency a year ago to 50 percent this year, though despite the gain, that only tied the state average for 10th graders. Flagler beat the state average in every grade but the 9th and 10th. Ninth graders fell one point short of tying the state average.
In science, 5th and 8th graders were tested. The results were a very disappointing 39 percent proficiency for 5th graders, a 10-point drop from last year and 12 points below the state average. Only 29 percent of Wadsworth Elementary's 5th graders managed to score a 3 or better (on a scale of 5). Belle Terre Elementary's 5th graders were tops in proficiency, at 50 percent. Eighth graders also dropped from 45 percent at proficiency last year to 43 percent, three points below the state average. Among schools, Indian Trails Middle was tops, at 51 percent proficiency. Buddy Taylor Middle School was at 38 percent, and Imagine School at 42 percent.
None of those scores (with the exception of 3rd grade reading) will affect students' promotion to the next grade, whatever student's individual results may be.
Statewide, however, and in contrast with Flagler's results, students did better than expected overall when measured on more demanding standards, the state Department of Education said. Results for 2012 FCAT 2.0 Reading show that 59 percent of students in grades four through eight are performing at Achievement Level 3 and above (compared to 57 percent in 2011). In FCAT 2.0 Mathematics, 2012 results show that 57 percent of students in grades four through eight are performing at Achievement Level 3 and above (compared to 56 percent in 2011).
This year's Florida Comprehensive Assessment Test scores (and the tests themselves) have been even more of a challenge than in previous years for a variety of reasons. The state is toughening up the tests, both to raise standards–which were low, compared to other states–and to place Florida in line with national tests that will eventually replace the FCAT later this decade. The national tests are expected to be considerably tougher than FCAT tests have been. But the state, of its own admission, failed this year to prepare teachers and students well enough for the new tests. Scores have dropped across the state, in some cases–such as writing scores–dramatically.
So dramatically that the state Board of Education agreed to lower standards again this year when it comes to grading schools individually. Those grades affect schools' budgets and reputations.
Looking at today's scores more closely, some schools in some grades stand out. In reading, for example, Imagine School–a charter school–was alone in improving reading scores among 4rth graders, year over year–by one point. Wadsworth Elementary's 6th graders were the only ones to post a gain in that grade–of 1 point–in reading over last year's scores. Imagine School's 8th graders also posted an impressive 19-point gain over last year's 8th graders. And Matanzas's 9th and 10th graders all posted gains, including a 14-point gain for Matanzas's 10th grade readers.
In math, Imagine is again the only stand-out among 4th graders, with a 10-point gain (all other schools dropped) in proficiency. Imagine's 8th graders were also stand-outs in math, improving the proficiency rate from last year by 21 points and leading the county with a 76 percent proficiency rate. Imagine's 5th graders, in sharp contrast, lead the other way, with a 29-point decrease from last year's proficiency totals. Among 5th graders, Bunnell Elementary is the only school to have posted a year-over-year improvement–of 8 points.
Heritage Academy posted a few notable scores. The school board revoked Heritage's charter this year because it had failed overall two years in a row. Heritage officials are attempting to overturn the decision. They may point to a few scores from today's release, which show some improvements in 7th and 8th grade math results and 7th grade reading, but also further drops in 5th and 8th grade reading, and in both 5th and 8th grade science.