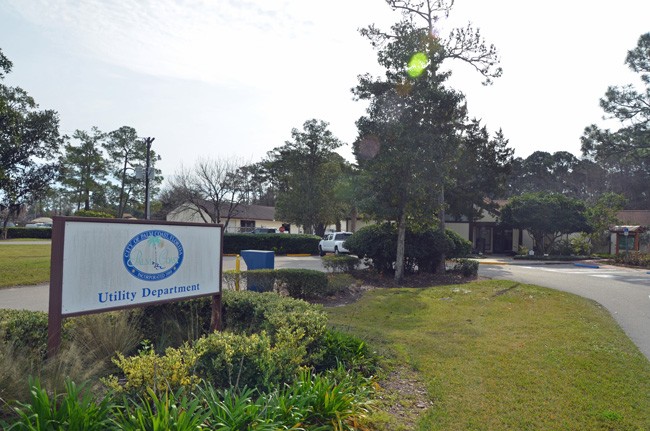 Two FBI agents interviewed two Palm Coast city government directors on Wednesday in an inquiry related to the tenure of Tony Capela, the former street superintendent who resigned abruptly on Jan. 9 after eight years on the job.
Capela's tenure had been bracketed by high praise from the administration and city council members for his efficiency, but he was also the subject of internal and external inquiries and investigations over his demeanor at work and his cozy relationships with a recurring city contractor. None of the investigations found actionable issues.
On Wednesday, the agents briefly interviewed Richard Adams, the director of public works (the city's largest department, which includes the streets division), and interviewed at longer length Renee Shevlin, the public works operations manager Capela had hired. Adams was with Shevlin at the beginning of the interview, then left the room so the agents could interview Shevlin alone. That interview lasted 90 minutes.
The interviews took place at the U.S. 1 office of public works, where the streets division is located.
The FBI agents did not examine any city records or seize any city property or documentation, as far as Cindi Lane, the city's communications director, knew.
"The agents' questions were the same types of inquiries that have previously been looked into by three state agencies, so that all centered around Tony Capela," Lane said Friday afternoon.
Lane was referring to inquiries by the State Commission on Ethics, the State Attorney's Office and the Florida Public Employee Relations Commission known as PERC. The most thorough investigation was conducted by the ethics commission and completed in March 2013. While finding that claims of impropriety against Capella were not groundless, the ethics commission ruled that they did not rise to the level of corruption, and dismissed the complaint.
The "element of corrupt intent is lacking because proof that [Capela]'s actions were inconsistent with the proper performance of his public duties is needed," the commission's advocate concluded. "It appears city management was complacent and/or in agreement with [Capela]'s actions."
The city also investigated Capela's purchase of a home from the owner of a company the city contracted (RoadTek, a road construction contractor, whose owner is a sister-in-law of Capela's) and his taking part in contract evaluations involving the company, but found no improprieties there.
The complaints against Capela were brought by a former Palm Coast employee at the streets division,  Terry Geigert, who also filed complaints against City Manager Jim Landon and Human Resources Director Wendy Cullen, both of which the ethics commission dismissed.
"The city has nothing to hide and the city will fully cooperate with any inquiry, any investigation. The allegations that were made in the past and that are apparently being looked into now are not true," Lane said.
What is certain, however, is the the FBI does not investigate lawbreaking of state laws–that's left to state and local agencies like the Florida Department of Law Enforcement and the local sheriff's office and State Attorney's office–but of federal laws. Those include, for example, white-collar crimes such as fraud or money laundering, cyber crimes or organized crime. The FBI would not be looking into matters that have been looked into previously, if those matters entailed only state statutes or ethical matters.
"So we have been through this a few times now, and it's been determined again and again that there was no wrongdoing on the part of the city or any of its employees," Lane said, then added: "Although questions were the same, there was one new question, and that new question was related to why Tony Capela resigned from the city. That was the only new thing that came up."
Capela submitted a one-line resignation letter, offering no explanation, as he announced his resignation earlier this month. The resignation was immediately accepted. At the time, the city had only plaudits for Capela, and said he would be missed.
"When he resigned, there were no allegations against him within the city," Lane said. "He did not leave under a cloud, there was no investigation, there was nothing improper happening prior to him leaving. He had been talking for quite a while about resigning, and that was the day that he decided to do it. In fact, when he talked to Richard Adams about leaving, he said that he wanted to work the day out, and Richard offered him the option of staying, said if he wanted to give a notice, if he wanted to stay a couple of weeks. It was Tony's choice."
Lane confirmed reports of a Capela confrontation with Cullen, the HR director with whom he did not particularly get along, though not on the day Capela resigned. "He had about a week before had a difficult conversation with Wendy over a policy issue," Lane said. "But what we're saying is that we don't know why Tony  chose to resign that day. We have no indication that that's what led to it. It may have been a factor. But it wasn't like he had never talked about resigning. He had been talking with his colleagues for quite a while, saying that he was not planning to stay with the city long-term, for ever."
Asked if there had been any additional FBI interviews, Lane said there'd been "none that I am aware of." Landon has not been interviewed by the FBI.
Three city council members interviewed during the day by a reporter, including Mayor Jon Netts—who was vacationing overseas– were unaware that the FBI had met with city staff. "It's news to me," Netts said. "I have no clue." Steven Nobile and Jason DeLorenzo echoed the same response.
Landon informed the council by email at close to 4 p.m. Friday of the FBI's interviews, saying, "the FBI was contacted by someone re the same old rumors and allegations about Tony Capela from years ago. They then contacted the media and bloggers to spread the rumors."
The FBI's inquiry, of course, was no rumor.
Contacted in early afternoon, a spokesman for the FBI later said he could not provide information about the case. "Typically, the FBI does not confirm or deny investigations per Department of Justice policy," Jon Fletcher wrote.
Capela's position is currently vacation, with Adams assuming Capela's role.