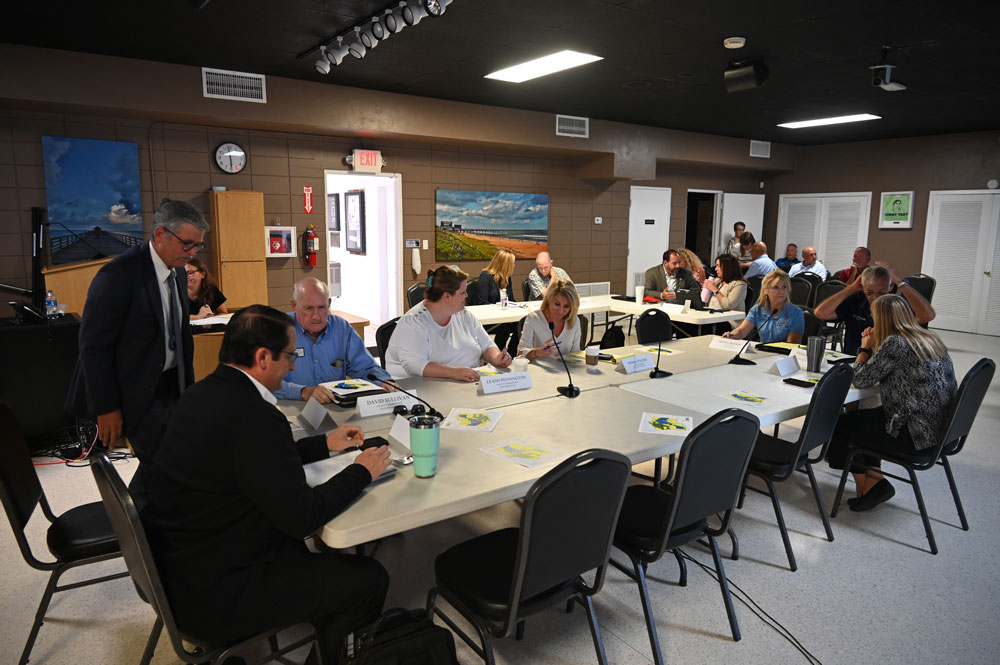 "First thing I want to do–did you all bring your checkbooks?" said Eric Cooley, chairing this evening's joint meeting between Flagler Beach, the county and Flagler's municipalities. It was his ice-breaking joke before framing the intent of the unprecedented meeting: to start discussions about how to relieve Flagler Beach from being the funnel point of the overwhelming majority of beach visitors and tourism in a county that keeps growing fast. 
Elected officials from all local governments have met jointly before, though not at Flagler Beach's invitation, and not with the city's beaches as a focus. They walked away nearly two hours later at least agreeing to keep meeting quarterly and take to heart–and to their respective boards and constituents–one reality they conceded this evening: Flagler Beach can't do it alone. 




"The discussion is not about now. It's not about next year. The discussion at least from the Flagler Beach side of things is forward three to five years," Cooley said, citing the thousands of approved housing units that will bring in yet more residents to add to an already explosive growth. "I don't think anybody planned on the population of Florida exploding during the pandemic. We are still in that."
It's not about money, either, Cooley assured the representatives around the table–from Bunnell, the county, Palm Coast and Beverly Beach. It was more of a brainstorming session intended to provoke the representatives to think of ideas, bounce them off their own boards and their constituents, and return to the table quarterly. 
The group discussed parking, adding beach access points, marketing what County Commissioner Dave Sullivan called "the six secret beaches of Flagler County," which stretch toward the north, adding variety to in-county recreation options that would relieve Flagler Beach somewhat, crafting surveys of beachgoers to figure out where they're coming from and where they might be willing to be dispersed (north or south), getting city and county planners to speak more often, expanding the availability of lifeguards, even building a new bridge, or at least abolishing the tolls on the Hammock Dunes bridge. 
There were no conclusions. That wasn't the intent. Rather, those around the table tried out ideas and concepts and listened for validity. The one thing they did agree on is to meet again in about three months, in a meeting likely hosted by the county, and to increase public participation: the public was not allowed to speak this evening. The meeting was held at Flagler Beach City Hall. 
Almost all of the discussion was freewheeling, loosely tied to very general bullet points on an agenda. 




"Do we have the ability to handle the future volume of just sheer bodies that will come here based on the the boom in citizenry," Cooley said, referring the participants to a colored map of the county that shows Flagler Beach as a barely visible sliver at the end of the Flagler Beach bridge, compared Palm Coast and Bunnell or the county. "If you look at the map, we have a bottleneck here and it's a funneling effect of this huge county, and then everything else all funneled in this little tiny point."
Three to five years from now, Cooley said, a continuing onrush of visitors will not be contained in the city, especially as the city keeps losing parking areas along A1A. 
"We're getting the overflow from Flagler Beach," Beverly Beach Mayor Steve Emmett said of parking issues in his small town. The problem is "already here," he said, "and it's getting worse." And yet, he said, the county has vast expanses of empty beach "where you have these public accesses to the beach already to look to see if the county can develop parks. But everybody is coming here. And you're right, you're in trouble." He said Flagler Beach needs to buy property and devote it to parking. "I don't think you have much of a choice." 
Emmett proposed expanding Flagler Beach's lifeguard-protected beaches. But it's a money issue. Lifeguards are expensive. The guarded beach has expanded and contracted, based on city finances. "I would worry about pushback from the average taxpayer if Flagler Beach was to take that on. It's the same thing as do we want to take all the parking for 200,000 people that would be here by 2028." (The projection is exaggerated: the University of Florida's latest projections for Flagler County do not project 200,000 residents before 2040, and even then, that's considered the "high" estimate, which has never panned out. The estimate's medium and low projections don't see 200,000 residents before well past the middle of the century. See the estimates here.) 




To Cooley and Spradley, multiple garages will not solve Flagler Beach's issue, because at some point, the beach will fill up regardless. "There's going to be more people than there is beach," Flagler Beach Commissioner Scott Spradley said. "One thing to look at is access points going north." 
Building a new bridge–a proposal by Palm Coast City Council member Theresa Pontieri–may be too expensive and too time-consuming a proposition, Sullivan said. He suggested getting rid of the toll bridge at Hammock Dunes. "That's a lot easier project than trying to build a whole new bridge," he said. "FDOT is willing to take on the responsibility for that bridge. They would love to do it. That's not the problem. That's not the political problem." (FDOT is the Florida Department of Transportation.) 
Sullivan had quickly sought to set the county apart from the other cities, as if to say that it has done its share of helping Flagler Beach already. "We have worked together consistently over the years," Sullivan said, citing the county attorney, the county's tourism director and the county engineer as leading departments that have helped Flagler Beach amply. 
The meeting lost its tautness as the second hour got under way, with discussions sounding more like complaints or eulogies for disappearing beaches and the huge costs necessary to contain the trend. But of Flagler Beach's goal was to get its fellow governments aware of "what's coming," as Emmett put it, that goal, however modest as a starting point, was achieved this evening.