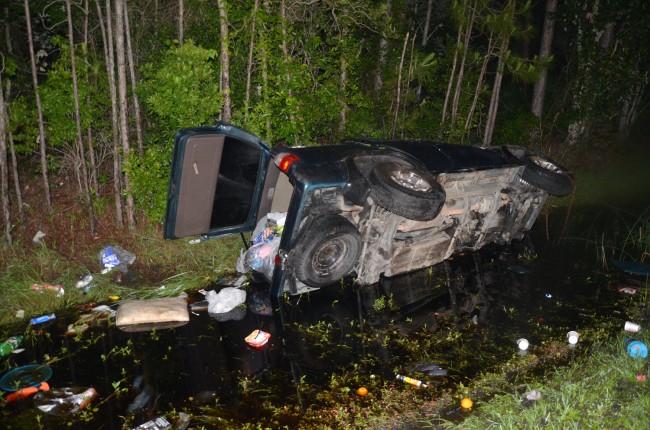 Christina Laming, 41, and Joseph T. Drenner, 50, had been together five years, and were living out of their car, and out of a storage facility in St. Augustine. Many of their possessions were in their 1997 Toyota SUV, including a dog.
Early Saturday morning–just after 1 a.m.—Laming was at the wheel of the Toyota, driving north on U.S. 1 in Palm Coast. Drenner and the dog were in the back seat, possibly asleep. Immediately after passing Otis Stone Hunter Road, the dividing line between Palm Coast and Bunnell, Laming lost control. Marks on the road and the dewy grass tell the story. She swerved onto the median, over-corrected, swerved back across the two northbound lanes and flipped violently. The SUV ended up in a waterlogged ditch, on the driver's side, facing south.
Drenner had been ejected. He was killed. His body was under the car when authorities arrived. Laming survived, apparently uninjured. So did the dog.
The Florida Highway Patrol called a wrecker to lift the vehicle in order to retrieve Drenner's body. "They didn't want the poor soul's remains to be damaged," John's Towing's John Rogers said at the scene, as the operation was carried out just before dawn. "It's a shame, because life is just a vapor. We're here one minute, gone the next."
Authorities are suspicious of the circumstances of the crash. Laming was read her rights–as all individuals involved in car crashes are before they are interviewed by police–but she refused to provide a blood sample to judge impairment. That used to be routine. Authorities could and did draw blood at will in serious and fatal crashes.
But one month ago, the U.S. Supreme Court ruled that a warrant is required before drawing blood from a suspected drunk driver, at the scene or at the hospital. The decision divided the court, with some justices saying a warrant was required in most instances and dissenters saying police should either obtain a warrant if the circumstances permit it or go ahead with blood-drawing in prevent evidence from vanishing.
"Whether a warrantless blood test of a drunk-driving suspect is reasonable must be determined case by case based on the totality of the circumstances," a justice in the majority opinion wrote, stressing that electronic means now make it much easier to obtain warrants promptly. "Nothing in the Fourth Amendment requires officers to allow evidence essential to enforcement of drunk-driving laws to be destroyed while they wait for a warrant to issue," a justice wrote in dissent.
At the U.S. 1 scene, Florida Highway Patrol investigators were still waiting at dawn for a warrant to test Laming, who was in a Flagler County Sheriff's deputy cruiser, resting or sleeping, with her dog. But an inventory of the car had produced items authorities suspect to be drugs, including pipes. Charges are pending against Laming.
The couple's listed address is Aghata Drive in Deltona. Drenner's father lives in Deltona, authorities said.
Both northbound lanes on U.S. 1 were closed to traffic at Otis Stone Hunter Road from shortly after the wreck until past sunup. The Palm Coast Fire Police redirected traffic. The Palm Coast Fire Department and Flagler County Fire Rescue had also responded to the scene, along with FHP and the sheriff's office. Medical Examiner Investigator Kenny Moore and his crew retrieved Drenner's body at 6 a.m. and took it to St. Augustine for a Monday autopsy.