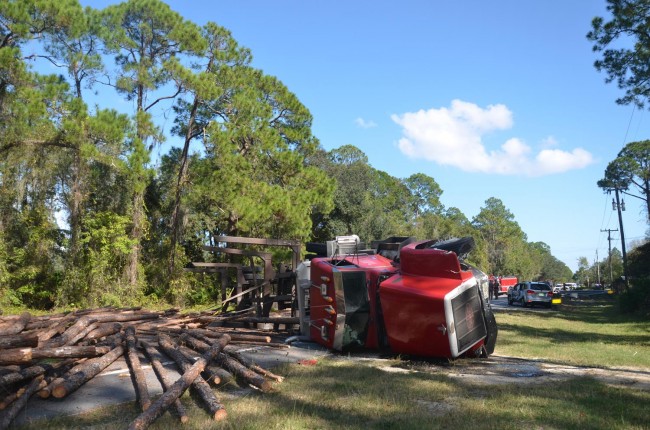 Theresa Woodfin, 28, a resident of the western portion of Flagler County near SR100, was killed this afternoon on SR100 as she was driving home as a fully-loaded logging truck carrying some 80,000 pounds of pine trees rammed Woodfin's car from behind, apparently never having seen the car slow or stop to make a left turn.
The crash took place shortly after noon, on State Road 100 immediately past Water Oak Road, about 10 miles from downtown Bunnell.
Woodfin lived in the area of Water Oak Road, Florida Highway Patrol officials said. (It was later clarified that she lived somewhat further south in the Mondex area.) Her vehicle burst in flames and was charred in the crash. The driver of the logging truck, Ralph A. Schrock, 51, of Satsuma, Fla., was not injured. He was at the scene, standing and talking on a cell phone, fully alert, more than half an hour after the crash. A third vehicle was involved, a gray Dodge Journey registered in Knox County, Tenn., but belonging to a rental company. It was struck in its flank on the driver's side, triggering the airbags inside. The Dodge was driven by Timothy J. Reese II, 31, of Palatka. He sustained minor injuries.
The medical examiner arrived at the scene at about 1:15 p.m.
Several units of the Florida Highway Patrol were at the scene, as were units of Flagler County Fire Rescue, which stood by at the crash scene long after the crash. SR100 westbound was closed soon after noon west of County Road 305. Traffic was being diverted down 305 to U.S. 17. SR 100 was expected to remain closed until 5 or 6 p.m.
After investigating the scene for several hours, the Florida Highway Patrol's Sgt. Tina Hall described the incident as follows: Woodfin was traveling west on State Road 100 in a 1992 4-door Buick. She slowed down or stopped to make a left onto Water Oak Road, while presumably waiting for a car traveling east to pass. The logging semi was behind her. He apparently did not see her stopped or slowed ahead of him, and crashed into the car.
Woodfin's car was initially believed to have hit the Dodge that was traveling west, after being catapulted by the semi. FHP later determined that the Dodge had been hit by the semi directly. The Dodge is a rental and was being driven back to a rental agency's garage. The FHP report is posted below the pictures.
A number of documents and personal papers were strewn along the bridge just past Water Oak Road, near the car that had burst in flames. The documents and personal effects, including a paperback called "Praise," a few CDs or DVDs, and mail, were intact. One of the papers had scattered into the grassy shoulder, well past the car. It was a computer printout, on a color printer, of an infant, with two words handwritten below it: "my serenity."