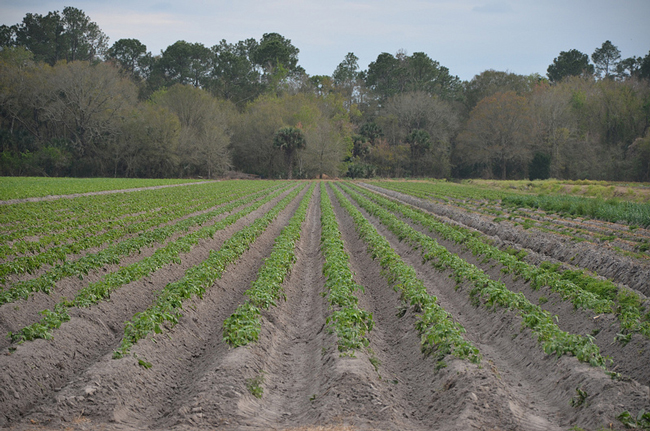 Some years back, when Flagler County County Commissioner Milissa Holland visited her hometown in Upstate New York after living in Flagler County for 14 years, she was startled to find that the dairy farms she fondly recalled from her childhood had been replaced by condos. The experience sparked her concern about the agriculture industry, particularly in Flagler, where it's a pillar of the local economy.
Eleven years later, after a Florida Regional Farming Association meeting in Tallahassee and a conversation with the association's executive director, more startling details were brought to her attention—primarily that the United States is losing its small to medium-sized farms at record rates and that the nation now imports a third of its produce.
"How could we let this happen?" Holland remembers saying at the time.
The reason for this erosion of market share, she says, was regulatory practices put into place relating to water management levels, fertilizers, and irrigation nutrients, just to name a few. These regulations plus free trade agreements allowed foreign countries, for which the same rules didn't apply and that could also get away with paying their labor next to nothing, an unfair competitive edge, Holland points out (although Florida is also known for near-slave-labor practices on some farms, where undocumented immigrants are routinely abused). One image that stood out in her mind was when a University of Florida doctor during a presentation on behalf of the Florida Agricultural Experiment Station, or IFAS, presented a prepackaged bag of lettuce inhabited by a live frog. The bag had been imported from Mexico–an example of lax food safety regulations at the U.S. border.
Holland saw an opportunity for Flagler County, which continues to struggle with unemployment more than the rest of the country.
That's Farm to Flag: The aim of the program is to provide fresh foods to public nutrition programs of all types while revitalizing the area's major agricultural industries, creating more jobs and boosting the local economy through one of its traditional mainstays.
Schools will be able to contract directly with local farmers, enabling them to provide fresh foods in school meals, thanks to a new "Farm to Flag" program that will include Flagler, St. Johns and Putnam counties. This education component of the program, called Farm to School, will be headed by a regional coordinator, housed at the Agricultural Center in Flagler County, thanks to a grant from Florida Department of Agriculture and Consumer Services (FDACS), administered through the University of Florida. The amount of the grant has not yet been specified, as the new school year's budget needs to be finalized, says Sally Sherman, Flagler County's deputy administrator.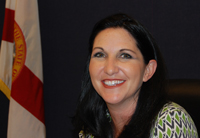 The grant was awarded in large part because of the work of Holland's work, who originated the proposal.
According to Roger Leverton, Flagler County manager of SCORE, a small business consulting agency out of Palm Coast and Daytona Beach, Holland was the driving force behind forming the three-county farming co-operative. SCORE was asked to act as a project facilitator after the 2011 Flagler County Economic Summit. But the remaining parts of Farm to Flag remain unfunded, and riddled with obstacles.
"Flagler County produces approximately $34 million in agriculture products annually, employs over 4,000 workers both full and part time, and has 82 farms totaling 58,000 acres," Leverton said. "By adding St. Johns and Putnam Counties, this jointly becomes Florida's largest area for certain agricultural products, potatoes and cabbage, for example, and adds new products, including meat, to allow a co-operative of scale to address locally identified market needs. The reason that we at SCORE are so enthusiastic about the project is that it directly addresses the importance of agriculture within the Flagler Economic Development Plan."
The program would allow public institutions to contract directly with local farms. Among these institutions, including the schools in the Farm to School component, are military bases and commissaries, higher learning facilities, hospitals and prisons. Private-industry cruise ships might also participate. An assessment is underway to determine whether or not Flagler farms have the capability to supply these groups through a direct distribution process. If successful, the proposal could serve as a model for the rest of the country.
Hence the project's title, "Farm to Flag," with flag symbolizing the United States. The program's tagline: "Planting the Seeds for a Healthier America."
"What makes America America?" Holland asks. "It's communities taking care of their communities. The idea is to gain back what we once had."
Mark Warren, the Flagler County Extension Service Coordinator for IFAS, says the reason the coordinator position was recommended for Flagler County was in large part because of the strong support the county has demonstrated to the agriculture industry.
"The inclusion of agriculture at Flagler's economic development summits, the seating of agricultural representatives to our county's economic advisory council and then the support and coordination of a farm tour for the advisory council members so that those less familiar with Flagler agriculture could understand its significance to our local economy, in addition to the leadership involved in the development of the Farm to Flag proposal, all influenced UF's decision to place a coordinator position here." (Wanda Clegg, co-owner with her husband of Clegg Sod Farm Inc., is one of the nine members of the advisor council, and its only west Flagler representative.)
Farm to Flag's significance to the local economy begins with business retention. "We are losing these mid-sized farms at an alarming rate, and the primary reason is loss of market share," Warren said. "By assisting in the formation of a producer- owned cooperative, we can help these operations stay in business." Owners of farms and cooperatives could not only stay in business through greater market share, but through participation in the cooperative, they'd be able to participate in the value-added phases of the system.
Holland's starting point was the National Farm Bill. The language in the bill identified a regional food planning initiative that had taken off. From there, the idea grew that that the same concept could be implemented in this region.
Holland went back to the IFAS Hasting Group, which put together various interested parties to develop the concept. The High-Tech Quarter Council, the Center for Business Excellence—the workforce development arm for the state—and local farmers all contributed, itself quite the spectacle as all these assets shared the same table. They worked for about a year to write on a proposal befoire it was ready fior state and federal authorities.
One thing Holland learned: Many people aren't aware of how inefficient and costly the current system of produce delivery to federal institutions such as the military can be. Why, for example, would a distant contractor be responsible for produce deliveries to a military base in northeast Florida, when local growers and businesses could do the job? So in addition to business retention, the value-added components will create some direct jobs in the form of plant workers, managers, and truck drivers, among others.
By reducing imports, the program could reduce the country's carbon footprint and traveling costs. There'd also be a vital educational element as part of the final proposal, Holland says. Children would have the opportunity to go on field trips to the farms so that they could actually see where their food comes from, though of course Flagler students can do that now.
"There's a big disconnect with kids today. An initiative like this would show them that their food doesn't start at Publix but that it comes from farmers," Holland said.
The program could also create opportunities to feed those in need as farmers become more productive.
With the ongoing search to find alternative cropping and energy, "the potential for job creation alone is enormous," Holland says. "We hope that this will be a game changer for the industry."
There are serious challenges. Outside of the Farm to School component, the rest of Farm to Flag still needs to find a source of funding. Not wanting to go into detail, Holland said there are always lobbyists on behalf of large corporations who have a stranglehold on the industry and that profit from the transportation of produce from coast to coast. They may not like to lose their foothold as the need for a middleman is reduced, and they have more clout than a county commissioner or a regional business group.
Receiving the Farm to School grant is a start. The coordinator was originally anticipated to begin work in September, but now is expected to start in the fall, once the school budget is finalized.