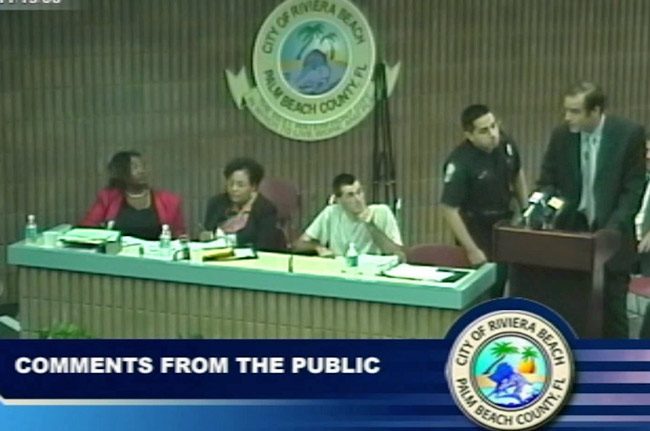 A government critic who has long battled the city of Riviera Beach won his second U.S. Supreme Court case Monday, prevailing in a dispute stemming from a 2006 arrest at a city council meeting.
Justices, in an 8-1 decision, sided with Fane Lozman, who filed a lawsuit against the city contending that the arrest involved retaliation for his outspoken criticism of officials in the Palm Beach County community. The Supreme Court overturned a ruling by the 11th U.S. Circuit Court of Appeals in favor of the city and sent the issue back for further consideration.
The Supreme Court said the issue in the case was "narrow" and also made clear that it did not determine whether "Lozman is ultimately entitled to relief or even a new trial." But in overturning the appeals court, it ruled on a key issue about whether Lozman's First Amendment rights could be violated even when there was cause for his arrest.
Lozman said in an interview with The News Service of Florida that the case "has moved the bar forward that no longer can a government entity retaliate against an individual and try to hide behind some bogus petty arrest. Those days are over."
"We won the case. We got what we wanted. I'm just glad that 10 years hard work was not for naught," Lozman said.
---
Watch Fane Lozman Getting Arrested
Lozman has frequently clashed through the years with the Riviera Beach city government, including over plans by the city to use eminent domain as part of redevelopment efforts. Lozman's criticism included filing a lawsuit alleging Sunshine Law violations about the approval of an agreement with developers.
The arrest happened in November 2006, as Lozman addressed the city council during a public-comment period. During his comments, Lozman spoke about the arrest of a former Palm Beach County commissioner on corruption charges, according to court documents.
A city council member interjected, but Lozman refused to stop speaking, subsequently leading to his arrest on charges of disorderly conduct and resisting arrest without violence. The State Attorney's Office said probable cause existed for Lozman's arrest but decided against prosecuting the case.
In 2008, Lozman filed the civil lawsuit alleging retaliation in the arrest.
As the arrest case moved forward, another case involving a dispute between Lozman and the city went to the U.S. Supreme Court. That case was related to a dispute about Lozman's house boat, which was docked at a city-owned marina. The city sought to have Lozman evicted and brought a lawsuit under federal admiralty law. But the Supreme Court in 2013 overturned an appeals-court ruling in favor of the city.
Monday's ruling, written by Supreme Court Justice Anthony Kennedy, focused on what it described as the "intersection of principles that define when arrests are lawful and principles that prohibit the government from retaliating against a person for having exercised the right to free speech."
The ruling said Lozman acknowledged that a police officer had "probable cause" to make the arrest under a state law that bars disturbances at such public meetings. But Lozman also argued that the arrest stemmed from retaliation.
"Lozman's claim is that, notwithstanding the presence of probable cause, his arrest at the city council meeting violated the First Amendment because the arrest was ordered in retaliation for his earlier, protected speech: his open-meetings lawsuit and his prior public criticisms of city officials," Kennedy wrote. "The question this (Supreme) Court is asked to consider is whether the existence of probable cause bars that First Amendment retaliation claim."
The ruling, with Justice Clarence Thomas dissenting, said the fact that probable cause existed for the arrest "does not bar Lozman's First Amendment retaliation claim under the circumstances of this case."
In sending the case back, the Supreme Court said the appeals court could consider issues such as whether a "reasonable juror" could find that the city formed a retaliatory policy to intimidate Lozman and whether such a juror could find that the arrest constituted an official act of the city. It said the appeals court also could consider whether the city has proved it would have arrested Lozman regardless of any "retaliatory animus."
But in his dissent, Thomas focused on the probable cause for arrest. He wrote that "plaintiffs bringing a First Amendment retaliatory-arrest claim under (the civil rights law in the Lozman case) should have to plead and prove a lack of probable cause. I see no justification for deviating from the historical practice simply because an arrest claim is framed in terms of the First Amendment."
–Jim Saunders and Dara Kam, News Service of Florida

Lozman v. City of Riviera Beach