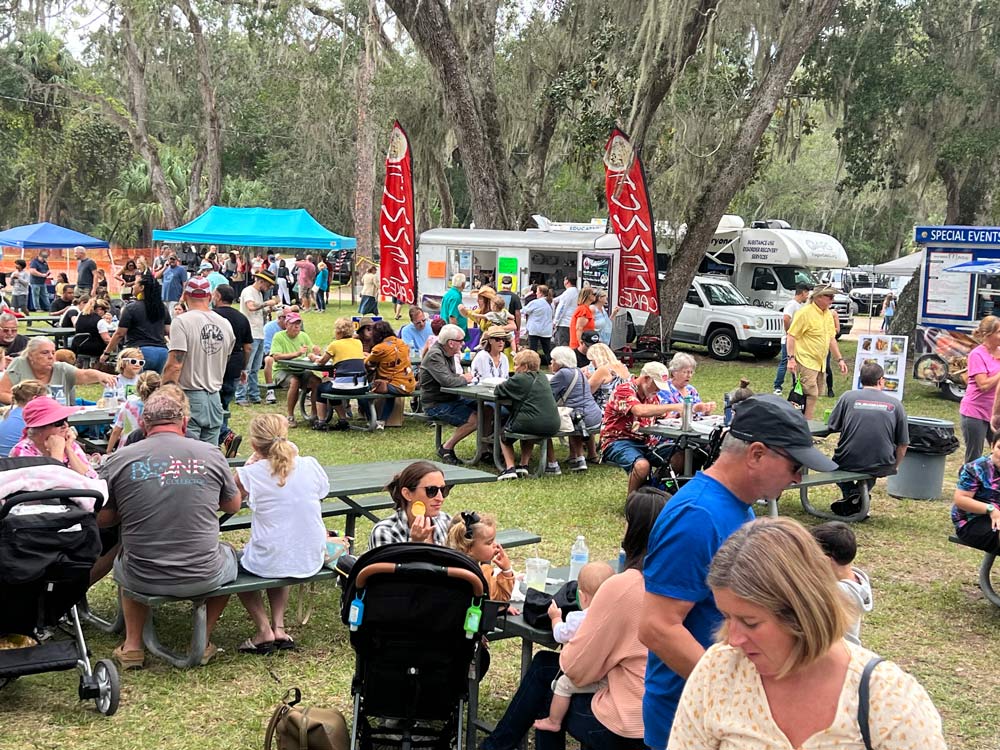 Last weekend's edition of the Creekside Music and Arts Festival at Princess Place Preserve made up for last year's, when Hurricane Ian made the park impassable and forced the event to move to the Agriculture Museum. The two-day event drew 10,000 people and netted the Family Life center a $26,000 donation from Flagler Broadcasting, which organized the event.




In 2021, when Flagler Broadcasting first took over the event from what had been a staple of the Chamber of Commerce before it went bankrupt, Creekside raised $22,500 for Grace Community Food Pantry, making this year a record haul for the event's chief beneficiary. (The pantry got its own fundraiser as this year's Food-a-Thon, also organized and aired on Flagler Broadcasting stations, got $100,000.)
"Everybody that came into the gate was happy there, everybody was happy to give the $10 to come in," David Ayres, Flagler Broadcasting's president and chief executive officer, said. "They knew what the good causes it was going to, and everybody left happy. The music was awesome. All the food trucks were really high quality that we kind of hand picked over the years. We know the good from the bad. People felt great value for for the day."
Kirk Keller, Flagler Broadcasting's director of sales and events, had sold out the vendor space, which topped off at 100 (and is already taking applications for next year's edition on Oct. 4 and 5). The event featured a photo context with cash prizes put up by the radio station, plus the live music and a smorgasbord of food vendors, with one missing piece that bewildered Palm Coast Mayor David Alfin: "There was not a single lemonade vendor, and I was dying and thirsting for a large glass of lemonade." (In fact, there were two such stands, "and both did really well," Ayers said.)




But otherwise, Alfin said, "it was animated, energetic and one of those opportunities for more of our residents to come together at a single occasion, and I really liked it." At one point Alfin appeared on stage with Rep. Paul Renner, the House speaker and Flagler County's representative, with Alfin introducing his daughter Melanie, who sang the National Anthem. Alfin urged the audience to take a look at their surroundings and take stock of their neighbors and friends on a rare occasion when they could all be together and getting to know each other.
Trish Giaccone, the executive director of the Family Life Center–"Flagler County's only certified domestic violence, emergency shelter and rape crisis program," as she describes it–had appeared on Free For All Fridays, the WNZF show hosted by Ayres.
"Creekside is going to help us continue to provide those life saving services with victims and their children," Giaccone said. She gave an example of where the money will go. "We had a mom who was in a domestic violence situation with her little one. Her little one had been diagnosed with a heart illness when the child was born. But they had to wait a certain amount of time before they could do heart surgery. In the domestic violence situation, he was arrested, but then released, so then she was unable to stay at home. So she came to our shelter."
The hospital scheduled to do the surgery declined to provide housing for her at that point, jeopardizing the surgery itself. "Family Life Center helped mom get to the out of county hospital, helped her to stay in a safe hotel, so that the baby could get the heart saving surgery so that not only were they safe in that moment, but baby can have long life after this." Giaccone attributed the trajectory-changing intervention to money generated by community events like Creekside.




Ayres himself has a bit of an friendly-door policy at the event. The $10 fee is waived for children and veterans, and when a family looked like its spending money would be cleaned out just by the entrance fee, it was let in free too. "We didn't let a lot of people in for free but the pones that paid are the reason why we can do what we did," Ayers said. Parking was organized by volunteers of the Flagler Education Foundation.
It also helped that the weekend was the coolest since before summer, with temperatures that made extended strolling and lounging easily bearable and probably minimized the aggravations of overheating children.
But don't expect to see Creekside extend past daylight hours. As successful as it's been, it's a daylight event in a park where darkness may not be as conducive to such large crowds (or to fireworks). Ayres likes the formula as it's working now, especially when hurricanes don't interfere.