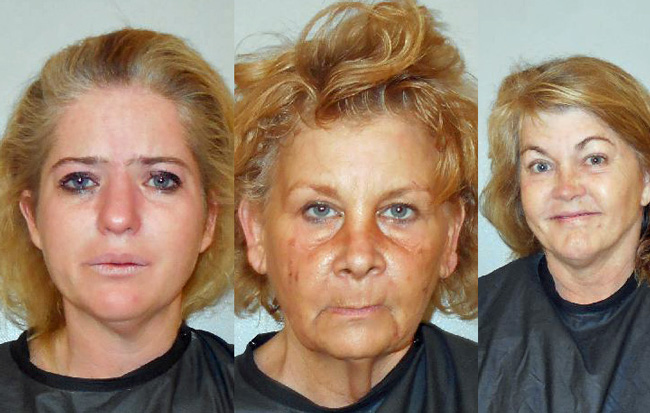 The Family Life Center in Bunnell is a shelter for victims of domestic violence. Sunday, the refuge was briefly disrupted when a client there, 54-year-old Christie O'Connor, allegedly became belligerent and racially insulting after she was asked to leave earlier, and violent toward a pregnant woman. She was jailed on two battery charges.
O'Connor, a resident of Palm Coast's E-Section, had been asked to leave the Family Life Center on Saturday. She refused. When asked again, O'Connor allegedly started packing a laptop that belongs to the facility among her belongings, though other accounts differ: witnesses say O'Connor was using the computer despite requests from a facility employee not to, and that after she'd been repeatedly asked to stop, became physically violent: She forcefully grabbed a charge from an employee, whom she called a "black bitch" before striking her in the arm, "kung-fu chop" style, according to the victim. An employee then asked others to call police.
Another witness told police that O'Connor had earlier pushed a pregnant woman to the ground after O'Connor had removed Christmas tree ornaments. A witness at the facility told police of the children who are also cared for there, and form whom such scenes can be disturbing (especially since children are there to get away from violence).
Another witness reported to police that O'Connor had been "manipulating" people at the facility for two or three days.
O'Connor was charged with aggravated battery on a pregnant woman, a second degree felony, and with a simple charge of battery, a first degree misdemeanor. She remained at the Flagler County Jail Monday afternoon.
In an unrelated incident later Sunday night, two W-Section women ended up in jail after a fight that allegedly included a fabricated claim by one of the women that the other had stabbed her, when in fact the woman had cut herself to get her roommate in trouble.
The incident unfolded late Sunday night on Palm Coast's Woodstone Lane. A Flagler County Sheriff's Office deputy was called there at first in what was going to be a Baker Act, when an individual is committed to a psychiatric facility without, necessarily, the individual's consent. But the call changed to a physical disturbance, as no individuals at the residence fit the criteria of a Baker Act commitment.
Cynthia Doran, 56, told a cop that she'd been physically attacked by her roommate, Julie Ann Skaggs, 40. Doran showed the deputy several marks on her face and body which she claimed were caused by Skaggs striking her. Doran also claimed Skaggs and her friends were stealing her belongings. Spoken to separately, Skaggs told the deputy that Doran had attacked her with a knife, cutting her on the left forearm twice about an hour before police showed up.
"Skaggs's body language indicated to me that she was being deceptive," the deputy reported. "Ms. Skaggs continuously looked away and down when I
asked her specifics regarding the cuts on her left arm. The cuts on Ms. Skaggs left arm appeared to be self inflicted, as they were very close together. I
informed Ms. Skaggs that this was a serious allegation, and if she lied to me she would be arrested." Eventually, Skaggs admitted to the deputy that Doran had not cut her, "but that she cut herself in order to get Ms. Doran in trouble for cutting her."
A 59-year-old man who lives at the same house told police that he'd heard the two women fighting but not seen it. A witness, 40-year-old Steven Akers, told the deputy that Doran had attacked him and Skaggs with a hammer as he was coming out of the bathroom. He evaded the swing but running behind a bedroom door, which took the hit (the deputy noted what appeared to be the hammer's the mark on the door.) When the deputy requested that either Skaggs and Akers or Doran leave the residence to avoid any further confrontations, none agreed. The two women, the deputy noted, were "heavily intoxicated." Meanwhile, a 3-year-old child was in the house, and the deputy was getting concerned over the boy's safety.
Deputies then arrested both women–Skaggs for making false allegations of aggravated battery, and Doran for aggravated assault with a deadly weapon. The boy was left in the care of the two men at the house. Department of Children and Families was also contacted.