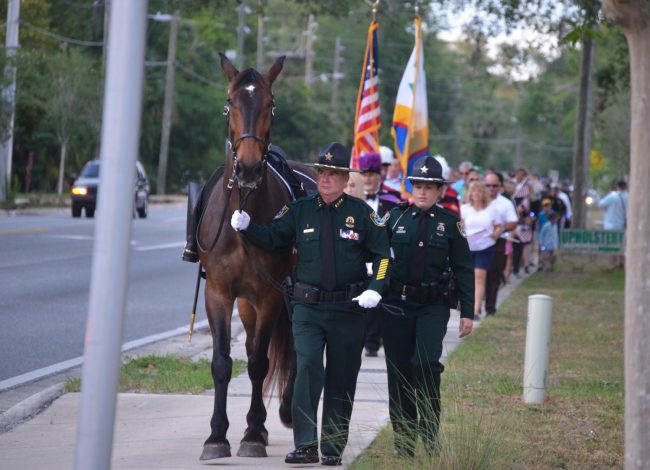 The latest law enforcement officer to be killed in the line of duty this year—the 50th in five months—was Deputy Sheriff Mason Moore of the Broadwater County Sheriff's Office in south-central Montana. It happened Tuesday. It did so as many of these killings do: during a traffic stop. Moore had pulled over a car in a routine stop at 3 a.m. A shootout ensued and he was killed. Two suspects were later arrested. Moore had been a 15-year veteran, was married and had three children.
He was the 18th cop to be shot dead this year, the highest proportion of law enforcement deaths in the line of duty. It's followed by vehicle crashes: 14 deaths. Florida has had two law enforcement deaths in the line of duty, both related to the pursuit of Markeith Lloyd, who was wanted in the death of his pregnant ex-girlfriend. The Orlando Police Department's Debra Clayton was killed first—shot four times in a Walmart parking lot as she confronted Lloyd. Norman Lewis of the Orange County Sheriff's Office was involved in the pursuit. His motorcycle struck a car and he was killed. Lloyd was captured eight days later.
Scenarios like this can be recounted with numbing familiarity, month after month, year after year, at times coming very close to home, as was the case in Palm Coast on May 1 when Sgt. Phil Reynolds of the Flagler County Sheriff's Office was twice targeted by a shooter on London Drive but escaped injury.
Sheriff Rick Staly noted the incident in his speech Thursday evening as he addressed a crowd that had turned up for the department's annual commemoration of fallen officers.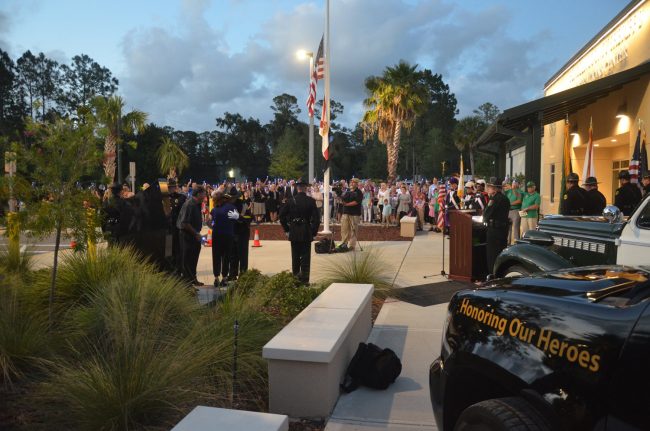 "By the grace of God," Staly said, "the Flagler County Sheriff's Office has not lost an officer in the line of duty in 14 years. However, we have come very close. We were reminded just a few days ago just how dangerous our profession is when a violent offender fired a dozen shots at a veteran sergeant responding to a 91 call for help. Sgt. Phil Reynolds narrowly escaped injury and we are blessed that he is standing here with us today." (Phillip Haire, a 19-year-old resident of the address to which Reynolds was answering a call, was arrested for the shooting.)
The last local law enforcement officer to be killed in the line of duty was Chuck Sease, a young recruit with the Sheriff's Office who was struck by a car as he put down stop sticks as part of a pursuit at an I-95 exit in 2003. Sgt. Frank Celico's name was also added to the memorial to fallen officer when he died of heart failure in 2011.
---
Audio: The Full Ceremony

[media id=421 width=350 height=250]
The names of Celico, Sease, Sheriff Perry Hall and Deputy Gregory Durrance (both killed in 1927), and Sheriff Homer Brooks, also a heart attack victim in 1965, were sounded during Thursday's ceremony as family members of the fallen joined Staly in front of the memorial for the traditional placement of a red rose in their memory.
For the past decade the Flagler County Sheriff's Office has marked the annual commemoration of fallen officers with a set ceremony, in place—in front of its headquarters on Justice Lane for many years, in front of the courthouse when the new operations center was under construction, and last year, in front of that operations center.
This year Staly wanted to do it differently. The ceremony began in front of the courthouse, where some 150 people gathered, among them many sheriff's deputies and officers and some members of other law enforcement agencies. They were joined by the Knights of Columbus and all received an electronic blue candlelight to turn on and hold during the ceremony. The gathering then was followed by a silent march from the courthouse to the Sheriff's Operations Center, along State Road 100, with Staly and his wife Debbie leading. Just then the sun was setting.
At the intersection with Dr. Carter Boulevard, Staly took the reins of a riderless horse, a symbol of fallen soldiers, and continued the march, turning into the Operations Center at a slow clip, where the Sheriff's Office's Mounted Posse had lined up, four horses on each side, to salute the riderless horse as it passed. The ceremony, none of it rehearsed, included numerous subtle, solemn touches, like the silver-like platters with two red roses placed in front of each horse and the large badge shrouded in the customary band that signifies mourning on the hood of the department's honor vehicle.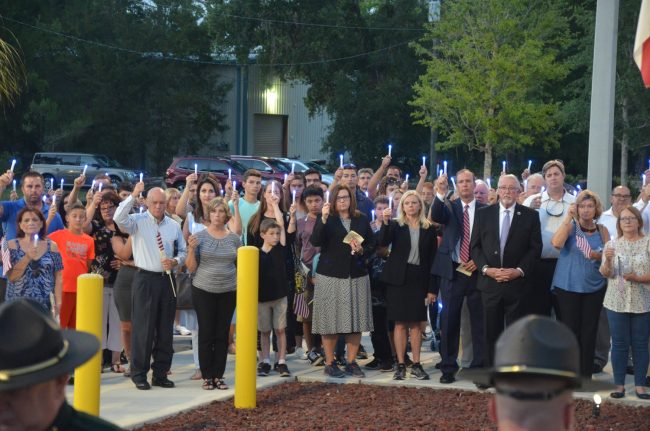 The crowd for the first time included children—previous ceremonies had been held in the morning, during school hours—and four judges, including R. Lee Smith of Flagler and three from Volusia County. Palm Coast Mayor Milissa Holland and Flagler Beach Commission Chairperson Jane Mealy were also in the audience, as were County Commissioners Dave Sullivan and Don O'Brien and Clerk of Court Tom Bexley.
The march over, the crowd arrayed itself in an arc in front of the Operations Center, with Chief Mark Strobridge, Chief Paul Bovino and Chaplain Juan Schembri leading up to a singing of God Bless America by Cpl. Kenny Gonclaves and Staly's remarks.
"Each and every day, men and women in law enforcement put themselves at risk to keep the communities they protect safe and secure," Staly said, reading from prepared remarks. "We are here tonight to honor all of our officers, especially our fallen heroes." Moments later, after the remembrance ceremony, John Donlon, a retired member of the St. Johns County Sheriff's Office, played Taps, and the Coastal Florida Police & Fire Pipes and Drums performed "Amazing Grace."
There was one more added touch this year: the new "Wall of Heroes," with portraits of the fallen through the years and set up at the entrance of the Operations Center, above a "Memory Table" that displays a flag, a candle, a rose, a hat and words to the fallen.