On Tuesday evening, Gloria Kollosch, waving the image of a gun, appeared before the Flagler County School Board to describe the incident related below–the pulling of a gun, which turned out to be fake, on her son and his friend, near Matanzas High School, by another student at the school–and share her outrage at the minimal consequence. "No one is taking this lightly, and we are working through steps of what we are going to do to let students know the seriousness of this," Superintendent Janet Valentine told Kollosch this evening.

By Gloria Kollosch
"It was only a joke." "I didn't think that they were serious." "I never thought they would do it." Sounds familiar? These are some of the statements made by friends after school shootings. The bottom line is: no one takes it seriously.  This parent is trying to take it seriously. It seems like no one else does.
On March 2, my son and a friend had just left Matanzas High School to go home on their bikes.  They had an encounter with some fellow students on Forest Grove Drive within sight of the school where one boy thought a vehicle had passed too close, blowing a horn as the vehicle passed.  This boy was upset by the encounter. He gave the carload of students a universal sign of displeasure.
What happened next is very troubling. The car continued on to Palm Harbor Parkway and turned down another road, near a school bus stop, and waited for the boys to approach. As they got closer, a gun was pointed out of the car window and pointed at one of the two boys. Both boys saw the gun.
Do I have your attention?  It got the boys' attention, who thought they were going to be shot at, and it got mine.  I was away for training when this incident took place and my son was staying with the other boy's family.  I heard about it that Sunday night when I returned home.
After being told what had happened I was informed by the other family that the Sheriff's Office said that only I could place charges against the youths who were involved.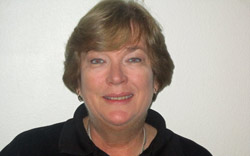 It should be noted that the deputy that Saturday notified the parents where my son was staying that police had retrieved the gun from the driver of the car. It turned out to be an air-soft gun. But the boys did not know this. Their fear was real. They thought the gun was real. (The Sheriff's Office initially left the school out of it until I described the time of day and where the incident happened. The Sheriff's Office then agreed to notify the school.)
The next day I was at Matanzas before school started and spoke to the principal, the dean, and the school resource officer.  The boys told their stories. School officials were left to investigate.  I will say that the school accomplished more in one hour than the Sheriff's Office accomplished in three days.  The school had confessions and knew who was involved.  We were assured that action would be taken, such as suspension and removal from the school. I signed the charging paperwork for those involved.
I finally heard back from the Sheriff's shift involved six days after the initial incident. I was told the boys involved with the gun were only charged with a misdemeanor (Florida Statue 790.10 Improper exhibition of dangerous weapons or firearms).  Because the young men involved were only being charged with a misdemeanor, I was informed by the school that the young men were both going to be reinstated to the school immediately.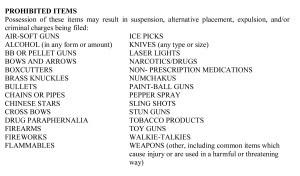 I was stunned. The school board seems to have a selective policy. The 2011-2012 Code of Student Conduct states that "The Florida Board of Education has established a Zero Tolerance Policy on school violence, crime, and the use of weapons as a part of a comprehensive approach to reducing school violence." Further on the policy addresses "Firearms/Weapons in Vehicles on School Property," stating: "It is the policy of the School District of Flagler County Florida, that any student shall not bring any firearm or weapon, including replicas, onto school property." (Emphasis added.)
The driver of the car admitted that the gun was in his car on school property and that the incident took place immediately following school at a bus stop, with not enough time to go to another home to retrieve it. The list of prohibited items on page 24 of the Code of Conduct begins with "Air-Soft Guns," and notes at the top of the list: "Possession of these items may result in suspension, alternative placement, expulsion, and/or criminal charges being filed."
---
Audio: Gloria Kollosch Addresses the School Board[media id=284 width=250 height=250]
The Code of Conduct makes it just as clear in the glossary's definition of assault: "An intentional threat by word or act to do violence to another person, coupled with an apparent ability to do so, or doing some act that creates a well-founded fear in another person that such violence is imminent without subjecting him or her to physical attack." (Emphasis added.)
I want to know: if a school system has a zero-tolerance policy, then why is this incident being tolerated? I called the school board to request to be put on the agenda to bring up these issues and I received a call back from Ms. Townsend, Director of Student Services, in which she tried to explain to me how the district reached its decision. One thing she said was that it was a joke. Sounds familiar? A joke to whom? Not to me. Not to my son or his friend or his family. Who decided it was a joke? The boys who were involved in the pointing of the gun? She then corrected herself to say that there was no intent to harm. Who decided this? When you have a gun pointed at you and the fear is real, the intent is real. Then she said it was "only a teenager prank." Prank? Sorry, but no. A prank is something like toilet-papering a lawn, not pointing a gun at another person.
I went on to explain that my son could've been seriously injured if he had veered into traffic thinking he was dodging a bullet. Remember: he thought the gun was real. Even as it wasn't, he could, because of his fear, have been struck by a very real car on Palm Harbor Parkway. Worse yet: what if there had been an off-duty law enforcement officer or a person with a concealed weapons permit there, and that weapon had been pulled? What you would have then is a dead boy. They don't need to ask how old you are, whether the gun is loaded or whether it's real.  What you have is a situation where no one is taking it seriously except for me and the parents of the boy who had the gun pointed at them.
Why isn't the school system taking this seriously? Why do they dismiss it as nothing but a joke? Dismissing these types of jokes has left many an innocent student dead.
I was never allowed to be put on the agenda instead I was told I can have 3 minutes to bring it up during the Public time.  Maybe then I might get some answers but then again they might think it all a joke.

Gloria Kollosch, a Palm Coast parent, is an NRA certified Rifle, Shotgun, Pistol, and Home Safety Instructor, and an NRA certified Range Safety officer.