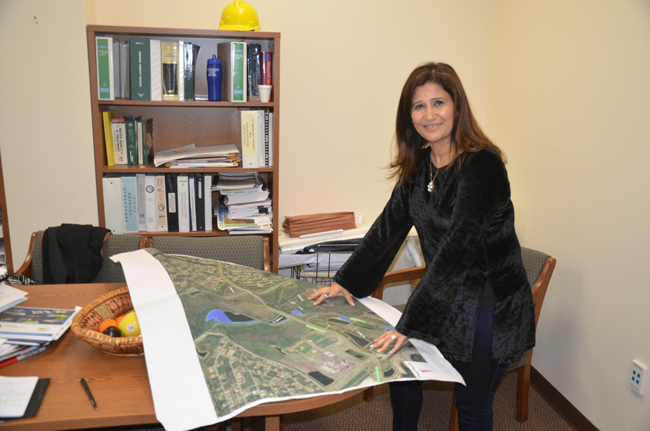 If you drive on any major road or bridge—including many in Palm Coast—draw water from certain public sources or hang out at public parks, you can be relatively certain that Faith Alkhatib and her team have had something to do with it. Alkhatib is the Flagler County engineer and director of public works. With that team of fewer than half a dozen people, she is the nerve center behind the county's infrastructure, without which little would move.
Engineers' work is indispensable to the function of any community, but engineers themselves tend to do their work out of public view, not least because so much of what they do is too specialized and incomprehensible to lesser human beings. Engineers are usually perfectly happy to let those lesser beings—among them bosses or politicians—take the credit for new projects: cutting a ribbon does not require a degree. Just a pair of $3 scissors.
But there are times when the arcane work of an engineer translates into numbers the rest of us can understand, and celebrate. This is one of those times for Alkhatib, whose awareness of a new rule enabled her to halt a project whose design phase had already been completed, redesign it, and save taxpayers at least $600,000 while returning to Palm Coast and to the county 6 acres each that would have otherwise been needlessly devoured by a public works project.
So much for critics of "big government."
The project in question is the Matanzas interchange with I-95, that project endlessly talked about for about a decade. The $10 million interchange is now ready for construction. Federal and state dollars are footing the bill. The ground will move and construction on the interchange will start in October (adding to the many other public works projects under way in Palm Coast and the county) and will be done 18 months hence, in the spring of 2016.
For such massive road projects to be carried out, what's called flood-plain mitigation must be taken into account. Put simply, that entails including enough acreage to manage water runoff in such things as retention ponds or other forms of acreage—such as parks—where flooding, should it occur, will not damage real property. State rules required certain projects to set aside a certain amount of acreage for such mitigation. But the rules just changed. It reduces the amount of acreage that must be set aside for mitigation. (Leave silent the wisdom of that change, which may prove not so wise after all: the nature of the coming floods will tell.)
The new rule was promulgated through the St. Johns River Water Management District. Alkhatib took note of it and applied it to the Matanzas interchange project. The net result was that 12-acre reduction in needed land surrounding the project, and with it the elimination of at least $600,000 that construction of the flood-plain mitigation infrastructure would have cost. The county announced Alkhatib's work in a news release this week, crediting her "sharp eye."
In her office this afternoon, Alkhatib was quit to note that she was just one of six. "I have an excellent team here," she said, naming off Richard Gordon, Amy kennedy, Bob Atack, Travis Terpstra and Jerry Farley. "I'm really fortunate with the professional people I have in my department. That's the people who make things happen."
The Jerusalem-born engineer and mother of five (the youngest is about to graduate Matanzas High School, three others are developing professional careers of their own) has been with Flagler County five years after two separate stints with the Florida Department of Transportation—where her connections continue to help Flagler and Palm Coast secure dollars for local projects—and in St. Johns County.
One of the ways Alkhatib put her contacts to work was on behalf of Palm Coast, which wanted to build an extension to Old Kings Road, reaching into the same neighborhood of the interchange and Matanzas High School. Alkhatib secured funding for the four-laning of a segment of that extension, which will be completed in conjunction with the interchange. Another segment has the money for the design, but not construction.
"I love my job, I love what I'm doing for the county," Alkhatib says over a n oversize aerial map showing the area of Matanzas woods where the interchange will go. "This is one of the biggest accomplishments for Flagler."
"Flagler County is always looking out for the interest of its citizens," Flagler County Administrator Craig Coffey is quoted as saying in the release. "I am proud of our engineering department and what they were able to do with this project."