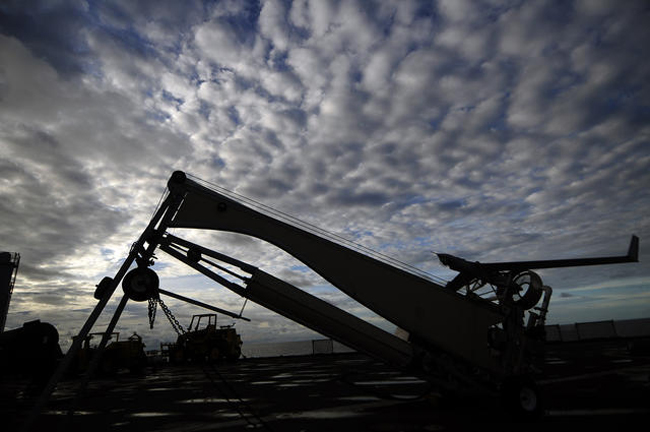 Space Florida intends to continue chasing drone-related business despite being "disappointed" that Kennedy Space Center didn't make the cut as a federal test site for the unmanned aerial systems.
Space Florida's $1.4 million proposal wasn't among the six chosen Monday by the Federal Aviation Administration to develop technologies so drones could share airspace with existing traffic.
"While we are disappointed with the FAA's decision, we fully intend to continue our pursuit of UAS technology development in the state of Florida," Space Florida President Frank DiBello said in a release. "We will move forward seeking out and assisting companies and supply chain vendors tied to the UAS industry as they locate and grow in our state – one that will support FAA efforts to incorporate UAS technology into U.S. airspace."
The market for drone technology has been projected to be worth potentially $89 billion over the next decade, according to the U.S. Government Accountability Office
Space Florida, the quasi-government agency, proposed using the shuttle landing facility at KSC for the testing, with the goal of establishing corridors for drones to safely fly between Sunshine State cities.
A law approved in 2012 gave the FAA three years to develop a way drones can share airspace and Florida was among 24 states competing for the research work.
"In selecting the six test site operators, the FAA considered geography, climate, location of ground infrastructure, research needs, airspace use, safety, aviation experience and risk," the FAA announced in a release.
DiBello expressed optimism that opportunities will still be available for Florida with the FAA's testing program.
"Much of the country's UAS industrial growth will occur outside the states selected today," DiBello said. "Florida is still in the game. Meanwhile, we will continue to support the FAA and look forward to the significant, positive economic impact to our state that will result from continuing to participate in this effort."
The operators selected for the sites are: University of Alaska; state of Nevada; New York's Griffiss International Airport; North Dakota Department of Commerce; Texas A&M University – Corpus Christi; and Virginia Polytechnic Institute and State University.
Space Florida's bid has been in the works since February but state lawmakers have been skeptical about the use of drones.
In April, the Florida Legislature approved and Gov. Rick Scott quickly signed into law the "Freedom from Unwarranted Surveillance Act" restricting law enforcement's use of drones.
The law, which went into effect in July, prevents law enforcement from using drones unless a judge has issued a warrant or unless there is a "high risk of terrorist attack" or imminent danger, such as in a case involving a missing person.
–Jim Turner, News Service of Florida