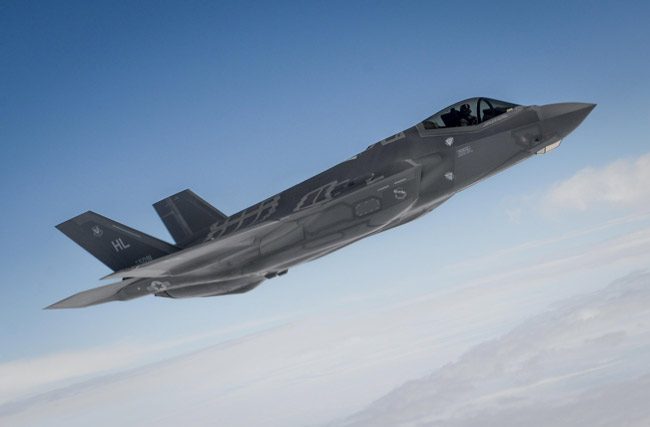 Florida's loss is Alabama's and Wisconsin's gain: the U.S. Air Force today announced it will not locate its F-35 Lightning II fighter jet in Jacksonville with the Florida National Guard's 125th Fighter Wing. Jacksonville had been one of five sites shortlisted.
Instead, the F-35s–at $400 billion, the most expensive, most versatile jet ever built–will go to Dannelly Field in Montgommery, Ala., and its 187th Fighter Wing, and to the 115th Fighter Wing at Truax Field in Madison, Wis., where 18 F-35s will replace F-16 fighter jets by 2023.
The Air Force also evaluated bases in Idaho and Michigan, along with Jacksonville. "Those bases were reasonable alternatives, but not preferred," the Air Force said.
"While not the decision we were hoping for, we are confident that the Air Force did what was right for the long-term strength and security of our nation," Maj. Caitlin Brown, director of public affairs for the Florida National Guard, said in a statement issued this afternoon. "Our 125th Fighter Wing remains strategically located to provide a capable defense against current and emerging threats. Our F-15 fighter jets sustain an unmatched win/loss ratio in air-to-air combat, and their advanced radar system will continue to provide capabilities beyond that of other homeland defense aircraft. Furthermore, a Department of Defense modernization plan is in development, and these upgrades will ensure that our current fleet of F-15 aircraft remain an unmatched Air Dominance platform far into the 2030s and beyond."
"Selecting Truax Field and Dannelly Field will increase Air National Guard F-35A units providing 5th Generation airpower around the world," said Secretary of the Air Force Heather Wilson in a statement. "As F-35As arrive at these locations, we will use the existing aircraft at these fields to replace the aging F-16s at other Air National Guard units."
Lockheed Martin is the prime contractor of the F-35, also known as the Joint Strike Fighter. Work on the fighter began in 2001, with some 2,443 planes on order at the time at an estimated cost of $115 million per plane (in current dollars), and with a price tag of over $1 trillion to develop, build and maintain all the planes on order for 55 years, according to the Government Accountability Office. The cost of each plane was to drop as time went on because of scale and lower production costs.
Lockheed makes three versions–one for the Marines, which can land and take off like a helicopter, one for the Navy, which can land and take off from aircraft carriers, and one for the Air Force. In February Lockheed lowered the cost to $94.6 million per plane for the Air Force version. President Trump had been critical of the plane's cost. But production problems have continued: the Pentagon was supposed to take delivery of 365 planes by next year. By February this year it had taken delivery of only 200, with a total of 66 delivered to the Department of Defense (DOD) this year.
"For years," the U.S. Government's Accountability Office concluded in its latest evaluation of the F-35 project last April, "we've reported on the F-35 program's cost and schedule overruns, knowledge gaps, and performance issues. Although DOD has taken a number of steps to address these concerns, the department continues to struggle to keep the development costs for the baseline aircraft in check—raising questions about DOD's plan to make significant investments in developing new F-35 capabilities."

The Government Accountability Office's Latest Evaluation of the F-35 (2017)