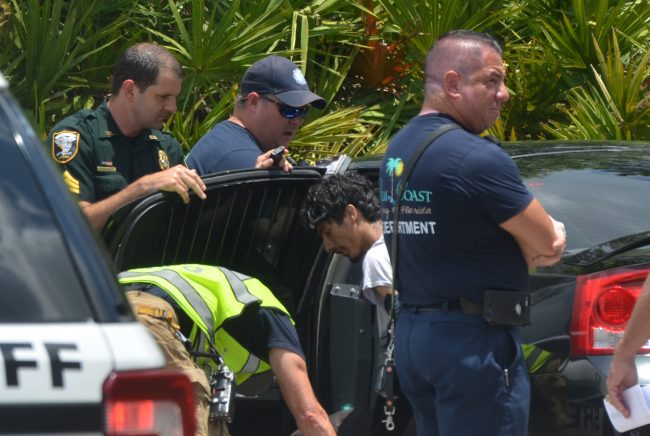 Last Updated: 2:21 p.m.
A 19-year-old man was shot allegedly by his neighbor at 1:10 p.m. this afternoon at 13 Fulton Place in Palm Coast. The victim was shot in the chest and flown to Halifax hospital in Daytona Beach.
The victim was identified as Marco Salazar. His condition Sunday morning was still unclear.
The suspect, Levi Evan Ovenshire, 19, fled in a tan Honda Accord (with a "Coexist" bumper sticker), and was detected at 1:29 p.m. by an unmarked Flagler County Sheriff's vehicle at the intersection of Old Kings Road and Town Center Boulevard, where a chase began as Ovenshire did not stop.
"We attempted multiple times to put down our stop sticks, he drove around them," Sheriff Rick Staly said at the scene. Ovenshire evaded those several attempts in Palm Coast's R-Section, speeding through Ryan Drive, Rymfire Drive, Relay Court and Raleigh Drive before stop sticks and a convergence of sheriff's vehicles cornered him on the shoulder of Raleigh Drive and Rae Drive. By then, two, possibly three deputies' vehicles had been damaged either directly by the suspect's maneuvers or as a result of the chase.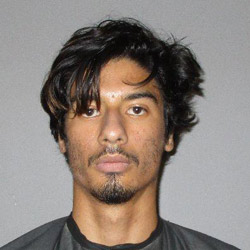 "Possibly three cars with minor damage. Unfortunately that's the cost of apprehending dirt bags sometimes. I'm just glad that no one was injured either by citizens or by my deputies because he was driving like a maniac."
Ovenshire was apprehended at 1:50 p.m., 21 minutes after the chase began–sparing deputies another manhunt less than 48 hours after they'd gone on a six-hour manhunt for a suspect who'd fled after, merely bumping into a sheriff's vehicle.
"We're still looking for the weapon," Staly said. "We have him in custody, that gives us time to finish building the case on him." The shooting took place at his house, apparently outside. The house will be searched once warrants are secured. Staly added: "We can take our time to do the search warrants, search the route he took, because we know he threw all kinds of stuff out."
The sheriff was in weekend gear, in shorts, on his way with his wife Debbie to Daytona Beach's Skip's Western Store, where he was to buy a cowboy hat. Spotting the "Coexist" bumper sticker on the car Ovenshire crashed, the sheriff said: "apparently he can't coexist."
"We're securing his house, we're securing the crime scene of the shooting," the sheriff said not long after the arrest, "our investigators are in route, our CSI unit is in route, we have multiple crime scenes at this point." He said there is a "known relationship" between the victim and the suspect, though it's not clear what sort.
Ovenshire, a resident of 13 Fulton Place, was arrested last month on a minor drug possession charge (possession of drug paraphernalia), a misdemeanor. The charge was dropped 10 days ago. In November 2015 on two drug possession charges and on two felony charges of principle to a crime: he had been at the wheel of a Saturn in an incident on Belle Terre Parkway when a 17-year-old girl riding with him was charged with pointing an assault-rifle lookalike toy, painted all black, as it traveled down the road. All charges against Ovenshire were eventually dropped.
The victim in the incident was found across the street in his garage.
[This is a developing story. More soon.]