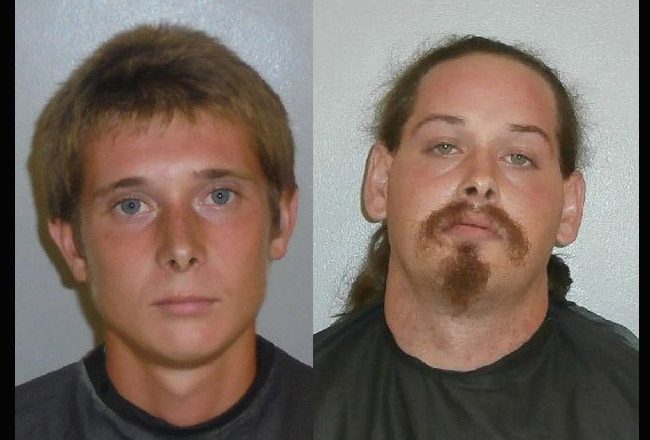 Last Updated: 7:24 p.m.
A suspected assailant was killed in an attempted home invasion on Frank Place in Palm Coast early this morning, authorities say. A second suspected assailant turned himself in later in the day.
The alleged home invasion took place just after 2 a.m. at 3A Frank Place, a 2,700-square duplex occupied by renters.
The man killed was Victor James Betty 28, who'd twice been arrested in Flagler County on drug charges–in 2011 and 2013–and whose listed address at the time was 300 Knollwood Drive in "Iwderson," S.C. (There is no such town in South Carolina, but there is an Anderson.) His Palm Coast address was 17 Cloverdale Court South, an address deputies went to this morning.
Betty was one of two suspects believed to have entered the house through the front door. One or both may have been wearing masks. One of the residents in the house shot at the assailants, killing Betty at the scene. The other, later identified as Carl Devore, 19, fled.
Both men were armed with handguns when they entered the house, a sheriff's spokesperson said.
Devore, of 6 Cedar Court in Palm Coast, had been at large for much of the day before he turned himself in, according to a sheriff's release issued this evening. The Florida Highway Patrol had been conducting surveillance on the interstate, the sheriff's office deployed K-9 units in the neighborhood, where the sheriff's Crime Scene Investigation unit and detectives have been working the scene since shortly after the shooting.
Occupants in the house were not hurt.
"The most important part I can tell you here is that we're in the early stages of this investigation. It's a traumatic incident that happened at this home, we have no motive," the sheriff's spokesman said.
He said there were several people in the home. It's not clear whether there were children in the home. Chief Deputy Jeff Hoffman said the tenants consisted of "primarily a roommate situation. There were adults living in the house."
In mid-afternoon the sheriff's office issued an incident report on the shooting. Deputies had responded to the house at 2:14 after the dispatch center reported to deputies that dispatch had been told "someone came in through their unlocked front door with a gun."
"Upon arrival I observed the front door open and several subjects walking around inside the home," a deputy reported. "I made contact with them from outside the home and ordered them all to step out of the residence. I then observed a male lying face down on the floor just inside the front door with a black cloth around his face." A deputy checked the man for a pulse. He was unresponsive. Additional units responded at 2:17 a.m. and directed to check the area for a second male suspect who fled the scene, possibly wearing a white tank top and some type of mask or cloth covering his face. The man on the ground, whose identity has not been released, was pronounced dead at 2:29 a.m.
There were six confirmed occupants in the house, including a 2-year-old child. The five adult occupants consisted of three men ages 18, 20 and 21, and two women, ages 18 and 20.
One of them, Darien Corbett, 21, told deputies: "We had just gotten a new rug and were vacuuming it and the next thing I know my door is being kicked in and I see a gun in my face." He then closed the door and, according to the incident report, "tried to keep it closed while he retrieved his 40 caliber weapon. He attempted to hold the door closed and showed me abrasions he had on the back of his right arm from trying to keep the door closed," the deputy reported. "Once he got his weapon he opened the door back up and stated, 'I opened the door and he pointed it and I just closed my eyes and shot twice and then my gun stopped working.'" Just after Corbett made those statements, his 20-year-old male roommate told police, "He was pointing the gun at my face telling me to grab money."
In 2013, Betty faced two third-degree felony counts for possession of prescription drugs. The charges were dropped. In 2011, he faced a third-degree felony charged for possession of a controlled substance. The charge was dropped.
"If anyone has any information as to who this suspect is or why this happened, contact us at the sheriff's office," the spokesman said, noting that reward money may be available.
"You just don't enter someone's home–two men armed with a handgun, unless there's a reason, and we don't know that reason yet," the spokesman said.
The two men were allegedly seeking marijuana, according to the sheriff's release.