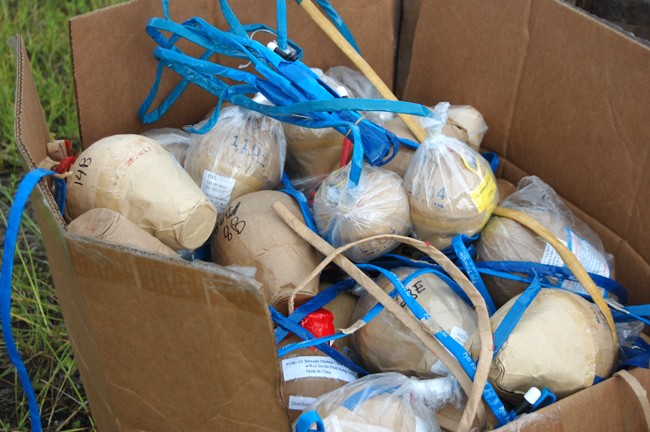 There was a scare Friday morning at Santore & Sons manufacturing on County Road 305 in western Flagler County, when a small explosion sparked a small fire and caused no injuries. A county news release initially mentioned minor injuries to two employees, but R.J. Santore, the company's vice president, said this afternoon there were no injuries. The company described it as "a small flash fire" in a statement it issued this afternoon.
The explosion took place about 8:45 a.m. in a small 150 square foot building located at the manufacturing company. The building is used to house the machine that presses gunpowder into pellets.
The fire was restricted to a 12-by-12 area. The explosion caused two workers to panic.
"There was some damage to equipment. All safety protocols were followed in work," Santore said. "We are still assessing exactly what happened."
"When something like that happens, your adrenaline pumps and your heart races," Flagler County Fire Rescue Chief Don Petito said. "They are fine. We didn't have to transport them to the hospital. They are staying at work."
Four firefighter-paramedics arrived on scene within three minutes. A small fire was extinguished in the concrete and metal building, according to a county news release.
By then, the county had scrambled most of its manpower, including Petito and Kevin Guthrie, the county's emergency director, though within minutes they were informed that the damage was slight and the matter could be downgraded to a non-emergency.
"When they are pressing the powder it starts cold but it heats up in the process, and there was an unusual reaction," Petito said.
Manufacturing operations at Santore continue as normal as they prepare fireworks for Independence Day and other events throughout the year. The fireworks for the Flagler Beach show are being shipped in from a factory in Montana, from a different Santore company, a Flagler Beach official said.