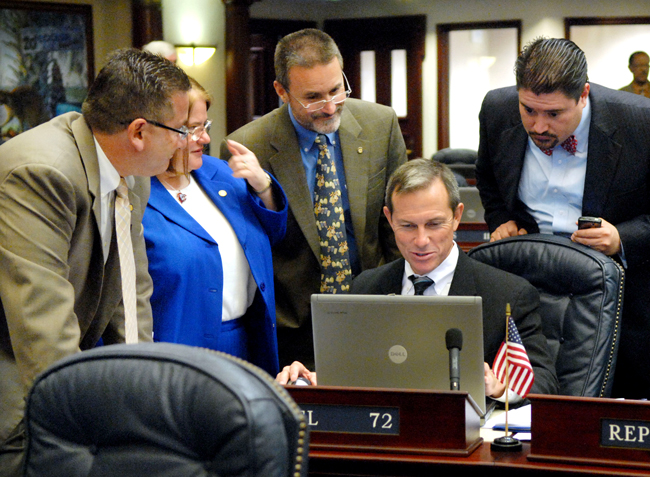 With the House raising arguments about separation of powers, a Leon County circuit judge is expected to allow only limited questioning of Rep. Rick Kriseman in a court battle about the hotel taxes paid by online-travel companies.
Expedia last month subpoenaed Kriseman and an aide to give depositions about their roles in distributing potentially damaging company documents to House members and the news media.
But the House last week filed an emergency motion to try to block the depositions or to limit the questions that could be asked. House officials said after a hearing Wednesday that Leon County Circuit Judge Terry Lewis sharply limited the possible questions, though a written order has not been finalized.
Kriseman, a St. Petersburg Democrat who argues that Expedia and other online-travel companies do not pay the full amount of required hotel taxes, said the depositions are an attempt to harass and intimidate him.
"There is no information that I can provide to them that they don't already have," he said by telephone after the hearing.
The subpoenas are part of a long-running legal fight in which Broward County is seeking to collect millions of dollars in hotel taxes from Expedia and other online-travel companies. Other counties have pursued similar claims, and the controversy has spilled into the Legislature.
The companies, which serve as middlemen between hotels and travelers, charge customers for room rentals and fees for providing the service. The lawsuits center on whether tourist-development taxes should apply to the total costs, or as the companies argue, only to the amounts that pay for room rental.
Kriseman drew attention in May when he received Expedia documents that had been unearthed in a Georgia lawsuit and e-mailed them to all other House members and to at least two news organizations. Jon Moyle, an attorney for Broward County, passed along the documents to Kriseman as the House prepared to vote on a bill aimed at shielding the online-travel industry from the disputed taxes.
The documents, which include opinions from attorneys and accountants, could be used to argue that Expedia knew as early as 2003 that it should pay the disputed taxes.
Broward County attorneys have sought to use the documents in the lawsuit but have drawn fierce opposition from the company, which argues the internal communications are confidential and "privileged" material that cannot be used in the case.
Lewis has agreed the documents are privileged but has not determined whether that privilege has been waived — which could allow them to be used in the case — because of their distribution, according to court records.
The Republican-controlled House filed an emergency motion Oct. 31 to try to quash Expedia's subpoenas of Kriseman and his district secretary, David Flintom. As an alternative, the House said Lewis could place strict limits on the types of questions Expedia would ask during the depositions.
House General Counsel George Levesque argued in the motion that lawmakers cannot be forced to testify about issues in the legislative process, except in some criminal matters.
"Failing to protect members of the legislature and their staff from intrusive depositions that are prompted by their actions connected with their legislative role and duties would impair the ability of a co-branch of government from conducting its business and have a chilling effect on a legislator's advocacy on behalf of constituents," the motion said.
But Expedia fired back Monday by saying the documents are privileged and that it should be able to examine how Kriseman received the material and the actions that he and his staff took.
"The testimony Expedia seeks is relevant, and the excuses offered by the House simply do not stand up to scrutiny," Expedia argued in a court document.
Katie Betta, a spokeswoman for House Speaker Dean Cannon, said in an e-mail after Wednesday's hearing that Lewis directed Levesque to write a proposed order that would limit the questioning of Kriseman and Flintom. Lewis ultimately would sign off on that order.
Betta said the questioning would be limited to information that online-travel companies provided to Kriseman or his aide.
–Jim Saunders, News Service of Florida