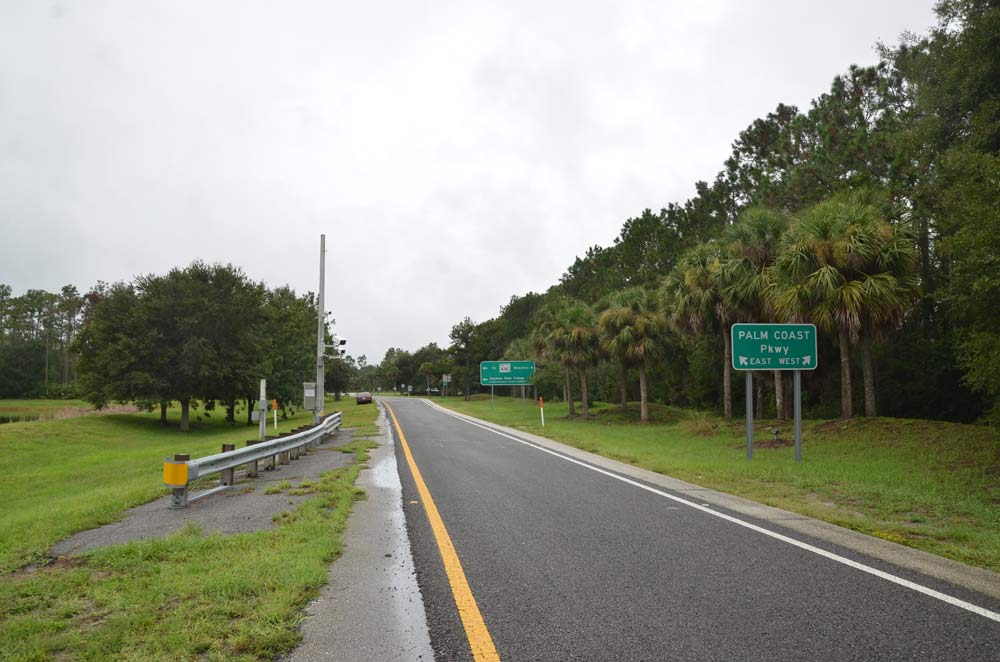 A 22-year-old man was killed in a single-vehicle crash early this morning when his sedan veered off the exit ramp at I-95 and Palm Coast Parkway and struck a tree.
It isn't exactly clear when the crash took place, during a night of periodically heavy rain. It was not reported by passers-by or others involved in the crash, as is usually the case. Rather, the Flagler County Sheriff's Office said a Florida Highway Patrol trooper was on proactive patrol when he noticed the crashed car.




The Palm Coast Fire Department's Engine 22 and Flagler County Fire Rescue were dispatched at 1:10 this morning. The vehicle was near the large retention pond at Exit 289 (itself the scene of two previous severe crashes since 2017, one of which left a man in critical condition, another resulting in his eventual death, though he had been rescued alive from the pond.)
In today's case, the 22-year-old Jacksonville man was driving south on I-95, took the exit ramp, and failed to negotiate it, according to an FHP report.
"It appears the vehicle struck a palm tree, cut the palm tree in half," said the Palm Coast Fire Department's Lt. Patrick Juliano, who was at the scene. "The vehicle had heavy, heavy front and driver side damage with heavy intrusion into the driver compartment."
The driver was the sole occupant of the vehicle. He was pronounced deceased at the scene. Palm Coast fire crews had to cut various parts of the car in order to extricate the body before the medical examiner took the body to St. Augustine for an autopsy. FHP did not release the identity of the man.
It was at least the 14th fatality of the year on Flagler County roads, and the sixth in the last nine weeks.