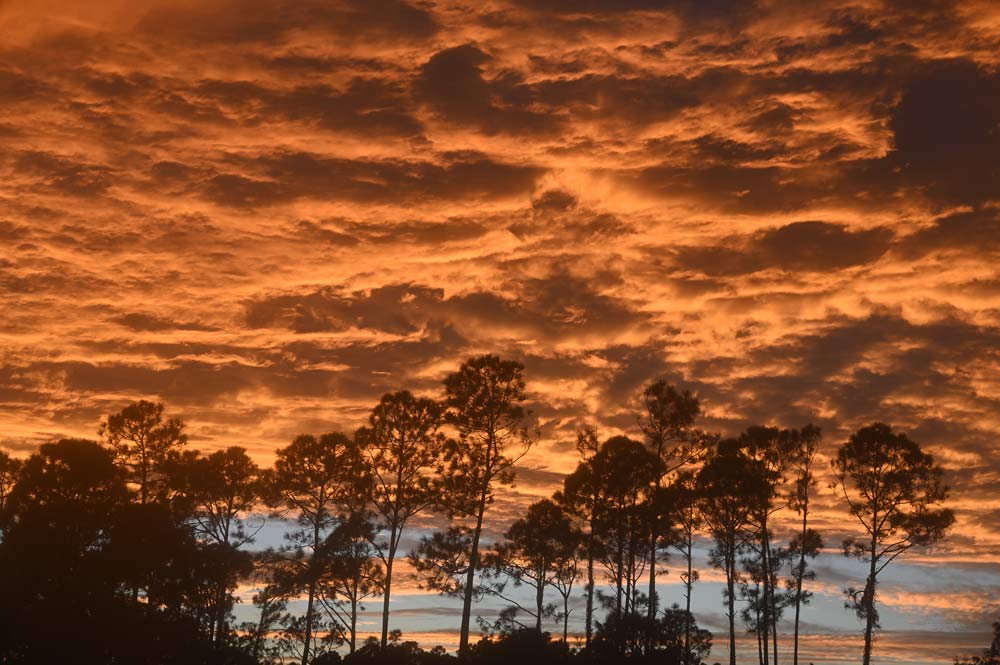 The National Weather Service in Jacksonville has issued a rare excessive heat warning for Flagler County and Northeast Florida. Near record heat will combine with summertime humidity today to produce dangerous heat index values exceeding 100 degrees beginning in late morning, persisting through at least sunset tonight, and repeating Saturday.
"Older adults, the very young, and people with mental illness and chronic diseases are at highest risk," the Centers for Disease Control cautions, with heat exhaustion or heat stroke occurring as one's body temperature rises faster than the body's capability to cool itself. "However, even young and healthy people can be affected if they participate in strenuous physical activities during hot weather."




The Excessive Heat Warning applies across southeast Georgia and northeast Florida, with a Heat Advisory extending into portions of Central Florida, as heat index values top out in the 110-115 degree range this afternoon. The heat index is expected to reach 113 in the Palm Coast-Flagler area today, and 112 Saturday, before falling to 106 on Sunday and 100 on Monday.
"This is not a Flager thing. This is happening all over the country, all over the world, obviously, in particular right now in the northern hemisphere we're seeing all kinds of weather records set," says Flagler County Emergency Management Director Jonathan Lord. The county has seen heat-index extremes of above 104 for the last few weeks, with a few exceptions on overcast days.
"Our warning to our general public is if for some reason you don't have air conditioning, maybe it's broken, maybe you don't have the means, find places that are air conditioned," Lord said. "Go to the library, go to any of our local retail outlets, go to the bowling alley, the movie theater."




The county has an emergency system in place in case of brown-outs–when the electric grid might fail in places because it is overburdened by demand from air conditioning, though that's not expected. The county would open community centers, with generators if need be, for affected people to take refuge in, just as if it were a hurricane or tornado emergency. "So if we needed to do that it would literally take us minutes to get those things up and running if we were in that situation," Lord said. "We have that game plan in place and ready to pull that trigger 24/7 If we had to. It's the same plan that if we had a tornado come through town." Emergency Management has the authority to stop scheduled events at community centers and replace them with emergency sheltering.
The heat will affect people outdoors even if they are in the shade. "We know people have to work outside. We get it. It's not realistic to expect people not to work for multiple weeks on end when they're in outdoor jobs," Lord said. "Hydration is super key. The human body is very resilient, but you also take care of it to make sure that it's resilient. And you do have a big concern about heat-related emergencies, heat exhaustion, heat stroke, which are real things. They do happen."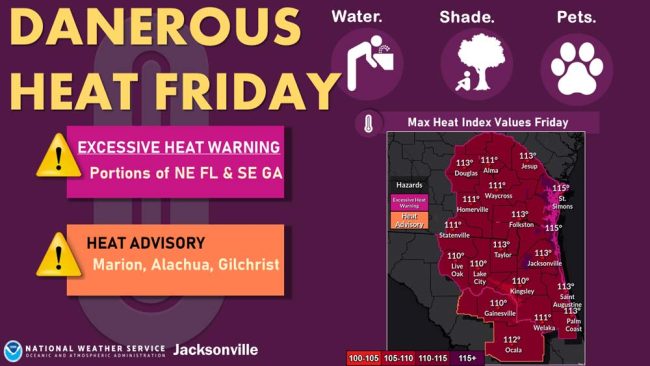 The Excessive Heat Warning is rare but is expected to become more frequent as heat records continue to fall week after week and the warming of the planet accelerates due to a combination of human action on one hand–the continued overproduction of greenhouse gas emissions–and political and regulatory inaction on the other. In Florida, state and local governments are focused on "resiliency," an approach that seeks to adapt to dangerous heat, rising seas and floods rather than combat or seek to lessen those factors.
The current excessive heat wave is affecting a huge swath of the South, from the Eastern portion of Texas through all of Louisiana, almost all of Mississippi, Alabama and Georgia, and all of Florida, plus portions of South Carolina and Arkansas. The excessive heat area affects a quarter of the nation's population.
Lord said Florida is more prepared than more northerly states to handle heat waves, because it is generally "heat-centric."




"Most homes are built with air conditioning gear, therefore our impacts are lower than some of the more densely populated northern climates that didn't historically have air conditioning," Lord said. "It's not perfect. Some people don't have air conditioning for a variety of reasons, and we know those people are out there and between 911 calls or social service, we try to make sure that they're checking on those kinds of folks."
The heat is creating conditions conducive to dangerous storms. Strong to severe thunderstorms are sweeping across the southeastern states late this afternoon, with damaging winds, hail and frequent lightning strikes, but those impacts are expected in Southeast Georgia more than in Northeast Florida today.
The heat is creating other conditions that are worrying emergency management officials: record high ocean temperatures. Flagler County's ocean temperature is in the mid-80s currently, but it reached 80 faster than in previous seasons, Lord said. Further south, waters off South Florida have reached 90 degrees it's 88 today off South Beach).
"The Atlantic right now and the climate is making me very nervous, because the number one condition to be most concerned about with hurricane formation is ocean temperatures," Lord said, "We continue to set records in the Atlantic and the Caribbean with high ocean temperatures. And we are definitely seeing that right now." Saharan dust on one side of the globe and El Nino on the other (El Nino describes warmer Pacific waters that could lessen hurricane effects in the Gulf of Mexico and the Atlantic by chopping the top of hurricanes when they form, as Lord describes it) mitigate some of those dangers, but not in a predictive way: the factors could change.
So Lord is reminding residents that peak hurricane season is ahead, in September.

The following is a CDC infographic: