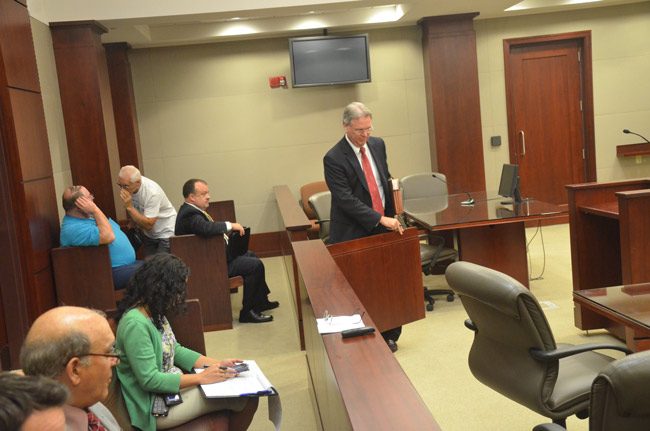 Maintaining her innocence, ex-Flagler County Elections Supervisor Kimberle Weeks has rejected a plea deal that would have spared her prison on felony charges that she illegally recorded conversations, but would have meant probation, according to Kevin Kulik, her latest lawyer.
"I'm not saying that a plea bargain is impossible, but at this time, no, we're not accepting a plea offer, we're asking for a trial," Kulik said before Circuit Judge Margaret Hudson in a brief pre-trial hearing this morning in Bunnell. Kulik in an interview later said he did not have the details of the plea offer, but that it would have spared Weeks prison while still resulting in a criminal conviction. That would also have jeopardized or eliminated her opportunity to benefit from the state's pension plan.
Asked if the plan was to go to trial, now that seven of the 12 original felony charges against Weeks have been dismissed, and that several other matters have been put to rest since Weeks was indicted by a grand jury in May 2015, Kulik said; "I think so. That's my thing. That's why I'm here."
Kulik is the fourth attorney Weeks has retained since the indictment. She was booked at the Flagler County jail with a Volusia County lawyer at her side, then quickly retained Jeorg Jaeger of Orlando. Jaeger died last year. His partner Kendell Ali took over until last week, when he informed the court that he was withdrawing as counsel, with Kulik, a Fort Lauderdale lawyer, taking over. Kulik did not say why Ali had withdrawn, only that he was brought in because his expertise is as a trial lawyer.
Weeks was not at the hearing today. Her son, Duane Jr., who's had issues with the law previously, turned himself in at the Flagler County jail Wednesday on a charge of grand theft following an April 20 allegation of shoplifting $467 worth of merchandise at Walmart. He was released this morning on $2,500 bond, at the same time that his mother's hearing was beginning.
Weeks's husband, Duane, was at the hearing, as was John Ruffalo, an ally and former member of the now-defunct Ronald Reagan Republican Assemblies of Flagler County, who has closely followed her case and may be a clue as to who is helping to pay the mounting legal bills. The hearing was also attended by Al Hadeed, the county attorney, and an assistant. Hadeed and County Commissioner Charlie Ericksen were among those Weeks had recorded. But the felony count based on that conversation was dismissed after the judge ruled that it had taken place in the context of a public meeting, in a public area of the supervisor's offices, where there was no expectation of privacy.
That conversation's recording had been at the source of the county's complaints against Weeks, which eventually led to a state investigation and, finally, the indictments. But as often happens with such investigations, the evidence uncovered broadened the target.
Other than the revelation of the plea offer from Assistant State Attorney Jason Lewis–who was present by phone, as he was attending a conference–the hearing was uneventful, now that most pre-trial legal wrangles have been worked out between the two sides, many of them to Weeks's advantage: first Jaeger then Ali successfully pared down the list of third-degree felony charges against her by drilling holes in the state's case against her on various grounds. But that has become more difficult, with remaining counts resting on more solid evidence and legal reasoning. One of those counts include the recording of Secretary of State Ken Detzner during a phone call, after Detzner had told Weeks he did not want to be recorded. It is a third-degree felony to record someone in Florida, absent the person's permission, except in public settings, at public meetings or in places where there's no reasonable expectation of privacy. Weeks took advantage of those exceptions to pare down the number of charges against her.
Today, Hudson wanted to know how soon the case could be moved to trial. But while Lewis and Kulik appeared willing to tentatively set a trial date in the fall, the judge asked that they work out a few more remaining issues first. Kulik plans to file what he called "clean-up motions," including one that would address what he considers to be the "overbroad" nature of the charging affidavit and warrant against Weeks. Lewis had considered introducing evidence that was not part of the indictment, but that would have gone to buttress the state's claim that Weeks was acting criminally. Lewis said today that based on Ali's statements previously, he would not be proceeding with that step.
Hudson gave the two sides until July 31 to file their final motions, on which she would rule without an evidentiary hearing. A final pre-trial or status hearing would be held, when the two sides would presumably agree to a trial date.