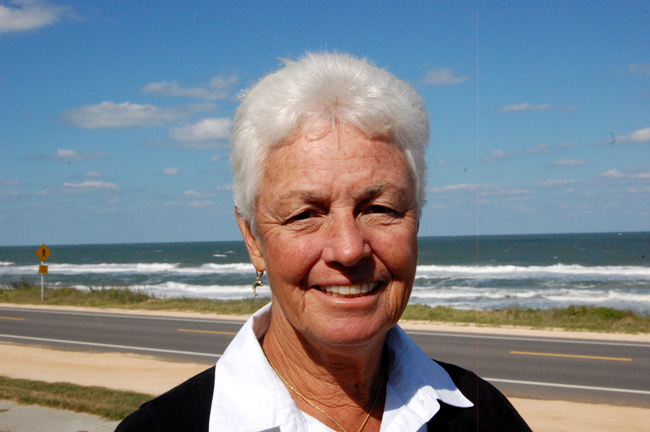 Evie Shellenberger has served on the Flagler County School Board for the last eight years, the last two as its chairperson. She's down to her last three weeks. She chose not to run again. On November 2, either Raven Sword or John Fischer will be elected to replace her. The two candidates are in a run-off following the three-way September primary.
Shellenberger knows them both well. She defeated Fischer four years ago. She's had long conversations with Sword and followed her campaign this year.
On Wednesday, Shellenberger made her endorsement official.
"I sincerely hope that any of the voters out there who have been my supporters over the last eight years will support and elect Raven to this position. I totally endorse her, and I think that she'll bring a new perspective, a forward-thinking stance to the board, and be actively involved," Shellenberger said.
Looking back at her tenure on the board during an hour-long interview, Shellenberger said she was worried that the cohesiveness and flexibility of the board might be damaged by Fischer's accession, at a time when the board faces a series of budgetary crises. She cited several reasons.
"He does not have a clue what is going on, and what the role of a school board member really is," Shellenberger said. "He talks in circles and he never makes the point clearly as to what he's talking about. For example, the .25 mils. That is a continuation of a tax we have already. We've had that tax in place for years. He clearly doesn't understand that." (Fischer is opposed to the tax, though in an interview with FlaglerLive he was unaware of the tax's origins or purpose, or its financial effects on taxpayers: "If they're going to get another .25, it'll certainly be an increase in their taxes," Fischer said, inaccurately.)
"Talking with Raven," Shellenberger said, "I find that she has a real clear vision as to what she wants. She even spoke, not in details, but she spoke of the dreams, the vision she has for some creative programs that will bring more vocational programs into our schools, which we've all been trying to do. Sometimes it takes new blood to get something like that sparked. I thinks she's got that desire to look for new resources to help us, so that during this funding crunch, we find new sources to keep programs that make Flagler County special going, whether it's the service learning program, whether it's Phoenix Academy, whether it's Pathways Academy, whether it's the strings program. No matter what it is, all of these programs is what makes Flagler County so special because we are reaching young people that are interested in something completely different."
Three other issues about Fischer concern Shellenberger: his inflexibility, his tendency to make up stories, and his micromanaging ways.
"I don't know how flexible he is or will be in compromising on some of the problems that come up. It's not always about the dollar you spend," Shellenberger said, referring to Fischer's insistence, though vague, of wanting to look for cuts in the budget. "Sometimes you have to spend that extra dollar to have a Pathways program for students that make some very, very poor decisions. They're still good kids, but they make some poor decisions, and if we don't have programs to try to keep them and help them understand why their decision was wrong and what they could do to make better decisions in the future, obviously they're going to end up getting kicked out. We can't do that. We need to stop and try to keep them from doing that."
Fischer frequently speaks of a list of things he's advised the school board to do, and that the school board has implemented. That's just not true, Shellenberger said: "It is as if he had been an advisor to the current school board, to put it very bluntly. One example of what he said is he asked us to go and visit high-performing school district. We are a high-performing school district. We have people coming from all around the state weekly from all around the state to see programs we have going on, as well as out of state."
Finally, Shellenberger is concerned about a prospective school board member who'd meddle too much in the administration. Fischer defined his role as a school board member this way: "To oversee the entire school system as a hands on person." That's actually the school superintendent's job description. "Most decisions made by the school board," he added, "are budgetary and contractual. My business background and the fact that I am a common sense person-thinking before acting-will make me effective in these areas."
That's not what school board members should be doing, Shellenberger says. Their role is about policy-setting and oversight through the superintendent, not hands-on management. "I'm afraid he would try to micromanage," she says of Fischer. That would have direct implications: "Our staff, since we've cut a number of positions in the district office particularly, those individuals are covering two or three jobs, and every time you ask them to stop and research something, it takes time from their day-to-day jobs. That's where it goes with his understanding the role of a school board member. Yes you have to find answers to questions that you have on a board agenda, and things that you don't understand, but you have to be very careful as to how much time you take away from your staff's day-to-day jobs."
Looking at the board's dynamics, which always change when a new member arrives, Shellenberger said: "We have had a very cohesive board for the most part, all the years that I've been on it, even with the changes that we've had. Most of it is because we're set in our ways but we're flexible, and we agree very much to disagree, and we're willing to accept the fact that, you know what, other people are right sometimes, and once you walk out of the room, you support that, whatever the decision was. My main concern is, I'm not sure that he has a real, true understanding as to what his role would be. Anybody can gain it, if they're willing to. He's pretty opinionated. How flexible he would be, I really don't know."
Clearly, Shellenberger has some misgivings about leaving the post, but no regrets—not over her decision, not over her 40-some years in education or the last eight on the school board, where she's often been a swing vote on critical issues—and a tempering voice on others.
"When you're with a group of people for eight years—not all of them, Sue and Colleen and I have been together for eight years—we're a close-knit group," she says, referring to Sue Dickinson and Colleen Conklin. "I clearly have concerns as to what's going to happen. That's probably why I struggle so much to making the final decision to walk away, even though I'm still on the budget committee for next year and still involved with a lot of things," Shellenberger said. "But I don't regret one minute all the years I've done in education and any of the jobs. I'm thrilled—I never thought I'd go into politics, but when I did decide that I wanted to do that, I'm excited that I did and I don't know of any regrets that I have. I wish I had the burning desire to do it longer. But you know, it's time to do some other things, and I know very well that life goes on."
And let someone else take over. "I just hope it's the right person."