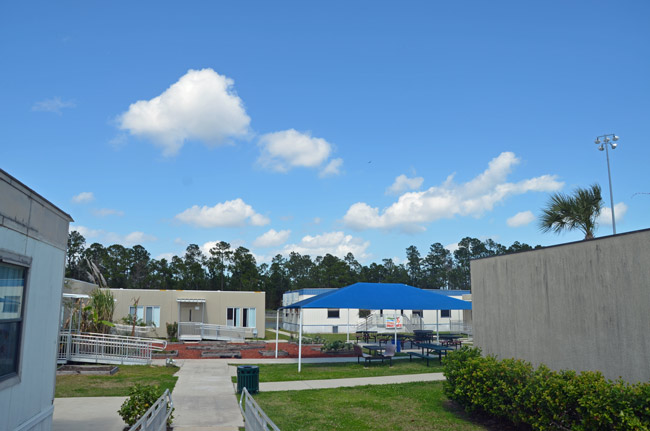 As I scan the Flagler County jail docket, which the local newspaper prints each Wednesday, I'm not surprised to see a certain former student's name listed among the several dozen people booked last week. He amassed dozens of behavior referrals when he attended Matanzas High School and failed my class and several others. I'd seen his name in the docket before. This time, charges included the sale of a schedule II substance, grand theft auto and possession of marijuana.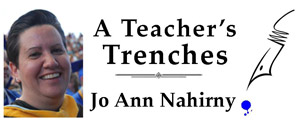 Every now and then I see a former student's name listed, including one last month who'd been labeled  "gifted," when he'd sat in many of the same classes with my own daughter years ago.   How sad to see people, especially those with potential, waste their lives. But even worse is realizing that I, and many teachers of these students, predicted such outcomes years ago, despite all-too-frequent parental reluctance to see what we'd clearly foreseen. The telltale signs of rough waters ahead manifested themselves in and out of the classroom in frequent, and none too subtle, ways.
Those former students' names I see in the docket typically had juvenile records, too.  Most of the time their names weren't published as minors (though local police routinely release the names of minors charged with felonies). But we teachers could easily discern who they were.  How could we not, when their parole officers showed up on campus, or when they missed class to go to court?
It's not uncommon for juvenile offenders, even those who've committed serious crimes, to sit in public school classrooms. The law permits many underage criminals to continue attending school alongside the well-behaved and law-abiding youngsters –-your children and mine. That's because the crimes they commit almost always occur outside of school hours. So school administrators' hands are tied. The law limits what they can do.
In neighboring Duval County for example, a 14-year-old recently beat a classmate so brutally (an event captured and shared using cell phones) that the victim suffered a fractured skull. But it happened off school grounds. So the perpetrator is being allowed to return to school. (A circuit judge banned the attacker from attending any public school in the county, but an appeals court suspended the order.) In a televised statement, Duval Superintendent Nickolai Vitti said, "I don't think we should use the bad decisions that children make outside of school as an example or scapegoat to make a message…. It's a tough decision, but my role as superintendent is to support the law."
The bully's attorney agreed, telling CBS "Our goal is to return our client, a child, to a public school, so she can complete her studies for this academic year."
Fortunately, in Flagler County, we have an "alternative school," Everest, previously called Pathways, which some (but by no means all) of the most behaviorally challenged middle and high school students now attend.  The district plans to close Everest if voters don't approve a property tax of 50 cents per $1,000 of taxable value on June 7, at an average annual cost to homeowners of less than $50.
In online and public forums, I've been dismayed to hear and read comments some have made supporting the proposal to close Everest. But if Everest closes, the truth is that most of its students will return to "regular" classrooms –and will sit in seats next to your sons, daughters, nieces, nephews, younger siblings or your grandchildren.
Some of these youths seriously impede the learning environment. During my eight years at Matanzas, I've seen it happen in my own classroom and countless others, where we're expected to "control" a teen –whose own parents cannot or will not. The significant amount of time we must allocate to dealing with the misbehaviors of insubordinate and unruly kids detracts substantially from the time we spend with your children, the kids who really want to learn, the youth who deserve an education.
Over the years, more than a few juvenile offenders have appeared on my rosters and those of my colleagues. I'm not talking here about teens who've smoked a little pot, or gotten into a relatively minor scrape or scuffle, or been caught in flagrante delicto. I don't condone these activities. But those sorts of students are suspended and inevitably return to the fold within a week or two. I'm talking about those who've already earned designations such as "juvenile sexual offender" –or far worse.
I remember a few years ago a girl in my seventh period English class. Her mother had requested a teacher who was "stern and strict" and who would offer her child "routine" and "structure" because she'd had "some trouble" in the past. That's all the information I received. Teachers rarely get the full story, as kids' privacy rights trump my rights to know what I'm dealing with–as well as your rights to know who's occupying the seat next to your innocent son or daughter.
I later found out she'd been incarcerated for nearly three years. You don't have to be brilliant to figure out that she must have done something really serious to merit such a long stint behind bars. I almost didn't want to know what. Yet, she proved to be a bright gal, participatory and eager.  I hoped she'd succeed, and spent many afternoons after school giving her extra help. I treated her like everyone else, with respect and dignity,  not letting what I knew of her past cloud my judgment.
But it didn't take long before she began cutting classes, earning detentions, Saturday school, and in-school and out-of-schools suspensions.  She was caught with tobacco. She earned referrals for cheating and being rude to her teachers. She got arrested for assaulting her mother when they fought over who smoked whose cigarettes. One day she showed up with glassy, bloodshot eyes, started shouting uncontrollably when I asked her to take her seat and begin her work, then stormed out of the room, pelting me and her shocked classmates with a barrage of profanities. A few days later, she was gone — a runaway, someone said.
The following year, a dashing young man was added to one of my sophomore English classes a few weeks after the school year started. Noticing he was a few years older than the others, I was told he'd failed several classes due to his frequent, unexcused absences, attributed to some vague "home issues."  I suspected he'd been in trouble with the law, but didn't know the details. One day, a colleague told me to check out a certain website saying, "I think you'll recognize someone on it."  At home that same night, I did–and was greeted by the boy's mug shot. Under his name it read, "Juvenile Sexual Offender." Reading the details, I learned he'd been found guilty of sexual assault–on a girl under the age of 12! And yet here he was, in my classroom, surrounded by attractive females.  Would you want your daughter or granddaughter to be one of them?
In the routine pattern that typically emerged amongst the smattering of juvenile offenders assigned to my classes, he completed no homework or reading assignments. When he did attend school, he came without pens, pencils or notebooks, no matter how many supplies I gave him.   He violated myriad school rules, resulting in weekly detentions and in-school suspensions.  He racked up a few dozen referrals in a matter of months. More than once I and his six other teachers and other staff members attended before and after school parent conferences to discuss his lack of progress and poor behavior. Each time we listened to his tearful mother bemoaning the "raw deal" he got, lamenting that she'd "tried everything" and "nothing works."   Eventually, after several teachers questioned why his antics hadn't landed him in alternative school, the boy signed a "behavior contract" wherein he and mother acknowledged that one more infraction would result in his placement at Pathways (now Everest).
 That happened within hours after he signed it – whereupon his mother immediately withdrew him, purportedly to "homeschool" him, rather than allowing him to face the consequences of his own poor choices and misbehavior.
I believe all students are entitled to a free and appropriate public education, and that all students can learn–but not at the expense of disrupting the learning experience of dozens of the other kids I teach who truly want to take advantage of the educational opportunities which we, as  taxpayers,  ensure they get each day.
Newtown and other appalling events have caused many of us to question whether we are doing enough, or spending enough, to keep our children safe. But perhaps the greatest threats aren't posed from anomalous psychotic gunmen. The biggest threats could lurk in our very own schoolyards–or soon may, if we leave them with nowhere else to go.

Jo Ann C. Nahirny, a 1985 graduate of Columbia University and a National Board Certified Teacher, teaches English at Matanzas High School in Palm Coast. Reach her by email here.