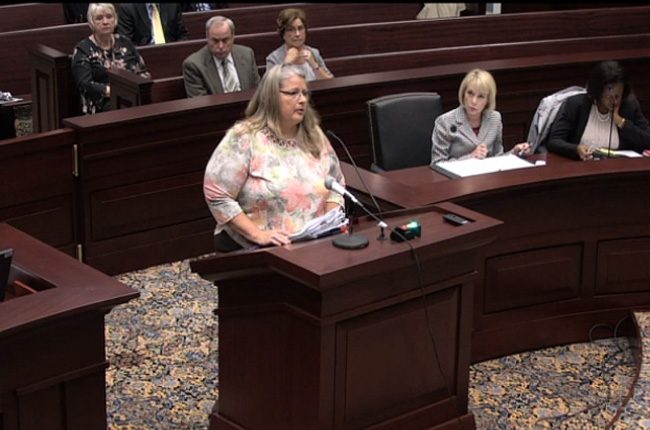 The Florida Ethics Commission this morning approved with unanimity–or near-unanimity–five orders requiring former Flagler Elections Supervisor Kimberle Weeks and others to reimburse $312,000 in attorneys' fees to the county and an attorney working on its behalf.
Weeks, Mark Richter Jr.–the son of a former county commission candidate–and Dennis McDonald, who ran unsuccessfully for the county commission twice, among other offices, had filed ethics complaints against County Commissioners Nate McLaughlin, George Hanns, Charlie Ericksen and Frank Meeker (who since died), and County Attorney Al Hadeed. The ethics commission determined the complaints were baseless and frivolous, and threw them out. The County Commission argued that the complaints had been filed expressly to defame Flagler's officials and injure their reputation.
If that is proven, then injured officials may petition to recover fees. An administrative Law judge found in the government's favor, and in a series of recommended orders laid out the fees each individual must repay in the five cases. Weeks, Richter and McDonald now have 30 days to pay or face civil action.
For Weeks, who owed $129,000, the ruling is another setback since she resigned as supervisor of elections in early 2015. She was indicted a few months later on 12 felony counts of illegal recording or disseminating of electronic conversations. Those counts have since been reduced to five, but she faces an April trial date, and has presumably been incurring heavy legal fees unless she is being represented pro bono or someone else is assuming the cost of her fees. (McDonald and John Ruffalo, both former members of the now-defunct Ronald Reagan Republican Assemblies, the hard-right political organization, have been her allies.)
The judgment against her also further tarnishes her political reputation or legacy–or her potential future intentions: as startling as it sounds, there is word of her intention to run for a county commission seat.
Weeks and McDonald spoke to the commission this morning. Richter, who has not participated in the process since filing the complaints, was not.
Weeks claimed her due process was "violated," the ethics commission was "misled," information in the orders was "misstated," the issue was forwarded to the Division of Administrative Hearings prematurely. She said the commission did not accommodate her requests to be heard by phone. And she pointed out that Mark Herron, the attorney representing Flagler County, was being reimbursed at rates far higher than what the county's insurer was paying him–because county government had agreed to pay him the difference between what the insurer was willing to pay and what Heron charges.
Herron did not dispute the latter fact: the insurer was willing to pay him $180 an hour. Herron (a former member of the ethics commission himself) charges $300 an hour for ethics work. Yet the Flagler County Commission agreed to pay him $350 an hour, or essentially pay him $170 over and above what the insurer was paying. But he disputed all of Weeks's other characterizations of the cases' unfolding. "To sit here and say that she was denied due process is not a fair and accurate statement," he said.
Michael Cox, a member of the ethics commission–he is a certified financial planner and, like Weeks, a Democrat–alone raised issues on behalf of Weeks, terming himself "disturbed" by the issues Weeks raised and the amount of the fees she was being required to pay. "I don't know her situation but it could potentially ruin her financially," Cox said. "Some of the things she's hitting on are hitting a lot of buttons with me." He was also concerned that she had not been given a chance to be present at her probable-cause hearing, though Herron subsequently said she had walked out of her deposition and had been difficult and at times impossible to be in touch with: Weeks claims she has no internet access at her home, missed notices and, in her view, filed her required papers on time (ethics officials disagree).
Cox pressed his case, suggesting that Flagler officials who had complaints filed against them were leading the charge against Weeks because they didn't like being publicly criticized. "I really think that stinks of politics," Cox said, seemingly less conversant with the county's claims, sustained by the administrative law judge: that the complaints were filed with malice and a reckless disregard for the truth.
Cox had voted with the rest of the commission's unanimity to ratify the orders against Richter in the cases of Nate McLaughlin and Frank Meeker (whose case, since his death, was assumed by Meeker's wife). But Cox said knowing what he learned from Weeks after she spoke, he might have voted differently, and subsequently did, though he proved to be the only dissenting voice. McDonald also appeared and addressed the commission, with the same result.
The ethics commission ratified the following recommendations by Susan Van Wyk, the administrative law judge:
Weeks, who resigned from the supervisor's office and was indicted on felony counts only peripherally related to matters raised in her allegations in the ethics case, filed a complaint against Hadeed through the ethics commission. She must pay $60,682. (See the judge's order here.) Weeks's felony case is a separate and continuing issue.
Weeks filed a complaint against Commissioner Charlie Ericksen. She must pay $68,888 ($56,393 for costs incurred by Ericksen's attorney, $12,949 for costs incurred by the county attorney's office. See the judge's order here.)
Mark Richter Jr., the son of Mark Richter Sr., a 2014 candidate for the county commission, filed a complaint against Commissioner Nate McLaughlin. He must pay $63,110 ($52,928 to McLaughlin's attorney, $10,181 for costs incurred by the county attorney's office. See the judge's order here.)
Mark Richter Jr. filed a complaint against the late Frank Meeker, the county commissioner who died in office last summer of cancer. He must pay $59,942 ($47,971 to Debra Meeker, the commissioner's wife, and $11,971 for costs incurred by the county attorney's office. See the judge's order here.)
Dennis McDonald, who's run for the county commission, for Palm Coast mayor and for a local legislative seat–unsuccessfully all three times–and who's married to School Board member Janet McDonald–filed a complaint against then-Commissioner George Hanns. He must pay $59,042 ($48,500 to Hanns, and $10,541 for costs incurred by the county attorney's office. See the judge's order here.)