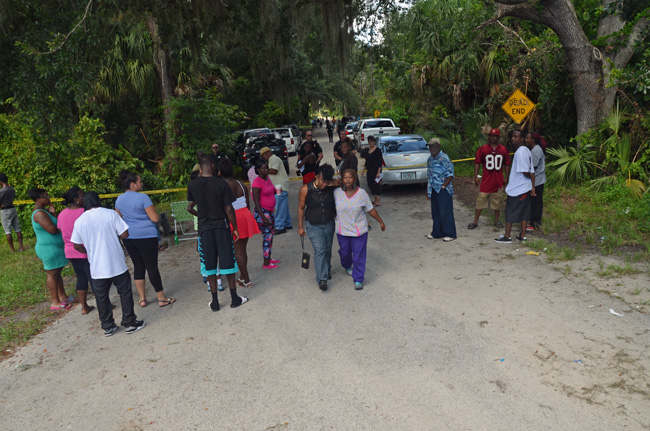 Last Updated: 4:15 p.m.
A man was shot and killed in Espanola this morning as the U.S. Marshals Fugitive Task Force and the Flagler County Sheriff's Office were attempting to serve a fugitive warrant at a home there. But the Marshal Service is remaining mum on significant details of the shooting, including whether the man killed was armed.
"During the warrant service, the fugitive was shot by the U.S. Marshals Fugitive Task Force and succumbed to his injuries at the scene," a sheriff's news release issued late Wednesday morning states.
The suspect and victim is Corey Tanner, 25, last reported of 209 Seventh Street in Bunnell. Tanner had an extensive arrest record in Flagler.
The case is related to a shooting in Bunnell on July 23. Bunnell police had investigated that shooting and secured a warrant for the suspect, Undersheriff Rick Staly said this morning. The warrant was handed over to the Marshal Service. The suspect was tracked down in Espanola.
Bunnell had worked the shooting case a couple of weeks ago and issued a warrant," Staly said. "The marshals tracked him to this location in Espanola, they tried to get him out of the house and resulted in shots being fired and the suspect was deceased."
The shooting took place at a house at 64 Espanola Road. The road was sealed off with yellow crime tape by sheriff's deputies. About two dozen residents have gathered at the road's intersection with County Road 205, some pulling up their own chairs, others with their young infants, sipping drinks or munching on snacks. Residents of the street were allowed through, with a sheriff's escort.
The Florida Department of Law Enforcement is responding to the scene.
Tanner was wanted by the Bunnell Police Department for Attempted First Degree Murder, Aggravated Battery with Firearm, and Aggravated Assault with Firearm in connection with the July shooting, which injured a man and left several cars pockmarked with bullet holes. Tanner "was the only one in the home at the time of the shooting," the Marshal Service said in a statement released in mid-afternoon.
The release added little to what was already known, and does not address how many shots were fired, whether Tanner was armed, where he was shot, or whether he was attempting to flee or harm officers serving the warrant.
There are unconfirmed reports that the suspect pulled a weapon as the warrant was being served. Flagler County Fire Rescue paramedics did respond but did not pronounce the death of Tanner. Local officials are deferring questions to the Marshal Service, whose Penelope J. Knox of the Jacksonville office was in charge. Reporters at the scene were told that a news conference was imminent–that was about 3:15 p.m. An hour later, they were told there would be no news conference.
In a phone interview at 4 p.m., Knox said she could not answer most of the questions posed, including whether Tanner was armed. "It's an active investigation and FDLE is conducting the investigation and I am prohibited from answering any question as it relates to the investigation," Knox said.
The caginess continued through a line of questions.
Knox would not say how many agencies, and what agencies, other than the Marshal Service, were involved in serving the warrant, though other agencies were involved. "Yes, there was other agencies involved, but I am not able to let you know what those agencies were and what their level of involvement was," she said. Other agencies that were involved would have been federal, state or local law enforcement agencies, she said.
These did not include the Flagler County Sheriff's Office, which contradicts the information relayed in a Sheriff's Office release this morning, nor did they include the Bunnell Police Department (which never claimed that it was involved). Knox would not say how many members of the Marshal Service were involved.
Asked whether a SWAT team was used (the Flagler Sheriff's Office does use a SWAT team on occasion when serving warrants), Knox said: "I'm not sure of a SWAT team was used today. In some cases we have used SWAT teams."
The Marshal Service's statement says Tanner was alone in the house, but when asked whether there had been neighbors nearby, or others milling about, at the time of the shooting, Knox said: "I do not know who was in other homes." She did not address the question of bystanders.
"We don't want to keep the public from knowing any of this information," Knox said. "There's going to be a very thorough investigation that is conducted, and that information is going to be released."
Knox could not say when some or any of the answers to questions would start to be released.
"It's still a very active investigation, we're on a supporting role to protect the scene while their crime scene unit responds out of Jacksonville and they start their investigation," Staly said. He noted that no Flagler deputy fired any shots.