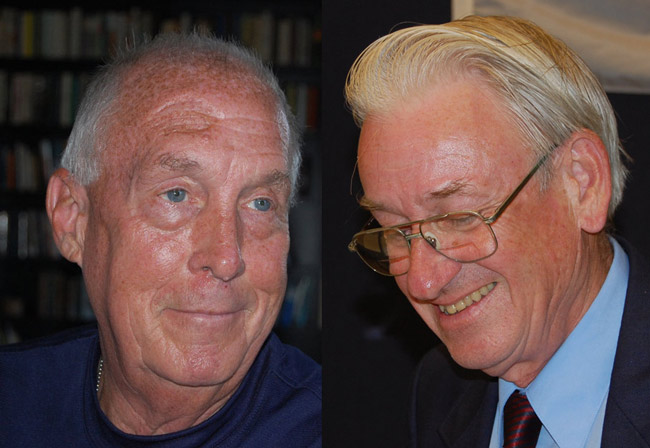 Alan Peterson was the top vote-getter in the 2005 Palm Coast City Council primary and general elections, finally beating out Bill Lewis. Three years later, Peterson decided to run for the Flagler County Commission seat Jim O'Connell decided not to run for again. Peterson won that seat.
At the time, Charlie Ericksen, then 64, hadn't lived in palm Coast very long, but he'd already become a fixture at council meetings and in local Republican circles. The council was looking for applicants to complete Peterson's term. "It was Allen that recommended me for that seat, and it was he who pushed me to put my name in," Ericksen said. Ericksen did, and was among four finalists out of 14 who applied, though he eventually lost out to Lewis.
Peterson might be having second thoughts about jump-starting Ericksen's political interests: Ericksen, who lost his first election just last summer to another fellow-Republican–incumbent Palm Coast Mayor Jon Netts, who won with 54 percent to Ericksen's 41 percent–will challenge Peterson in the Aug. 14 primary.
Three county commission seats are up this year. Barbara Revels and George Hanns are also running for reelection. Hanns, a Democrat, said he'll pay the nearly $3,000 qualification fee rather than gather the 671 petitions necessary to avoid the fee. One challenger has filed for that seat: Republican Herb Whitacker, who challenged Hanns four years ago and lost by four points. Revels, a Democrat, has drawn no opponent.
Ericksen said several people approached him immediately after his loss to Netts to encourage him to run for other offices, most recently John Walsh, the Palm Coast Observer publisher (whose paper endorsed Netts over Ericksen). "He just said that every elected official should have some competition and he asked me what my plans were and he never specifically said any one campaign would be better than the other," Eriocksen said. "He talked about the judicial, the commissioner seats, he talked about the new state, congressional seat, and he talked about the new federal congressional seat but he never specifically said that I should do anything."
Ericksen's main concern over another run has been physical: he has a bad ankle that at times keeps him from walking as freely as he wishes, and considered ankle-replacement surgery until earlier this month, then last week opted for another run for office. "I've limped around for five or six years, I can do OK for another year," he said.
Peterson was surprised by Ericksen's decision. "But as people say, everybody should have some competition in order to explain their goals and objectives," Peterson said.
Asked whom he'd voted for in the Ericksen-Netts contest, Peterson said: "My choice was Jon Netts because I felt he had done a good job, and I felt that you need to serve on some committees or elected positions prior to running for the top elected job in the city. It's very difficult for somebody who's never served to appreciate and understand the compromises essential to government in order to accomplish anything."
Ericksen is a retired insurance executive. He's not an ideologue, but fiscal conservatism and running government as a business frame his thinking. Peterson, a retired banking executive, considers himself a fiscal conservative as well, but Ericksen, who has yet to develop his campaign's themes, criticizes Peterson on two counts: the commissioner, Ericksen said, was too quick to go along with talk of employee raises in the coming budget: "The commission doesn't tell the county administrator how to run the day to day operation but I still think the county administrator needs to be given direction up front before he goes out to prepare the budget and the commission comes back and reviews it," Ericksen said. While conceding that the county is spending about $9.5 million less today than it was four years ago, Ericksen asked: "Should we have been spending the $9 million in advance anyway? Maybe these were services that we really didn't need."
Peterson's reply: "That money was spent prior to my being on the county commission. Once I was on the county commission we started to take a hard look at our expenses." A lot of the previous spending, he said, was geared to the county's rapid growth and the demands for maintaining a certain level of service.
Ericksen was also critical of Peterson's signature issue–economic development. "I would have had better control of the economic development summits that we did. I don't think a lot came out of that other than people talking to each other," Ericksen said, though he noted more recent progress with the addition of an executive to run the county's economic development department.
Peterson said the criticism is misplaced. "We have established a committee of eight individuals from the county that have vast experience in economic development, and they clearly can give a credible analysis to these companies that would like to relocate in the county," Peterson said. "In addition, we've hired an individual with a strong record in economic development," he said, referring to Helga van Eckert, the department's new chief, "so I think a lot of things came out of that summit, and that the summit accomplished what it was intended to do, which was to establish an entirely new economic development organization."
Ericksen's campaign against Netts at times lacked definition, and in joint appearances at candidate forums, Netts easily outplayed Ericksen on several issues, marshaling facts and anecdotes to convey the sense of a sure hand at the city's helm. But Netts can command an audience as no other local politician can. Peterson is not as sure-footed, and his backing from local Republicans is unsteady.
"It's difficult any time to unseat an incumbent," Ericksen said. Looking back at his race against Netts, he said: "I need to be more specific in what my plans would be. I need to critique why I believe the incumbent or what I could do better on issues that the incumbent has handled. I need to get out and meet more people on the street, and talk to more people."