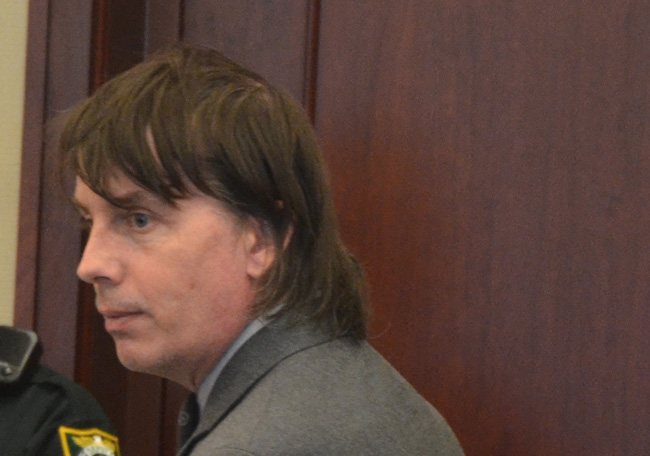 Erick Niemi, the 43-year-old man who killed Leonard Lynn, his 72-year-old landlord by savagely beating and strangling him in May 2013, because he felt he was being mistreated, was found guilty of second-degree murder at the end of a four-day trial in Flagler County Circuit Court Thursday .
A jury of 10 women and two men deliberated for three hours before handing down the verdict.
The murder took place at 26 Ryken Lane in Palm Coast. Niemi then stole Lynn's van, but kept going back to the house even as Lynn's body was decomposing in one of the house's bedrooms. The murder was uncovered only three days later when family members, worried about not hearing from Lynn, went to the house and led police to the grisly discovery.
Sentencing is scheduled for Dec. 8, with a pre-sentencing investigation requested by his attorney, John Valerino, which could mitigate the length of the sentence. But Niemi faces a minimum of 22 years in prison, and a maximum of life in prison. Valerino had offered a plea agreement to the prosecution before trial: Niemi would have pleaded to the second degree murder he was found guilty of. But the prosecution rejected the offer. He was charged with first-degree murder.
At trial, Valerino, who never disputed Niemi's role in the killing, sought to convince the jury that Niemi never intended to murder Lynn. Niemi, when he took the stand, projected the same contrite story. Valerino said he should not be convicted of more than manslaughter.
---
A brutal killing driven by anger rather than premeditation.
---
"Lynn came at him and swung at him," Valenrino said in his closing argument, describing the fatal fight between the two men. "And what does Mr. Niemi say? He said I snapped. That's not premeditation." Afterward, Niemi told police he hadn't meant to do it, and that he initially went to his room and cried. Several times Valerino portrayed Niemi as unintelligent, seeking to equate his lack of intelligence with his lack of malice.
Assistant State Attorney Jacquelyn Roys directed the jury away from sympathy for Niemi, repeatedly casting doubt on Niemi's intelligence having anything to do with his inability to willfully murder a man.
"I'm not saying he's a scholar or anything," Roys said, "but let's talk about what Mr. Niemi can do when it's convenient to him," including sit on the stand and answer every question, get a job, repair cars, steal a car, get a birth certificate and display other indications of a functional, independent adult. "So he's not a good speller but he can fix cars. He can do what he wants when he wants," Roys said, also dismissing Valerino's attempt to elicit sympathy from the handwritten apology letter Niemi had written. "Isn't his statement that he's sorry or his apology letter pretty self-serving?" Roys asked.
But it was also clear from Roys's closing argument that, just as Valerino had a weak case for manslaughter, the state had a weak case for premeditated, first-degree murder. Both attorneys' arguments strained at the extremes. For a manslaughter conviction the jury would have had to accept that the killing was more incidental than willed. But there was nothing incidental about Niemi's actions. Nor had he killed Lynn with any kind of thought-out malice, even if the murder itself was brutal.
The jury split the difference and went for second-degree murder.
For most of both attorneys' closing arguments, Niemi, in a gray suit, sat with his head down, his hands in his lap, immobile.
Family members after the trial said they were "OK" with the verdict, but disappointed about the time it will take before sentencing. "More wait than you would want," one family member said. The sentencing will have to wait for the pre-sentencing investigation.
"He was a great man, taught us a lot of things about life and how to treat people," Lynn's son said afterward.
"He helped a lot in this community, he helped a lot of people in his church, he'd go on weekends and help in garage sales, and car washes. He was a very active man in his community and helped a lot of people," Lisa Lynn said. Leonard was a familiar face at Bunnell's First United Methodit Church, where he went on Wednesday evenings for the dinners offered there, and where he introduced Niemi.
Jill Alcanter, Leonard Lynn's daughter,  noted how her father liked to look out for people in need, for "the oppressed." Alcanter termed the tendency "ironic," since that's how his life ended: by helping someone.