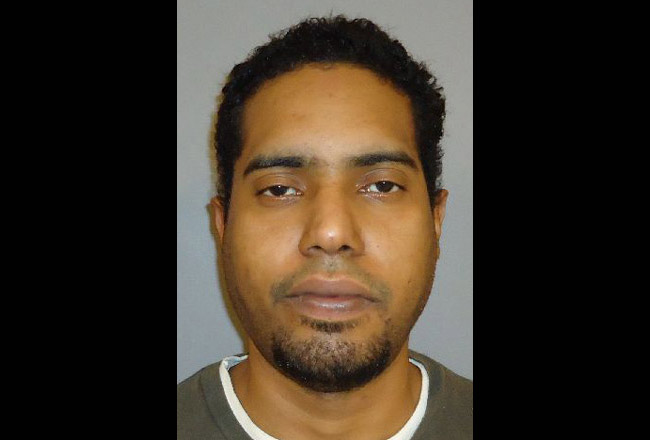 Five weeks after two Flagler County Sheriff's deputies were confronted with a machete-wielding man, whom one deputy shot and killed, two different deputies late Friday night were confronted with a similar situation: a man wielding a knife in close proximity to deputies, whose commands he appeared not to be heeding. Guns were unholstered, so were Tasers, but in the end none of the weapons were fired, deputies were able to take the knife away, and the man was placed under arrest.
But matters did not end there, as the man, according to the arrest report, then appeared to have tied a seat belt around his neck (the report is unclear as to how) and seemed unconscious. He was taken by ambulance to Florida Hospital Flagler, where he was then Baker-Acted.
Both the January fatality and Friday's incident involved black men who were both 32, and both had serious mental health issues. Neither men were likely criminally minded, though one is dead while the other faces serious felony charges. The cases are far from unique to Flagler County. Rather, they are routine, across the country. Three days before Troy Gordon was killed at his Brownstone Lane home on Dec. 15, a study concluded that half the 375 to 500 people shot and killed by police every year have mental health problems. And in most cases, the study found, police officers, through no fault of their own, lacked the training that may have prevented the fatalities.
The issue has been gaining attention at law enforcement conferences and in media, but absent more elaborate (and expensive) policing that accounts for stepped-up training and hiring of mental health specialists, the status quo is not likely to change: when it comes to the mentally ill, there is no middle ground that makes allowances for an individual's behavior, particularly when it is threatening to himself or to others and either potentially or in fact violent.
Friday's incident involved Erik Flores, a resident of Lindsay Drive in Palm Coast with no prior arrests. (He is listed as black on his arrest report, white in the jail log.) At 10:30 p.m. Friday, deputies responded to the Lindsay Drive address with word that Flores was wanting to harm himself. They were met by Flores's fiancée at the doorstep, who told the cops that he "was not feeling well," according to the report. She agreed to let the cops in.
Flores walked out of the kitchen and approached the deputies through the living room "while holding a medium sized kitchen knife," deputy Ryan Emery wrote in his report. "The kitchen knife was similar to a common steak knife with an approximate seven inch long blade. Flores was holding the knife in his left hand at waste level and holding it vertically with the tip of the blade pointing straight up."
Emery was with deputy Christopher Wray. Both ordered Flores to drop the knife, but he kept walking in their direction. The deputies unholstered their firearms and again ordered Flores to drop the knife, but "he looked at me with a blank stare and did not acknowledge our request," the deputy wrote. Emery then took out his Taser, but Flores continued to act as if he was not hearing the commands, and took several more slow steps in the deputies' direction—to within eight feet of them as they stood at the front door, according to the report.
Shortly afterward, Flores dropped the knife by his feet, enabling one of the deputies to shove the knife away with his foot and secure it, then pull Flores down to cuff him. Flores resisted, according to the report, pulling his hands away from the deputies until they managed to stop him. Flores, who told the deputies that he knew he would be Baker Acted (the involuntary incarceration of individuals in a psychiatric ward for observation), told them that he'd only gotten the knife to cut his shoelaces and his belt off, because he wouldn't be allowed to keep either in a psychiatric ward. The report notes that his shoes were already untied and loose at his feet, and that he at no point wore a belt during the encounter with the deputies.
Emery read him his rights. Flores said he didn't understand them and didn't wish to speak to cops, nor to be treated by paramedics at the scene. He was then placed in a cruiser to be taken to the county jail.
"I conducted a well-being check on Flores approximately two blocks from the scene," Emery writes, "and observed him leaning back in the seat with his head tilted rearward. I then observed what appeared to be a seat belt wrapped tightly around Flores' neck. I immediately contacted Flagler County Sheriff's Office Communication Division and requested emergency medical personnel to respond to my area. I then attempted to remove the seat belt from Flores' neck in which I had to cut the seat belt to get it unwrapped from his neck. It may be noted that Flores was handcuffed behind his back and sitting in the rear passenger side seat at the time of this incident. When I made contact with Flores he gave a gasp of air and acted as if he were unconscious. After I removed Flores from the back seat he acted limp as if he were lifeless but was breathing and had a steady pulse. Flores responded to me with his eyes still closed and appeared to not be in any additional stress at the time but continued to act as if he were unconscious as he talked to me."
An ambulance took Flores to the hospital, where he was issued a notice to appear for resisting an officer without violence, and subsequently charged with two counts of aggravated assault with a deadly weapon against a law enforcement officer, a felony. A doctor at the hospital then Baker-Acted Flores.
The December study on shootings and the mentally ill was published by the Portland Press-Herald in Maine. "But while the Justice Department counts every assault, robbery and drunk-driving arrest — as well as every police officer shot on duty — it gathers no numbers on mentally ill people shot by police," the paper reported. "Without concrete data to quantify the problem, target solutions and assess results, mental-health and law-enforcement experts agree that the issue cannot be addressed effectively. The newspaper also found that, without a mandate from Congress to attack the problem nationally, there's widespread reluctance to scrutinize police shootings of the mentally ill and little impetus to question the effectiveness of Justice Department grant programs that address the issue in very limited ways.
"At the same time, there's broad agreement that an inadequate public mental health care system, further eroded by $4.53 billion in state-level budget cuts since 2009, has put police on the front lines of a crisis in our society that few officers are adequately trained to handle. As a result, police officials across the country report spending more time and money responding to calls for service that involve mentally ill or emotionally disturbed people, but little data has been gathered to quantify the strain on public resources."
The full report is available here and here.