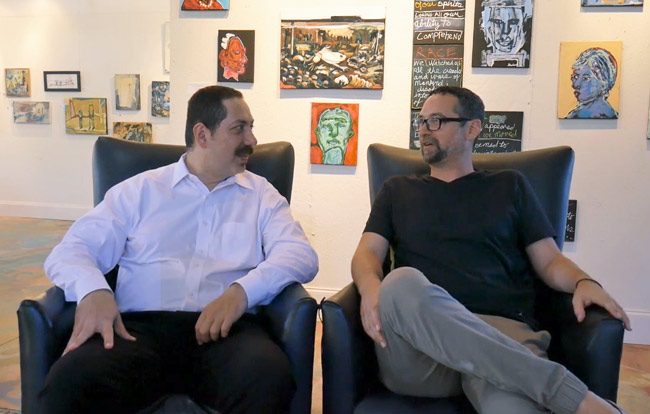 The last Entrepreneur Night, before the event takes a summer break, is on Tuesday, June 28 from 5:30 to 7 p.m., and is is being hosted by Salvo Art Project in Bunnell. The event is free. RSVP here.


By Ky Ekinci
Salvo Art is certainly a unique venue to host an event like Entrepreneur Night because it is an exemplary entrepreneurship story in Flagler County.
My journey in Palm Coast and Flagler County, as a co-founder of Office Divvy, has a lot of similarities to Salvo Art's co-founder, JJ Graham's journey.
We both started building our respective "communities" in early 2008.
When I and my co-founders launched Office Divvy our goal was to create a community and destination for entrepreneurs. JJ's goal, with his co-founder Petra Iston, was to build a community and destination for artists. We launched our businesses in what is an otherwise under-served and under-privileged area for both entrepreneurs and artists. We both hung in there against all odds, during some of the economically most difficult years for our region.
Concepts such as "grassroots, anti-establishment, contrarian" are part of the culture of our communities. And both communities are an example of passion-meets-perseverance: one was built around startups and entrepreneurship, the other around artists and avant-garde art.
In my opinion, entrepreneurs and artists have tremendous similarities: They both have the vision and itch to create. Further, a new entrepreneur and a new artist are both "fools." This is because the rate of failure is much greater than the rate of success for both (that is, if you measure success with revenues or profit). About half of new businesses fail within the first five years. And most artists are known to stay in the "starving artist" category. It takes failure (and often multiple failures) to breed success, both in business and in art.
Operating in a silo, in isolation, is one of worst things an entrepreneur or an artist can do. The community we've built at Office Divvy and the community JJ has built in Salvo Art offer a real cure to the problem of isolation, by enabling individuals to be surrounded by a community and what resources are needed, including peer-to-peer resources. The ability to bounce ideas off one another and collaboration are priceless benefits for an entrepreneur or an artist alike.
The Entrepreneur Night event will celebrate its fifth anniversary this Fall. So far, the event has been staged in more than 25 venues in seven cities and towns (Palm Coast, Flagler Beach, Bunnell, the Hammock, St. Augustine, Ormond Beach and Daytona Beach) in three counties (Flagler, Volusia, St. Johns), and has drawn some 7,000 participants.
But I am particularly excited about this upcoming Entrepreneur Night at Salvo Art, for all the reasons I've listed above.
Entrepreneur Night is a grassroots event for and by entrepreneurs. The event is open to aspiring entrepreneurs and seasoned ones alike, along with those who support and service entrepreneurs.
JJ and I have recorded a special invitation to this upcoming Entrepreneur Night below.

Ky Ekinci is the co-founder, with Lisa Ekinci and Sim Taing, of Office Divvy in Palm Coast. Entrepreneur Night is scheduled for Tuesday, June 28 from 5:30 to 7 p.m., and is is being hosted by Salvo Art Project in Bunnell. The event is free. RSVP here.