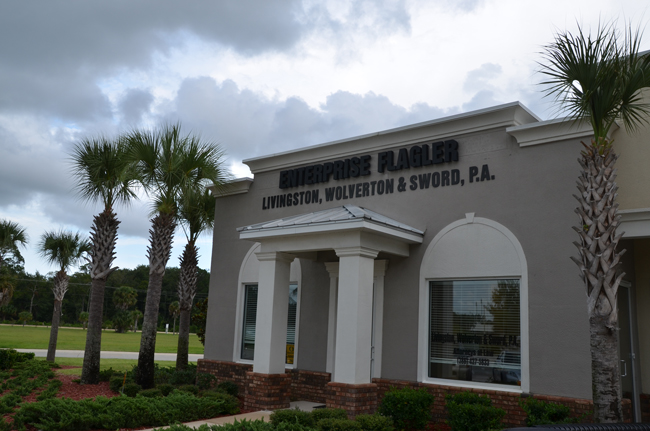 The Enterprise Flagler board voted unanimously to disband the economic development agency by Sept. 30 today.
The unanimity was not a sign of enthusiasm from many of the Enterprise Flagler board members, but resignation to unalterable developments: the Flagler County Commission and the Palm Coast City Council, who together accounted for more than 80 percent of Enterprise Flagler's $240,000 budget, have decided no longer to fund the private-public agency.
"It was no surprise," Jane Mealy, the Flagler Beach commissioner on the Enterprise Flagler board said. "We knew that there was no funding from the county and no funding from Palm Coast. How were they going to survive?"
Bunnell and Flagler Beach contributed only a few thousand dollars. Private-sector members cannot afford to carry the full weight of the 11-year-old agency. It had no choice but to disband, even though Enterprise Flagler President David Ottati had floated a reorganization plan that would have streamlined the agency's board, made its operations more transparent and beefed up its effectiveness–if Palm Coast and the county were willing to fund it.
They weren't.
The county is floating a plan of its own for an economic development agency that has uncanny similarities to the Ottai plan. It appears that, with Palm Coast coyly sitting on the sidelines, the county is looking to own the concept of economic development rather than be an equal part of a larger, county-wide effort. Palm Coast is interpreting the county's effort as that larger, county-wide effort, though, in effect, the city has transferred the liability of economic development to the county: if there is any failure to speak of in the future, regarding economic development, the county alone will be to blame.
That said, Palm Coast is not–not has it ever been–immune from playing the economic development game.
Enterprise Flagler currently is working with some 10 to 12 prospects, three of them needing attention in the next 30 to 60 days, Enterprise Flagler Executive Director Greg Rawls said. During the meeting today, Palm Coast City Manager Jim Landon had only one contribution to the discussion: he asked for a list of those prospects.
The request did not elicit thrills from people around the table.
Another telling point of the meeting took place when Art Barr, a developer with a long history with Enterprise Flagler (he was its president for two years and filled ion at length when the agency lacked an executive director) asked the representatives of the county's four governments around the table what plan they had to pick up where Enterprise Flagler is leaving off.
The answers were not reassuring, though Rawls clarified late today that "after September 30 [it] is my understanding that all leads will be turned over to the county" (and that the agency would pursue them until then.)
Bunnell and Flagler Beach are willing (and hoping) to sign on to whatever comes next, though both had also been willing to stick with Enterprise Flagler, had it continued.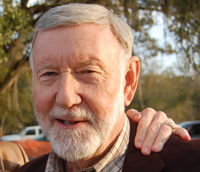 "And then Jon Netts pipes up," Barr said of the Palm Coast mayor, "and says they don't have any plans either other than they do not accept the concept of pay to play. He went back to his position that there should be one entity and that appropriate entity should be Flagler County, because they represent all citizens."
The county was represented by Sally Sherman, the deputy administrator. She told the group that the county was looking at two plans–Enterprise Flagler's (now dead) and a concept put forth by County Administrator Craig Coffey, which would create an Economic Development Council made up of public and private representatives, but would be led by the county and would require government participants to "pay to play" according to their population base. Palm Coast has already rejected that condition, though Flagler Beach and Bunnell have embraced it. It's not clear where the county commissioners themselves stand: a split commission voted, 3-2, to stop paying for Enterprise Flagler, but the same majority was not in agreement with the Coffey plan.
In essence, Palm Coast and the county are clearer about what they don't want than about what they do want, which opens the way to another period of uncertainty–and possibly inaction.
"Not to have a plan is just totally irresponsible," Barr said, putting little stock in Palm Coast's "Prosperity 2021″ rhetoric–a vague, small-bore plan that looks more like an umbrella for existing city initiatives, and a catchy name, than original ideas to create new jobs. It has few dollars behind it, and fewer people who could define what it stands for. "I don't know what funds they have to do anything," Barr said.
He's not hopeful about the county's plan, either. "They can't agree with each other. If Flagler County comes up with something, I can't imagine Palm Coast jumping on board, being a team player," Barr said. "I can't imagine that."
Alan Peterson, chairmanan of the county commission, said the county-based Economic Development Council would make it a priority to appoint members from the private sector who have experience in economic development. To Ottati, the Enterprise Flagler president and CEO of Florida Hospital Flagler–the one private-sector company that has created more jobs in Flagler County than any other in the last three years–Peterson's suggestion was offensive to Enterprise Flagler. That board is (was) made up of several representative of the private sector whose focus has been job creation.
But Enterprise Flagler was battling an image problem, too. Ottati has been its president only for a few months. For all his effectiveness and the near-universal respect he commands, the history of the agency–and the public perception of the agency as largely ineffective and secretive–has been a millstone around its neck. Ottati's credentials are indisputable, and his plan for Enterprise Flagler looked poised to take the agency into a new, more effective, more transparent direction. That may well have been its downfall. The county and Palm Coast had been happy to use Enterprise Flagler as a punching bag as long as it didn't challenge the authority of either government. Ottati's plan mighty have done just that. Now Palm Coast and the county have each gone their separate way, ensuring Enterprise Flagler's demise without having an alternative in place.
Barr compares the situation to a plane in which the pilots–Palm Coast and Flagler County–decide to shut off the engine as they decide what to do next, on their way to driving the plane into the ground. "They did their best to turn off the engine which indeed they did by not funding and drove the sucker into the ground," Barr said, "and they were on board."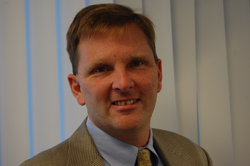 Rawls, the Enterprise Flagler executive director for about two years, will, ironically, be out of work within a few weeks, adding to the county's double-digit unemployment rate. He has four young children. The agency will also be vacating 750 square feet of office space in the building it rents for $1,500 from the Flagler County Chamber of Commerce, a loss the chamber will feel in its bottom line.
Rawls warns: Volusia County went the way of Flagler some 10 years ago, when it disbanded its private-public partnership for economic development, only to delve into fiefdoms that never achieved much–and return to the public-private model last year. In the meantime, Volusia accumulated a "lost decade," Rawls said. He sees little difference between the Ottati plan and the plan Coffey presented.
And he concedes that "there's very few beloved economic development agencies out there." By nature, those agencies' involvement in private deals, private memberships and the use of public money inspires skepticism or dislike. But, Rawls said, it's part of the compromises that have to be made on the way to fostering new jobs. "Sometimes economic development is a necessary evil in a community. People do get heartburn over it."