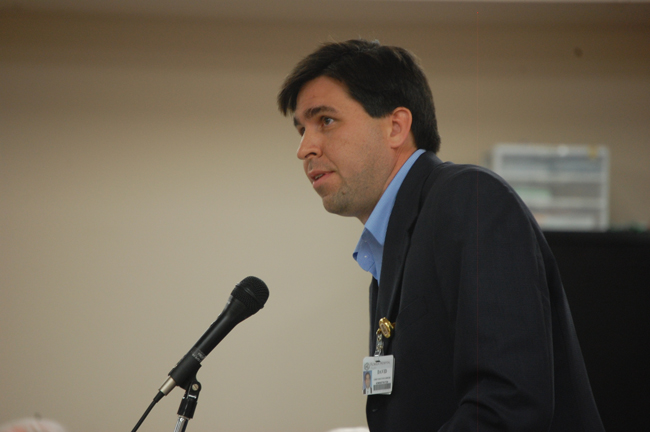 Last Updated: 1:23 p.m.
In a remarkable if ultimately unsurprising turn-around, the Flagler County Commission voted 3-2 late this morning to end its support for Enterprise Flagler, the embattled public-private economic development partnership now almost entirely paid for with public dollars. With Palm Coast also close to bailing on the agency, Enterprise Flagler's fate was essentially sealed.
David Ottati, president of Enterprise Flagler, sat before the commission after making his pitch for giving the agency another try under a new structure and a new funding mechanism. Each commissioner, following an at-times tortuous, 85-minute discussion that at times lacked clarity, took a stand, prompted by Commission Chairman Alan Peterson and Ottati's own request for an up-or-down vote.
Peterson and Nate McLaughlin were unequivocal: it should be the end of the line for Enterprise Flagler. Barbara Revels was unequivocally behind the organization she's been a part of since its inception in 2000. It was never clear where Gorge Hanns stood beyond saying that he liked what Revels had said, which left Milissa Holland with the final say on Enterprise Flagler's fate.
"I think we need to take a new direction and would be interested in no longer pursuing our current path," Holland said.
"New Board, then?" Peterson asked.
"Uhuh," Holland replied.
"And as I said earlier I just think we have no choice but to try a different approach, so I would say a new board," Peterson said.
The decision was made at 11:05 this morning.
Holland's and Peterson's caveats were just as clear: they would not support the Flagler County Chamber of Commerce having a say in the executive staffing of the new economic development council they are favoring. A plan presented by County Administrator Craig Coffey proposes just such a set up, with Chamber President Doug Baxter heading the staff. Rather, Peterson and Holland are looking at a county-led board with a county-based staff, independent of other agencies.
Ottai took the slug in his agency's heart gracefully. "It's helpful, because at least now we have the direction, so we'll regroup within Enterprise Flagler, and we understand the position of this board. Because that's the position most likely I'll confer with our board. I doubt we will go to any cities, and we'll look at what our next following steps. And I do appreciate your time for going through that. Again, this presentation came from 22 people that own businesses within this organization, has created hundreds of thousands–I mean, a lot of jobs, and are highly influential, but I'll take that message back to them and respectfully let them know that that's the decision of this county."
The commission's decision culminates months of uncertainty and debate over the direction of economic development in the county, though it's unlikely to end the uncertainty wholesale as the political and financial nature of the new EDC remains hazy, and its ultimate power hazier still. What's clearer is that the county and Palm Coast will go their separate ways even if Palm Coast retains a voice on the proposed Economic Development Council.
Informed of the county's decision, Palm Coast Mayor Jon Netts was skeptical about that "new direction."
"What's different?" Netts said. "You change the name, you change the funding mechanism a little bit, you've concentrated the decision making in the county a little bit, but why is this new organization going to be any different than the old organization?" That answer is not entirely clear.
"I think the public perception of Enterprise Flagler throughout the county is that Enterprise Flagler has failed," Peterson said. "That's not a reflection on the hard work or the interest or the effort of anybody that's been involved. In other words I think the players have worked hard but the perception is such that it is widespread that Enterprise Flagler has not worked, therefore I'd like to start over. I'd like an entirely new organization."
Revels disagreed, preferring instead to go with Ottati's plan.
"I'm greatly in favor of the restructuring of this proposal. I'm concerned that if we don't bring everyone together in a team effort in the county, with all the cities, then we're going to have individual efforts done by individual communities, and it's going to make individual cities compete against each other, the county compete against the cities," Revels said. "People will come to town and they're going to have to shop from one city government to one county government to another city government, which one is going to sound the most favorable, which one's got the best land use, which one's got the least impact fees. They're going to depend on professionals in the community and not one source of information. Right now Enterprise Flagler pulls all that information together."
Revels disagreed with Peterson that Enterprise Flagler has failed, blaming "a few people" who say that it has, but that mostly, people don't know what the partnership has done. "We've got to keep that team effort going. If we do not get cooperation with the cities and through restructure this board and funding, I believe that we'll end up seeing a very dysfunctional and fractured system, and people aren't going to come here when they have to fdo that, and it's not going to have the fruition that Enterprise Flagler has."
McLaughlin said at one point that he had heard Netts twice in public say that he would not fund Enterprise Flagler anymore. "I'm confident that Palm Coast is most likely not going to participate in anything beyond what they're doing right now," McLaughlin said. "I heard Mayor Netts twice in public meetings say, I will not fund Enterprise Flagler. He was directly asked the question. I can't imagine he's going to go to a third public meeting and go back on that. I think we've got to take this bull by the horn,. I think this commission has an opportunity."
Netts this morning categorically denied saying that.
"No I did not. What I have said is that there is one city councilwoman who has unequivocally said she would not fund Enterprise Flagler," Netts said. "For me to say that the city will or will not fund Enterprise Flagler would be extraordinarily premature and inappropriate."
Nevertheless Netts conceded that at this point, he would no longer fund Enterprise Flagler–but that it was his first such definitive statement. "I don't think I've ever said that publicly," Netts said. "So if the county has made the decision that they're not going to fund Enterprise Flagler, then we're certainly not going to fund it in their absence. That's my position. I can't speak for anybody else."
Nor, Netts added, would he be in favor of Palm Coast contributing $75,000 to the county's Economic Development Council. Netts said only one government body serves the entire county, "and that's the county commission, they're responsible to all of us, they're funded by all of us, they're responsible to all of us," so the county should be responsible for an agency. "The county does not have any source of funding independent of Flagler County. We pay 60 percent of the county's ad valorem taxes, so to say that Palm Coast is not contributing is not correct. We are. We're contributing the lion share. As long as you have pay to play issues, you're going to have controversy." He added: "If you're going to take the position that we don't pay extra, then I can't be at the table, then if I can't be at the table don't collect taxes from me for this function."
But that's Peterson's position, which he reiterated Monday: "I come down to the phrase: you have to pay to play."
Coffey's proposal that the chamber should have an executive role in EDC staffing appears to be a non-starter. "I know the chamber board had met and didn't really show an interest in having that type of contractual agreement brought up," Holland said, responding to McLaughlin's support for a literal replication of the Tourist Development Council approach–which is staffed by contract with the chamber. "We have to develop again a county-wide strategy mimicking the different skill sets represented on a board. I think we have to make investment to hire somebody, and if that so in turn develops into an independent EDC or however we're going to coin it, then, you know, I think that will happen over time, but I think we need to start and develop where it's consistent with this collegial body first and foremost."