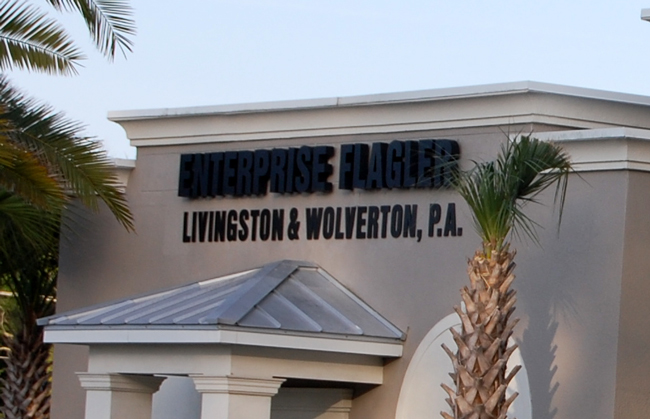 Since 2006, Enterprise Flagler, the public-private economic development partnership, has received more than $1 million in taxpayer dollars, ostensibly to court and recruit new businesses. The Palm Coast City Council and the Flagler County Commission have allocated the money annually. Since 2006, the two governments have been making those payments without a contract with Enterprise Flagler.
The original contract between the county and the economic development agency was drafted in 1996. Several amendments were drafted until 2005. That agreement was not renewed in 2006, though payments have continued—without the accountability measures usually built into a contract. The absence of a contract is the latest in a series of concerns some city and county elected officials have raised about Enterprise Flagler in the past year, underscoring unresolved tensions and expectations between the governments and the economic development agency.
County Commissioner Milissa Holland revealed the absence of a contract during a commission meeting Monday evening. In preparation for a summit on economic development between all local governments on Jan. 31, Holland was looking to examine the contract with Enterprise Flagler, which has been weathering criticism for its checkered effectiveness over the last several years. She placed a public-record request to the clerk of court, the custodian of county contracts, and learned that there was no such document.
"We don't have an internal economic development arm, so this is the only economic development arm in the county," Holland said, "and without any expected outcomes, without any requirements, that's where we run into problems, with the reporting and everything else."
Frank Meeker, a Palm Coast City Council member, found out last week that the city had no contract. The city manager, he said, is researching why. "Clearly we don't believe it's a good idea to be paying money to Enterprise Flagler without a contract as well," Meeker said this morning.
In 2008, Flagler County and Palm Coast each contributed $177,500 to Enterprise Flagler. The following year, each contributed $155,000. In 2010, each contributed $110,000. Each year Bunnell contributed $2,000 and Flagler Beach $1,000. Private companies may also be members of the organization by paying a fee. But the private aspect of Enterprise Flagler has always been minimal, even though private companies' membership has disproportionately affected the direction and policies of the organization. Last year, year Enterprise Flagler had a $300,000 budget. Just $60,000 of that, or 20 percent, was to be contributed by private companies. The organization lists 31 such non-governmental entities on its membership roster, but it refuses to disclose who pays what.
For the current year, Palm Coast and Flagler County dropped their contribution to just under $100,000 each.
"This is $100,000 that the taxpayers pay for this organization, or close to it," Holland said of Flagler's share, "and I just want to make sure that there's been a lot of discussion about what's expected of this entity and I think it's a perfect opportunity for us to now state kind of what we expect out of a partnership with them. I was surprised that the contract had expired five years ago."
County Administrator Craig Coffey was not the administrator five years ago, though he made a point, when he took over the management of the county, to tidy up numerous mismanagement issues he came across. He did not alter the relationship with Enterprise Flagler, which is headed by Greg Rawls, a colleague Coffey brought in from DeSoto County, where both worked; Rawls was deputy director of tourism and economic development. Coffey defended the absence of a contract, "based on the fact that once you open into contract you make all meetings open, subject to open record law," he said. "If there's a way to do it, I'm OK with that. The benefit that EF does bring to the table is the fact that they can keep stuff maybe to a higher degree of confidentiality."
As the county attorney later alluded to, Coffey was fudging the issue: A contract does not preclude confidentiality in some regards. That's written into the contract. Enterprise Flagler from the mid-90s to the middle of the last decade had both a contract with the county and confidentiality when dealing with economic prospects. It just didn't exercise that provision very effectively. But the absence of a contract does raise legal and accountability issues.
"I did actually work on that confidentiality provision and rewrite their agreements," Al Hadeed, the county attorney, said. "Enterprise Flagler was using some agreements that actually  did not match state law when they were dealing with private prospects. I hope they're using them. And I also re-wrote ours. And I've helped some other counties since then because it is a tricky issue. You have to use particular language to match the statue. The general rule is that the mere grant of county funds to an organization to perform a function does not automatically render that organization subject to the open-meetings law. However it will always subject that organization to the public-records law as to how, what documents have been generated that show their expenditure of the public funds. So in other words receipts, things of that sort, you can never shield from the public records law where public money is involved."
Public-private economic development organizations are allowed to skirt Florida's broad open record and open meetings law to some extent, but those parameters are narrow—and often misinterpreted, and mis-applied, by those organizations. Like government agencies—Palm Coast as a government, and Flagler County as a government, both may keep certain dealings with prospective new companies secret for a period of time—Enterprise Flagler may keep its negotiations with prospectors secret, including its own board's discussions about those negotiations. But beyond such specific, prospecting-related issues, it may not extend secrecy to the rest of its operations because they are funded in part (and mostly so, in Enterprise Flagler's case), by public money.
Hadeed said he, too, was unaware of the absence of a contract. "That occurred during a  time that I wasn't serving as county attorney, so I don't know why it wasn't renewed. It was renewed annually every year. Actually I wrote the original agreement in 1996 and I wrote the template for the amendments. But apparently they stopped doing that."
Contract or no contract, Flagler County—like Palm Coast—have been making payments to Enterprise Flagler, and those payments bear the signature of each government's financial administrator: city and county were signing off on hundreds of thousands of dollars every year without a proper agreement either government's elected officials had approved. That's still the case: Flagler County just made a payment.