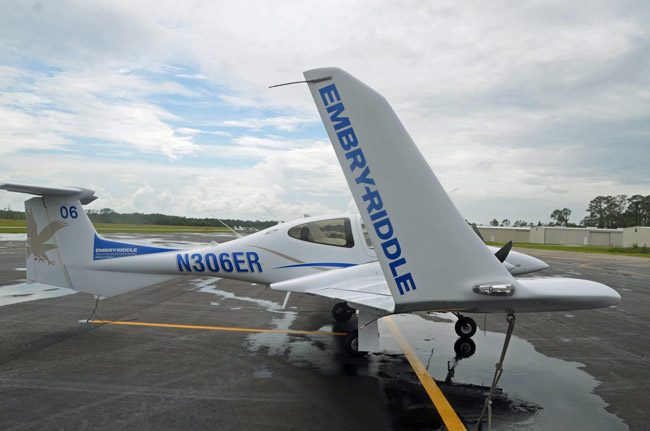 A training plane for Embry-Riddle Aeronautical University flying over Flagler County on May 17 lost a door that crashed below, the second time such an incident has been documented in five years. In 2013, an Embry-Riddle's canopy crashed on a pavement in Palm Coast's C Section.
On April 4, a Piper PA-28R-201 aircraft crashed in Daytona Beach, killing student pilot Zachary Capra and Federal Aviation Administration examiner John S. Azma. The school's fleet of some eight Piper planes has since been grounded, possibly permanently, with another plane found to have had cracks in its wing.
Embry-Riddle is not providing information about the May 17 incident. "We're still investigating what happened in this incident," university spokesman James Rodey said. "We'll let you know when we have more information we can share."
Independent authorities at the university, at the Flagler airport and through Flagler County Fire Rescue and the Sheriff's dispatch notes paint an accurate picture of much of what took place that day in that incident.
A Diamond DA-42, a twin-engine plane manufactured in 2016, was flying over the area of Relay Road at the south end of the county, near Rima Ridge, when the door flew off. It is the third of fourth such incident with a door on that sort of plane that two officials at the Flagler County airport could think of in recent memory. One of those was the C-Section incident in 2013.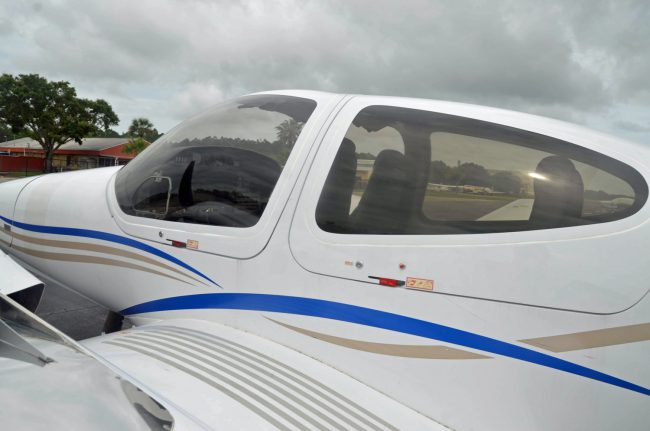 The door, one official said, would typically fly off if it's been poorly latched and the plane is conducting certain maneuvers.
The plane was about 3,000 feet over the areas of Relay Road, about a mile west of Carter Trail and May Lane (latitude and longitude coordinates 29.18'12.7" N 81.13'18.4" W).The incident took place around 9:40 a.m. The plane landed safely at Flagler Executive Airport, and there were no injuries, though it's not known who was flying the plane or how many people were aboard. Two Flagler County Sheriff's units responded, and Flagler County Fire Flight, the emergency helicopter, which was on a flying mission at the time, diverted to search the Relay Road area, doing so for 20 minutes before clearing the zone because it was too heavily forested.
The plane'd door was replaced the next day. The plane (N-number 306ER) has been at the airport since. Such planes typically are inspected after every 50 hours of flight time, and get a more thorough inspection after 100 hours. They seat four, have a top speed of around 220 mph and a range of about 1,000 miles. The school has about 10 Diamonds in its fleet, and some 90 planes overall.
The door has not been recovered.