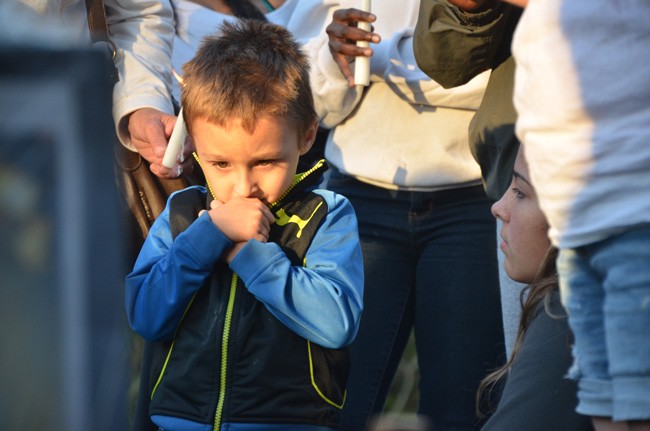 They were barely past their youth when they decided to move to Palm Coast from Massachusetts. They felt Palm Coast would be more affordable, that they could have a better chance to make a go of it. Elisa Marie was 20 at the time, Vinnie was 19. They had a boy together. He was 2. They got jobs. Elisa was working at the Dunkin Donut on Old Kings Road, Vinnie at the Funky Pelican in Flagler Beach. They joined the Church on the Rock. Pastor Bruce Laurent baptized them together last July 4, in the ocean. They had set a date to be married in June. Laurent was preparing them with marriage counsel. Elisa Marie had even had pictures taken of herself in her wedding dress, pictures Vinnie carried in his cell phone.
And then the morning of January 9, a Friday. Vinnie at home in early morning. Elisa Marie coming home from a shift at work. Slowing down to make that turn from Whiteview Parkway onto Ravenwood. Getting rear-ended by 19-year-old Brian Szmitko of Palm Coast, and thrown in the path of a school bus filled with some 50 middle school children. Life was over for her then and there.
Elisa Marie Homen's life all but ended then. Born Nov. 5, 1992, she was barely 22. She lost all brain functions in the wreck. She died four days later. A Florida Highway Patrol trooper went to the couple's home the morning of the wreck to inform Vinnie Vento, her fiancée, who'll be 21 later this month.
On Tuesday evening, Vento and his son, Vincent Vento Jr., who'll be 4 on Feb. 1, were among the 50 people or so who'd gathered at roadside, at the site of the crash, for a memorial and the creation iof a permanent marker ion Elisa Marie's memory. The memorial was organized by Shannon Guttierez, a close friend of Homen's. Guttierez's 13-year-old son, Tyler Irigoyen, happens to have been on the bus that crashed into Homen's car. And Tyler happens to have been the student who took the lead on the bus, ushered students to safety, checked on the bus driver Maria Rosa Martinez, 65 (who suffered a leg injury), and even tried to go to Elisa Marie's aid, not knowing—having no reason to know—that his mother's friend had been at the wheel of the crushed car.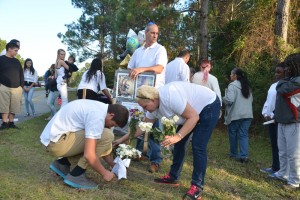 Those gathered at roadside included Tyler, Guttierez, Pastors Bruce and Marlene Laurent, Tammy Delsordo, the manager at Dunkin Donuts, Tito and Laura Montigo, their 14-year-old son Andrew, who was on the school bus that morning, and their 11-year-old daughter Anjolie, David Hayes, a 61-year-old biker who felt pulled to the memorial as he biked, and Skot Wilson, a Palm Coast resident who'd known Elisa Marie from the numerous times he'd get coffee at her store.
You know the sad thing is," Wilson said, "there's no answer. This stuff happens. I was coming home from church one Sunday, right in front of Pine Grove, some guy got creamed on the bike, making a turn. And I've seen death. It's never pretty. A lot of times there really are no answers. You know, the one thing you have to remember is that you move forward, and our immortality lies in the hearts of the people we touch, and our families. So you just got to focus on the positive things in life. You can't change the bad when it happens. And nothing is going to erase the pain. Only thing you do is pick up and move on and carry on, and love helps you carry on."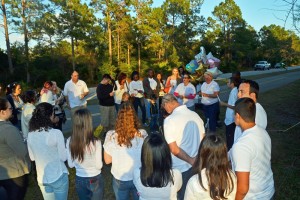 He added, after pausing: "She was always fun when I went in there for coffee," prompting Guttierez to say that Elisa Marie would want her life celebrated. The group was standing in a close-knit circle in the setting sun, many of those gathered holding white candles, among them Vincent Jr. and his father. Vinnie offered a brief eulogy, reading it from his smart phone and describing himself as Elisa Marie's husband, and showing her picture in her wedding dress. "She was my everything, and she'd done everything she could for me," he said.
As people spoke, evening rush hour traffic on Whiteview moved briskly, at times to briskly for the speed limit or the slow-downs compelled by the roadside gathering as drivers looked on, or slowed to make the very turn that Elisa Marie had hoped to make.
"We've just got to be aware," Hayes, the biker who logs about 100 miles a week on his bike, said. "You'd be surprised what I see from my bicycle, the people driving, the way they drive."
For Tito and Laura Montijo, it was important to be at the memorial for Elisa Marie, but also to be thankful that their son, who was in the front seat of the bus and was thrown at impact, but not hurt, escaped injuries. "We're just here to support the family. We can't even imagine the pain they're going through right now," Laura said. "My son having been in the front seat and not having gone through that window, we just thank God he's here."
Their son Andrew, like many of the students on the bus, had ear buds on so he didn't hear the crash, but he saw the oncoming car and the broken windshield. "I'm just glad that I'm alive," he said, crediting Tyler for then taking charge of the situation.
---
Audio: Tyler Irigoyen Describes His Actions on the School Bus[media id=387 width=300 height=200]
Tyler was sitting by a side exit door at about the midsection of the bus. That day he'd taken the seat because it was free, but he'd participated in drills in case of emergencies.
"Once we hit the car, everyone didn't know what to do, they were just too worried and like, what happened, and they wanted to call the cops immediately, their moms and dads. So no one knew what to do. So I reacted, and so first thing I did was went to go see if the bus driver was OK, because that was my first concern. And then I told someone to open the door but they were screaming and stuff and they didn't know what to do, so I went to go open it myself. I went off, got everyone off, made sure they were put to safety. I Went back on the bus, because the bus driver was still on." Maria Martinez, the driver, was aware, but hurt.
"I told her, let's get off the bus, I'll help you off," but she was worried about aggravating her hurt leg, and waited for the police to get there. Tyler checked to see if any students had left their backpacks on the bus, then went to check on Elisa Marie. "I was the only student who saw her," he said. He wanted to bust a window to help her, but when he saw her he also realized he couldn't do anything for her. "She was shaking, her head was tilted that way and she was seizuring," he said, so he waited for police to get there.
The 20-minute memorial broke up as darkness fell on Whiteview. Several candles flickered around the roadside memorial. "This is the closure, basically," Guttierez said.