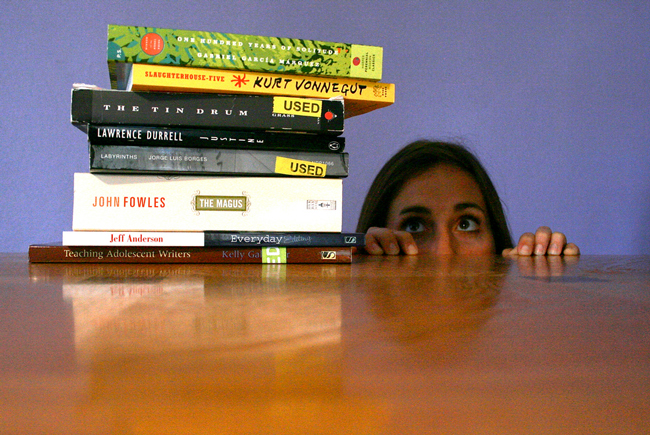 Ready or not, Florida school districts may be required to spend half of their textbook budgets on digital materials in just two years. But school districts are reluctant to embrace a mandate they say is too costly and doesn't take into account students without Internet access.
Tucked into education funding bills in the state House and Senate are proposals that push school districts to convert from traditional, bulky hardback textbooks to electronic books, available on a computer or handheld device such as Amazon's Kindle or Apple's iPad. These proposals came after state education officials unveiled an ambitious plan in February to require all students in grades K-12 to use only electronic materials in the classroom by 2015.
The 46-page House version (HB 5101) requires school districts to spend 50 percent of their K-12 instructional materials budget on electronic textbooks by the 2013-14 school year. It also deletes many references to "textbooks" in state law, replacing it with the more broad "instructional materials."
On the Senate side, a less-stringent proposal (SB 7128) authorizes a school district to designate pilot schools to transition into using electronic textbooks. Those schools would be required to spend 50 percent of their instructional materials budget on electronic textbooks.
But school districts are pushing back, saying the House version doesn't give districts enough time to make the transition. The Senate version is favored by many districts because it isn't a mandate.
"We want to go to electronic. Everybody has a different vision of what that would look like and some districts are ahead of others," said Joy Frank, a lobbyist for the Florida Association of District School Superintendents. "We all want to get there. The question is how soon because of the cost."
Proponents of electronic textbooks say the cost will be similar to hardback textbooks because the expense of textbook development comes from the research and writing, not the publication. But there would certainly be an up-front investment required by some school districts in hardware, software and bandwidth capacity.
"It's more than a laptop or Kindle or an iPad," said school district lobbyist Vernon Pickup-Crawford. "It's also having the infrastructure in place, which is the networking wiring so that if you have lots of kids online at the same time your network doesn't come crashing down."
That actually happened at Clearwater High in Pinellas County. The school was the first in the nation to offer all of its high school students a Kindle e-book reader to replace most of the school's hardback textbooks. When students logged in the first day it overwhelmed AT&T cell phone towers and shut down local Internet access.
That first-day glitch aside, John Just, the assistant superintendent for Management Information Systems for the Pinellas County School District, said the project has been embraced by students. It cost $450,000 to purchase the Kindles, he said, and the textbook materials cost slightly less than traditional textbooks.
But Just said even Pinellas would struggle to implement a district-wide electronic textbook policy in two years.
Earlier in the legislative session, Sen. Stephen Wise, R-Jacksonville, floated a proposal (SB 1696) to require all school districts and all grades to shift to electronic textbooks by the 2014-2015 school year, in line with the agenda of the Department of Education. But last week he changed the bill so that it no longer deals much with electronic textbooks.
"We don't have enough computers in the school districts right now and it takes lots of money," Wise said. "We wanted to have the ability to make a policy that fits everybody and we couldn't do it."
Wise said the state should let the school districts move at their own pace for now.
"School districts are being aggressive, if you will, in terms of addressing digital concepts," said Sen. Bill Montford, D-Tallahassee. "We are realistic in that we have to have money to do it. It's very difficult to make that kind of a major shift. That's a major shift and a difficult shift even if you had the money. That gives me some pause."
Some critics of the budget proposals say they don't take into account equal access to textbook materials.
"Our children need to be proficient in computer and technology to be successful in the world we live in," said Rep. Marty Kiar, D-Davie, who voted against the House budget bill mandating spending on electronic textbooks. "With that said, my greatest concern is low-income children whose families don't have computer or Internet access."
Lawmakers concerned about equal access should consider the Clearwater High experiment, Just said. All students at the school were given Internet access through the Kindle, whether their parents were Internet subscribers or not.
"It's been a great equalizer," Just said.
Meanwhile, school districts are lobbying lawmakers to mend the budget bills to allow for a phased-in approach.
Both the House and Senate are expected to pass their budget bills containing the electronic textbook requirements this week. Any differences will be settled in negotiations between the two chambers in the coming weeks.
"What we have been espousing is a blended approach," Pickup-Crawford said. "Nobody has any doubt that 10 years from now things will be much more digital than they are now. But you can't just flip a switch."
–Lilly Rockwell, News Service of Florida