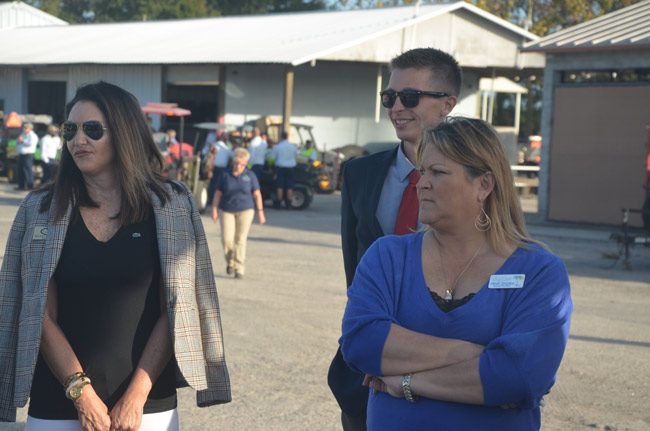 The Palm Coast City Council this morning voted unanimously to table–or indefinitely delay–delay a decision on a potential electric tax that, as a similar proposal did six years ago, provoked an immediate and broad public backlash.
One of the proposed taxes, a public service electric tax, would have imposed up to a 10 percent levy on all customers' electric bills, generating several million dollars the city says are needed to build a new public works facility on U.S. 1, and to double the annual amount of money spent on repaving and maintaining the city's streets. A second possibility, an electric franchise fee, would have imposed the equivalent of a 6 percent tax on bills, though that possibility was never in serious contention for approval.
The public works facility could cost up to $21.5 million, according to a consultant's analysis. Roads would consume upwards of $3 million a year. The council says it does not currently have the means to afford either. In July, the council asked its administration to prepare funding options. The administration submitted the plan last week, but it was a surprisingly narrow plan, proposing only those two electric-tax options. The administration's presentation at last week's workshop never mentioned the small rebellion a different council faced when it considered a similar plan in 2012, leaving council members vulnerable to a similar public reaction this time around.
The backlash was intensified by the fact that the turnaround between the council's first discussion of the two electric taxes and the proposals' appearance on an agenda, for a decision, was all of one week.
This morning, council member Heidi Shipley, in what will likely be her last, significant motion as a member of the council–she is stepping down after the Nov. 8 election–motioned to table the proposal for a public service electric tax.
"We need to do more research," Shipley said. "It's a lot to put on someone that's here for a short time," she said, referring to fellow-council member Vincent Lyon, who was appointed to the seat in August, and is also stepping down after the election. She called for more public meetings and comparisons with other governments before making "such a big decision in such a short amount of time."
Lyon seconded the motion after stressing that it wasn't for lack of time or comprehension of the proposals. "We need more time for public input,"
he said.
Mayor Milissa Holland called for a roll-call. It was unanimous. She called Shipley's motion "a wise request" in a brief interview between two segments of today's meeting.
That left the separate proposal for a franchise fee still on the table, though the matter was rendered moot but for the presentation and discussions that followed, both from council members and numerous residents who'd turned up to oppose either plan. It was a foregone conclusion that the franchise fee proposal would be tabled as well (the council had made clear even last week that it wasn't charged up for the fee anyway).
But by going ahead with the formality of a presentation, it gave the public a chance to voice its concerns and underscore the numerous flaws in the city's current approach–to the point that Alan Peterson, a former city council and county commission member, and a banker, called the city's approach "fiscally illiterate." He said it was irresponsible to front-load the cost of such a project as the public works facility on current residents, rather than stretch the costs in such a way as to make future residents share the cost. Others were critical of the council for not waiting until the election to let two new council members be part of the decision. Still others proposed different approaches, such as a fire-service tax, a proposal favored by Vincent Liguori, veteran of the 2012 drive to defeat the electric taxes. He was just as buoyed today.
"Hey, where are we going with these taxes?" he said afterward, echoing residents' criticism of the proposals. Several people spoke of their own rising electric and other utility bills. "I'm telling you, it was outstanding."
Holland acknowledged that there were several issues with the proposals but said the discussion was a necessary step toward more clarity on the issue.
"We can't go back and revisit history and undo projects that former councils decided to spend tax-dollars on," Holland said. There'd been criticism over spending for a new community center and city hall, for example, even at a time when the public works facility needed rebuilding. "This was an important discussion for our council to have, knowing the fact that we're a fairly new council, we've been presented with a very serious need in our city, not only having to do with safety issues, but efficiency issues, and one not up to code and ADA requirements and everything like that. But I think everyone can agree the facility needs to be built. It's just how we go about finding the money to do it."
Holland said the council will take today's public comments seriously and will likely consider either a phased approach "or a different revenue source," to make sure road maintenance is also paid for. "That's truly where my position has not changed as far as the need for the facility, perhaps looking at different ways to find the money to do it is a discussion we're going to continue to have." Holland added, "You'll find that this council, we've had debates as a council, we've had public input, we've changed positions on things, I value the dialogue when it comes to meetings like this."
Holland did not dispute that the financing options presented at last week's workshops, and placed on today's agenda, were too limited–a throw-back to the days when then-City Manager Jim Landon would present the council with what looked like predisposed conclusions by means of limited options. "But again you've certainly watched how we progressed as a council and some of the changes we've made recently are very clear that we want to see a different direction," Holland said.
For now, she said the administration will take its time devising a different approach and different funding mechanisms.