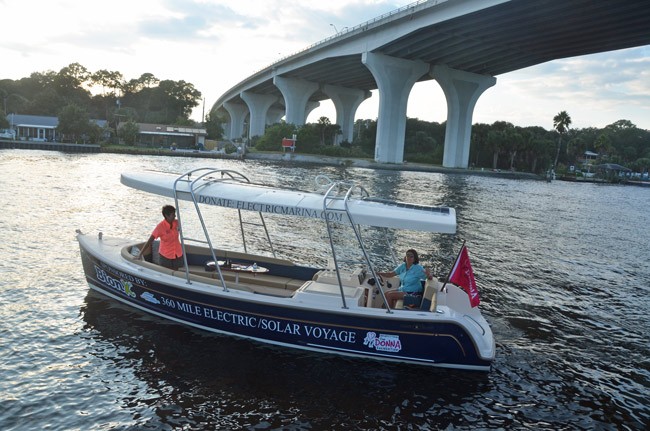 Like all boats, you see it before you hear it. Unlike most boats, this craft could pass you by and you could still mistake it for the faint slapping sound of wavelets against the dock. It's so quiet that its approach to the Flagler Beach bridge late this afternoon was almost drowned out by the swooshing  sound of car traffic on the bridge. At one point the small shark a young boy had just caught on the nearby dock made more of a racket in a bucket than the few wavelets slapping the boat a few feet away, even though its engine was still churning.
The unnamed craft is an electric boat, solar-aided, on its maiden voyage at the hands of skipper Nancy Frainetti and first mate Paula Frainetti, her sister. They're on day seven of a nine-day journey from Miami to Jacksonville, docking in Palm Coast at the Hammock Beach Resort this evening.
On the approach of dusk late this afternoon, Nancy, 55, and Paula, 59, appeared just south of the Flagler Beach bridge, their 24-footer a bobbing speck of black and white on the Intracoastal.
They slowed down for a little while to answer a few questions, circle the boat for a few pictures, and speak about what got them this far.
The journey is  to raise money and awareness for breast cancer on behalf of the Donna Foundation. It's raised over $1,000 in cash so far, not including the in-kind donations along the way, such as Hammock Beach's donated boat slip and hotel room for tonight. "We ran into a couple of people who've been survivors," Paula says, describing events along the way that have included a reception in Fort Lauderdale and creaseless generosity. The Riviera Hotel and Spa in New Smyrna Beach, hearing of their impending arrival at the last minute, donating a room last night. Hammock Beach is donating a two-bedroom suite tonight.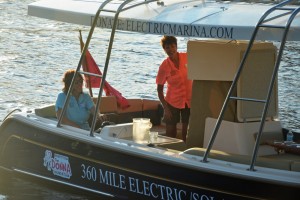 "We've had boats pull up alongside of us, congratulating us and telling us we're doing a great service,"Paula said. She joined her sister from Pittsburgh, where she runs her own wellness business called MetaFit Solutions.
"My sister and I chose to do something no one has ever done by traveling 360 miles on a 24′ electric/solar boat up the Florida Intracoastal Waterway to symbolize the endurance and tenacity it takes to go the distance in beating breast cancer," Nancy wrote on her Facebook page Sunday. "We've endured challenges beyond our control and yet keep steadily on our course at 5 knots per hour." She notes: "What we're doing we chose to do. Breast cancer patients and their families don't get to choose yet need to endure whatever comes."
The boat sports a big pink flag of the Donna Foundation, signed by dozens of well-wishers the sisters have encountered along the way.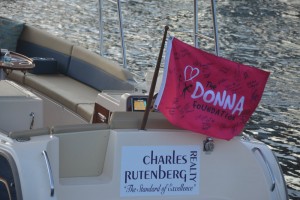 The journey is also in no small part a way to bring awareness to clean boating on a design of Nancy's own: she owns The Electric Marina, a boat dealership in St. Petersburg, and is a distributor for Island Packet Yachts, which manufactured the boat she's piloting today–its first electric boat in 36 years of manufacturing.
"We've got to get the word out that there's an alternative–no fuel," Nancy says as she shows off the easy maneuverability of the boat. (To further their environmental point, the sisters pick up what debris and refuse they see cluttering the Intracoastal.  "A non-emission boat should do its part, without putting anything into the air or water," Nancy says. "Let's also help out the waterways.")
Nancy is actually a horticulturalist by training. In 1998 she launched her first electric boat company in California, Duffy Electric Boat, selling and renting boats and picking up ideas from  customers about how to improve her designs. In 2007 she got an investor and was on her way to building her own boat, but right in time for the Great Recession. That put a stop to her plans until 2014, when Island Packet owner Bob Johnson gave her prototypes another look, applied a few design changes of his own, and told her: "let's build them."
The boats aren't just for lakes, Frainetti says.  "This is a boat that can cruise. It's seaworthy. We have wake, people come flying by us, we can show how the boat cuts through the wake." (Short videos on Nancy's Facebook page prove the point.) It steers with a so-called pod drive, a quiet motor that looks like a tiny submarine, with  propeller for a tail. The boat is small but it has its own bathroom, sink, refrigerator and freshwater shower.
There's been a few mishaps. "I had a bad episode today," Nancy says, "I got into Ponce Inlet, I couldn't find the marker, I have a chart-plotter, I have avionics, and I hit the shoal. A lot of water came in, we got really scared, but I pulled out of it. We continued on our way."
Both sisters speak of such incidents as minor issues in an endurance challenge, and even more minor issues when compared to the sort of endurance challenges people struggling with breast cancer go through. Their goal is to reach Jacksonville in two days–it's almost within sight–and turn over a few thousand dollars to the Donna Foundation. "We're going to be able to give them easily $5, 000," Donna says.
After that brief pause and many thumbs up at the foot of the Flagler Beach bridge, Nancy and Paula Frainetti  resumed their cruise north, with surprising zip, soon becoming a spec again in the vastness of the Intracoastal.

You can follow the journey mile by mile here, follow the Facebook page here, and donate here.