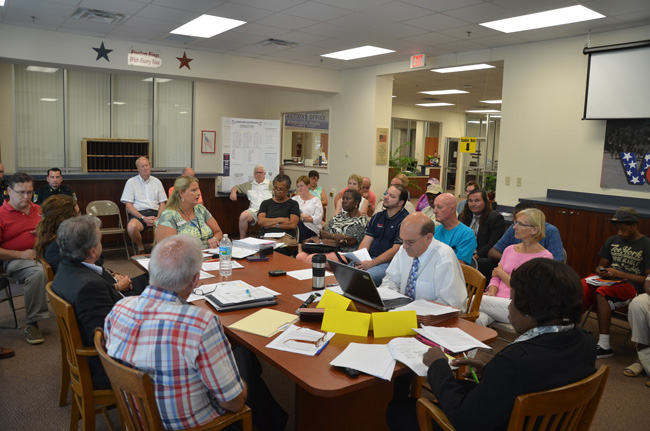 Kimberle Weeks knows how to play to an audience.
The supervisor of elections had one at Friday's much-anticipated Flagler County Canvassing Board meeting, of which she is a member. Twenty three people turned up–not including two cops, two attorneys, the four members of the board and five reporters–for what would normally not get an audience of more than one or two, if that.
Weeks spent more time addressing the audience than conferring with her fellow-board members: Board Chairwoman Milissa Moore-Stens, George Hanns and Charlie Ericksen sat, stone-faced, through speech after speech that Weeks delivered, facing the audience, to repeat accusations of "interference" and lack of "respect" from Palm Coast and that the city was not complying with an agreement worked out before the election.
Weeks was "absolutely not" in favor of an eight-part protocol Al Hadeed, the county and canvassing board attorney, worked out at the canvassing board's direction, and that today's meeting was designed to ratify. But for Weeks, it was a no-go. The board formally rejected the protocol. Instead, Weeks and her attorney (not Hadeed) will meet with city officials to figure out how to use the Community Center. "This will free Al to do his county work," Weeks said.
Weeks wants complete authority to run the city's Community Center and its parking lot as she deems necessary at election time, without "interference" from Palm Coast—a degree of intransigence the city has never conceded and is not likely to concede in the future.
At one point Hadeed challenged Weeks that, following her logic and interpretation of her alleged authority to use the Community Center as she deems fit, all the activities the council schedules there during elections or early voting "are illegal."
"Could be," Weeks said, stunningly.
Hadeed at that point raised his voice somewhat, telling her that "in her heart of hearts" she could not possibly believe that, and that some form of collegial agreement should be the goal. Weeks then delivered another speech about her "obligation" to the voters to "do my job," and "it's my reputation here, not the city's reputation, when the people feel they have been disenfranchised, or they have not been provided the opportunity of voting."
There are no records of voters feeling disenfranchised or not being given the opportunity to vote.
Moore-Stens, a county judge, intervened, herself addressing Weeks forcefully, and by that point showing signs of frustration. "I'm sorry if anybody takes offense to that, but I would like to see you and the city work together. I don't see why it has to be so adversarial," Moore-Stens said. The judge went as far as saying that if no agreement is possible between the two sides, the Community Center could be eliminated as an early voting site, since there is no requirement that there should be three such sites—or that it should be at the Community Center. "if this is going to cause this much problem, we need to reevaluate whether that site is an appropriate site moving forward," Moore-Stens said.
The judge also assertively stated what members of board seldom feel compelled to say: that with so much disagreement, she was ready to have her say with Hanns—that is, forming the necessary majority to put a matter to rest—and move on. That was more than an hour and a half into the meeting, and it was all on what Moore-Stens termed as "splitting hairs" over parking signage.
We don't need to rehash all of it," Moore-Stens said, noting that the whole point of assigning Hadeed to mediate the issue was to reach an agreement that takes the concerns of every side into account, but also to resolve the mater.
Today's meeting was to be the end result of that resolution. That was not the result, as even when the judge appeared to be pointing the discussion in a more conciliatory direction, Weeks would counter with new charges, as when she accused Hadeed of removing language from the protocol about whether events should be scheduled at the Community Center on Election Day.
Numerous times members of the audience spoke up, in one case to describe how one volunteer was treated at the Community Center. "I have never worked in such a hostile environment as the community center, it is absolutely ridiculous how we were treated" there, she said.
Even before getting to the point of the protocol, it took 30 minutes to get the first item approved: not the approval of the minutes to previous meetings, but how minutes were to be kept in the future. It was a 2-1 vote, with Weeks dissenting.
Minutes are rarely an issue for local governments and have never been an issue at the canvassing board, at least not in the past quarter century, by Hanns's reckoning. But Weeks maintains an unusual set of minutes. She has been recording meetings and, while not quite transcribing the proceedings verbatim (though the minutes include quotes), at least translating them through her perspective. Other canvassing board members were surprised that the meetings were being taped. They had no objections to the taping: it's a public proceeding. But they were not aware that Weeks was taping them with her iPhone as a means of drafting minutes that reflect on other board members. They became aware only when one of the canvassing board members asked her how she was able to recall such detail when compiling minutes that have stretched to a dozen single-spaced pages for a single meeting.
Canvassing board meetings are not that thrilling. But under Weeks's tenure, the elections process has turned into a step-by-step wrangle that's ensnared numerous government agencies the elections office has contact with during an election, and some with which it doesn't, including the State Attorney's office. Weeks called that office in late August, intimating that Sheriff Jim Manfre should be arrested for negligence on what turned out to be a specious claim: the sheriff's office would not write a report on elections office items Palm Coast government had legally removed from one of its parking lot, because Weeks had improperly placed them there, and was soon to return them to the elections office.
The conflict between the supervisor and the city has been at the center of the controversies taking up the time of canvassing board meetings and the city. As with previous controversies involving Weeks, the city was surprised that there was a controversy to start with, as it centered on a non-existent problem: parking issues. The city provided the Palm Coast Community Center for early voting for the first time in the last primary, and provided it, as it always has, for Election Day. Never before had there been parking issues there (or anywhere) on election days. Nor were there such issues during the primary. The problem was not that voters were lacking parking, but that Weeks was interpreting an agreement differently than how Palm Coast was executing it.
Weeks had issues with the city not allowing her to delineate the parking lot for voter-only parking spaces, exclusively as she wanted that lot delineated. That's what escalated into violations of existing signage (and signage laws), the city's removal of what it deemed either illegal or improper signage, and Weeks claiming that the city had no authority to do so. She accused the city of "theft" when signs ere removed. Weeks rested on an agreement between her and the city that gave her access to the Community Center, an agreement Weeks has interpreted as a blank check to use center and parking lot as she wishes. The city, of course, disagrees.
Weeks had another surprise for the board, particularly for Hadeed: seated at the head of the meeting table just before the meeting was Roberta Walton, with her name and a title on a yellow, thin cardboard name plate in front of her: "Canvassing Board Attorney."
Hadeed thought he was the canvassing board attorney. But Weeks had brought Walton in, in a transparent attempt to undermine Hadeed. Walton, an Orlando attorney, ran for an Orange County Commission seat and came in last in a four-way race in last August's primary. The Canvassing Board did not discuss her presence on the board, or its legitimacy, though Walton, who has not attended any of the board's previous meetings, interjected questions and ideas several times along the way.
Walton represents an additional cost to taxpayers, out of the supervisor's budget, whereas Hadeed was providing legal services to the Canvassing Board as part of his duties as county attorney.
It was two hours into the meeting that Hanns realized Walton was Weeks's attorney.
"It's kind of a hostile environment we haven't experienced before," Hanns said. "We're trying to maintain some balance here and have a decision made with the best educated minds," he continued, speaking in defense of Hadeed and describing his long service-and history—with the county. A member of the public, heavily stocked with Weeks partisans, then accused Hanns of being offensive to Weeks. Hanns was incensed. It wouldn't be the only time that a few members of the public would rudely berate Hanns or hector the canvassing board proceedings generally.
"We need to calm down and stick to our agenda or we're going to end this really quickly," Moore-Stens said. Moments later, she added, referring again to the conflicting definitions and interpretations of the mater presumably at hand, "We can take this to such an extreme and make this all so difficult, which we are right on the verge of that." She did not want the board's function to include figuring out the logistics of voting sites.
The board ended its agenda at 5 p.m. and adjourned moments later.