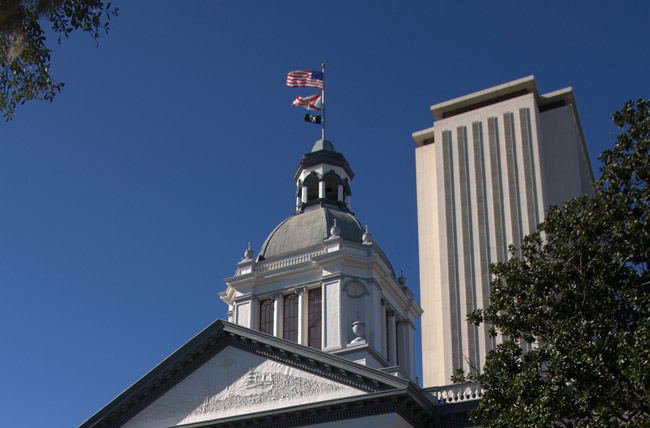 With last week's elections quickly slipping out of the rearview mirror, the new political reality began to take hold in Tallahassee this week.
House Republicans tapped a new speaker for the 2014-16 term after the defeat of their first choice for the position. The incoming speaker for the next two years laid out some of his priorities for the session that begins in March. And both sides began to fill out the leadership teams for the policy and political battles of the next few months.
Meanwhile, Republicans and Democrats began to weigh the fallout from the messy conclusion of the fall campaign, when voters were forced to stand in line for hours on end in some precincts to cast their ballots. But agreement on what caused the problem, much less how to fix it, was already proving difficult to find.
THE NEW NEW SPEAKER
It was a bit anticlimactic after the GOP rallied around him over the weekend, but Republicans officially announced Monday that Rep. Steve Crisafulli of Merritt Island would take over the House after incoming Speaker Will Weatherford's term is up in late 2014.
Originally scheduled to hold that position was Rep. Chris Dorworth, R-Lake Mary, who stunningly lost his bid for re-election. Even as recounts in Dorworth's close race were underway, Dorworth had conceded late last week that he was likely to lose and gave his blessing to Crisafulli.
"I understand the weight of the responsibility that has been placed on my shoulders, and I know with the support of the House, we will set forth a bold agenda that honors Floridians over the next four years," Crisafulli said.
His first task, of course, will be to win his own re-election — he filed this week — and to work to hold and strengthen the GOP majority that currently dominates the House. Crisafulli was one of the top overall legislative fundraisers last year, which likely played a key factor in his selection; Crisafulli has generally had a low-key term in the Legislature since being elected in 2008.
At the same time, House and Senate leaders of both parties were starting to get their teams together for the next several months. Weatherford, R-Wesley Chapel, tapped Rep. Steve Precourt, R-Orlando, to serve as House majority leader and Rep. Dana Young, R-Tampa, to be the Republican Party's whip in the chamber and serve as Precourt's deputy.
Meanwhile, incoming Minority Leader Perry Thurston, D-Plantation, nominated Rep. Mia Jones of Jacksonville as the Democratic leader pro tempore; Rep. Jim Waldman of Coconut Creek as the party's floor leader; Rep. Mark Pafford of West Palm Beach as policy chairman; Rep. Darryl Rouson of St. Petersburg as policy advisor and Rep. Alan Williams of Tallahassee as whip. Many of those figures have their eyes set on succeeding Thurston when the time comes.
Across the way, incoming Senate President Don Gaetz, R-Niceville, named Sen. Garrett Richter, R-Naples, as his choice for president pro tempore.
WEATHERFORD LAYS OUT HIS PRIORITIES
As he was settling in as speaker for the next two years, Weatherford met with reporters early in the week to set his priorities for the upcoming session. And with state revenues looking relatively stable for the first time in years, Weatherford instead looked ahead to some of the policy battles for next session.
What could be the most bruising fight of Weatherford's first session is his willingness to tackle pensions. Republicans already targeted changes to state employees' retirement benefits two years ago, which left Gov. Rick Scott dissatisfied with the results and state unions slightly more dissatisfied — leaving the latter to file a lawsuit that has moved to the Supreme Court.
Weatherford said he wanted to put new employees on a 401(k)-type retirement plan, instead of the guaranteed monthly payments retirees now get from the state. That effort was one of Scott's major pension proposals that failed to gain approval in the 2011 session.
"It (pension costs) is a ticking time bomb in every state and in every city across the country, and it's time for us to get real and do what the private sector has done," Weatherford said.
But unions and Democrats, who fiercely fought the 2011 law requiring workers to contribute 3 percent of their salaries toward the state retirement plan, would likely oppose the plan again.
Rep. Dwayne Taylor, D-Daytona Beach, said Weatherford's plan would actually jeopardize the financial footing of the state plan by diverting employees' payments into the 401(k)-style plan while the pension plan would still owe benefits to retirees and workers entitled to the more traditional benefits.
Weatherford also promised to cut back on the practice of putting major policy changes into budget conforming bills, a move that blew up the end of the 2011 session, and said he would look to shut down third-party campaign funds run by lawmakers while increasing how much state candidates can accept from each contributor.
"We all know people are spending a lot of money on campaigns," Weatherford said. "Unfortunately, none of it's going through the actual campaign."
SLOP THE VOTE
Even if the election was out of sight by the end of the week, it wasn't out of mind. Civic groups, lawmakers and Gov. Rick Scott were in a race to try and prove that they were paying attention to the Election Day debacle — with some of the public officials no doubt realizing that the voters waiting in line were considering whether to keep the incumbents in office.
Weatherford said the Legislature should be willing to look at an elections law approved in 2011 that cut back on the number of early voting days, and said that the entire system should be reviewed.
"Obviously, the laws that are currently on the books may not have served the state well, may not have served the process well," he said. "So we have to go back, study it, get the facts, listen to the people of Florida and make a decision."
Meanwhile, Scott ordered Secretary of State Ken Detzner to look for ways to avoid another fiasco for a state that has something of a reputation when it comes to presidential elections. Detzner began meeting with local elections supervisors for advice.
"Florida's election supervisors are experts in their fields and many of them demonstrated tremendous expertise in running their elections," Scott said in a statement. "We want to hear their ideas."
Democrats and could-be Democrats were already jumping on the news. Rouson and Republican-turned-unaffiliated-possibly-turning-Democratic former Gov. Charlie Crist held a news conference calling for more early voting. Crist is seen as a potential Democratic candidate for his old job in 2014.
And Sen. Eleanor Sobel, D-Hollywood, created a task force to look into problems in Broward County.
HEALTH CARE QUESTIONS
State leaders were also still working through whether and how to work with the federal government on implementing the health-care exchanges central to the federal health-care law signed by President Barack Obama in 2010. The task took on new urgency with Obama's re-election last week, which all but guaranteed the changes will take effect.
Weatherford and Gaetz sent a letter to federal officials saying they couldn't meet a Friday deadline for saying whether the state would set up the exchanges, work with the federal government to do it or let Washington handle it.
"Two factors prevent immediate state action on the establishment of an exchange," the letter said. "First, the Legislature has not authorized the governor or any state agency or other entity to develop and operate an exchange, and no such authority can be established until the Legislature convenes in March. Second, the state lacks sufficient information to fully evaluate the potential impact of choosing one exchange model over another.
Scott sounded a slightly different note in his own letter Friday to Health and Human Services Secretary Kathleen Sebelius, asking for a meeting to discuss the state's efforts to put many Medicaid recipients into managed-care organizations and the health exchanges.
"Under the current regulatory requirements and the information we have been provided, however, Florida does not have evidence that a PPACA (another acronym for the federal law) exchange can accomplish these goals," wrote the Republican governor, who made his fortune in the hospital industry.
Earlier in the week, Scott — whose opposition to the federal health law helped serve as a springboard for his political career — drew headlines when he told the Associated Press that he wants to negotiate with the federal government.
"The election is over, and President Obama won," the AP quoted Scott as saying. "I'm responsible for the families of Florida. … If I can get to yes, I want to get to yes."
STORY OF THE WEEK: Gov. Rick Scott and other state leaders wrestled with how to address the state's health-care law. Scott and other Republicans fiercely opposed the law and hoped a potential President Mitt Romney would repeal it, but President Barack Obama won re-election last week.
QUOTE OF THE WEEK: "It's not a good thing when it's Friday, three days after the election, and every state in the country is either red or blue, (but) there is one that is yellow because they haven't counted the votes. That is something we should be embarrassed by."–Incoming Speaker Will Weatherford, R-Wesley Chapel
–Brandon Larrabee, News Service of Florida