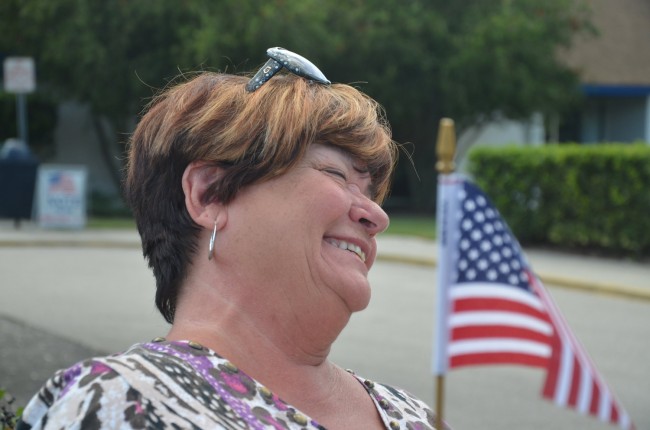 Last Updated: 4:17 p.m.
FlaglerLive is going around the county, gathering impressions, reactions and images from Election Day. This story will be updated periodically along the day's journey.
4:03 p.m.
Mike Tennyson, a poll observer representing the Mitt Romney campaign, said he was illegally thrown out of Precinct 18, at Christ Lutheran Church on Pine Lakes Parkway, today, when a poll worker said the Republican Party could have either a Romney representative or a party representative in the polling area, but not both.
Tennyson says that's a misreading of the law—the very law Supervisor of Elections Kimberle Weeks sent him: each candidate may have his or her own observer in a polling place. The party observer is an additional allowance, not conditional on the presence of other observers.
"I feel like a disenfranchised poll observer," Tennyson said. "The legal team said I'm entitled to be there."
A lawyer from the Romney campaign contacted Weeks's office and, according to Tennyson, worked out the conflict, with Weeks conceding that Tennyson has the right to be in the polling place. As of now. Tennyson remains outside the polling area, where he says he intends to stay until he's allowed back in.
4:17 p.m.  update
Kimberle Weeks went down to the polling station and allowed Tennyson back in herself. But Tennyson was out of the polling station from 10:30 am to 4:15 pm. (Thanks to WNZF's Ron Charles for originally uncovering this item.)
3:45 p.m.
A curious scene at the intersection of Palm Coast Parkway and Old Kings Road. Drivers going south on Old Kings could see Marshall MacLeod, a 33-year-old homeless man who nevertheless says he owns a home in Sarasota, holding up a pre-printed "Fire Obama" sign, and alternating it with a "Nobama/Romney" cardboard sign. He said he was trying to "kill two birds with one stone" by making a little money, panhandling with the "Fire Obama" sign, and opposing the president.
MacLeod says he's an Army veteran, though what he says should be taken with a grain of salt: he also said that, while being a resident of Sarasota, he voted this morning in Palm Coast. His reason for opposing Obama: ObamaCare and the cash for clunkers program. "Who thought up that idea?" MacLeod described himself as a Romney supporter by default: he was really for Ron Paul, but Paul is no longer an option.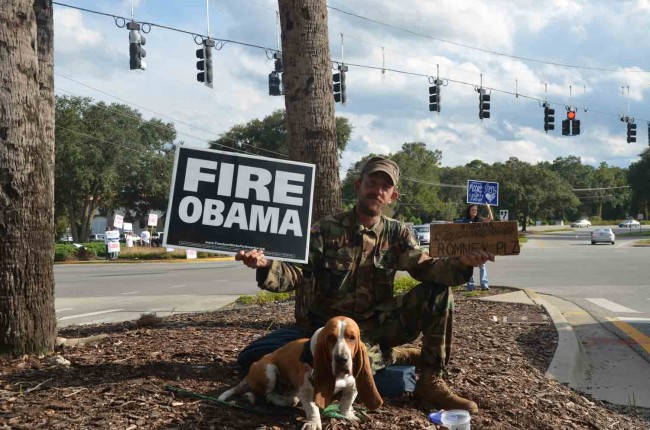 2 p.m.
Voting began at 7 a.m. today in most counties in Florida and in 22 precincts around Flagler County, down from 38 precincts last year. The reduction in precincts didn't create long lines: at mid-day, there were no lines at the public library in the heart of Palm Coast, or at the Veterans of Foreign Wars precinct on Old Kings Road, and only short lines at Buddy Taylor Middle School and Wadsworth Elementary.
It's an indication of early voting's effects: 43 percent of Flagler County's registered voters had cast an absentee or early voting ballot already. That's well above half the expected turnout for the election.
But there were minor problems of a different sort: a lot of voters went to the wrong precinct and gad to be redirected. In one case, a voter thought one precinct was for Republicans, another for Democrats. A minor kerfuffle at Buddy Taylor required the response of cops (nothing came of it). And in the irony of the day (so far), the VFW post on Old Kings Road roped off campaign supporters and voting rights volunteers well beyond the 100-foot limit beyond which, by law, solicitors are not allowed to go.
The VFW told campaign volunteers that they were doing so to prevent traffic snarls within the VFW's parking lot. But campaigners argued that the VFW was violating the law, since on election day the precinct must adhere by voting-law rules, which do allow soliciting up to that 100-foot limit. In other words, the VFW, whose veterans proudly speak of their service as having protected Americans' right to free elections, was today violating a fundamental part of that very right.
When Lorenzo Nacci, the VFW commander, was reached in late afternoon, he said there were two reasons for the restriction: during the primary, candidates and volunteers had acted unsafely, snarling traffic inside the parking lot; and "they left all their garbage behind on the property." Nacci said he had no intention of violating the law, but did intend to keep the property safe.
A similar restriction is in place at Shepherd of the Coast Lutheran Church (Precinct 22).
As always on voting days, candidates were at various polling spots, trying to read where the largest number of people might still turn up. Craig Atack, in a run-off election for county judge with Melissa Moore-Stens, was at the public library on Belle Terre and Palm Coast Parkway, where foot traffic, after the morning rush, was surprisingly light. There was a dearth of candidates there, too, in contrast with the eight days of early voting.
"It's been a great experience," Atack said. "I'm not a politician, it's the first time Ive ever done this. I have a lot of respect for anybody that participates in democracy, especially at the local level, where walking into people's houses has a significant impact on the election."
Moore-Stens was at the VFW.
"It's certainly an exciting day," she said. "I've met so many wonderful people through the campaign process. It's definitely been one of the hardest things I've ever done in my life, but the goal was to achieve my dream, so either I do, or I go back to representing people and doing what I love, which is being a lawyer and helping people in a different way."