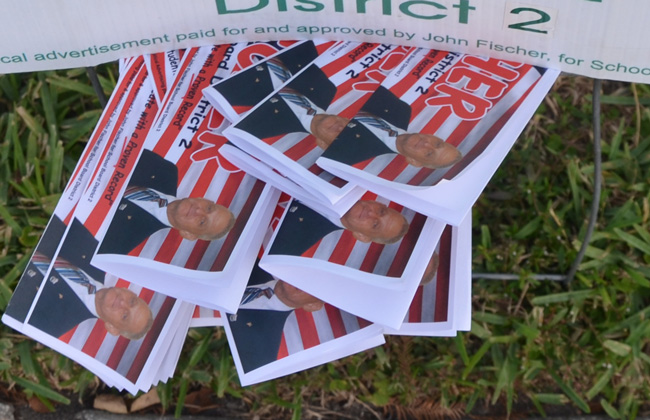 The 2014 campaign had no shortage of drama, gaffes, mistakes and other attention-grabbing moments. It ended Tuesday with confetti for some and losses for others, but here are some of the highlights and lowlights for the always interesting annals of Florida elections.
STRANGEST BEDFELLOWS: When the Florida Democratic Party declined to let former Senate Minority Leader Nan Rich speak at a summer 2013 fundraising dinner, despite Rich at the time being the only serious declared candidate for governor among Democrats, the man who leapt to her defense was — Republican Party of Florida Chairman Lenny Curry. "While Senator Rich and I might not see eye to eye politically, she has a long history of leadership in public service and deserves five minutes of speaking time as the only announced gubernatorial candidate in your party," Curry wrote to Democrats in an open letter as part of his efforts. Rich didn't speak and went on to lose the Democratic primary to former Gov. Charlie Crist.
SHORTEST CAMPAIGN: In August 2013, it looked like Democrats had just rolled out their first high-profile challenger for a Cabinet post. But the post was Chief Financial Officer, so it was less than ideal when it turned out that Allie Braswell had filed for bankruptcy three times, most recently in 2008. He left the race four days after his announcement, and Democrats tried to distance themselves from the implosion. "The bright spotlight of a statewide campaign has cast the ups and downs of my life into harsh relief, and I now know that this campaign is not the way I was meant to serve my community," Braswell said in a news release.
LONGEST EMAIL SERIES: The Republican Party of Florida and Gov. Rick Scott's operation were known during the campaign for churning out press releases full of opposition research on Crist — often several emails a day. One series ran from Oct. 8, 2013, to Oct. 27, 2013, when "Unfit to Govern: Part XVII" landed in reporters' inboxes.
BEST HAMLET IMPERSONATION: U.S. Sen. Bill Nelson never actually ran for the Democratic nomination for governor, but he spent plenty of time talking about whether he would. "I have no intention of running for governor," Nelson said more than once — but always stopped short of saying he would never have any intention of running for governor. And then there were moments like the one in November 2013, when Politico reported Nelson said his plans could change if Crist "gets into trouble." Apparently, to Nelson's eyes, he never did.
WORST GUEST LIST: When Gov. Rick Scott traveled to a Boca Raton seniors center in late April to talk to seniors about their concerns with Medicare cuts supposedly prompted by President Barack Obama's health-care law, he ran into a slight problem. "What he found was a satisfied group with few complaints," the South Florida Sun Sentinel reported. The paper went on to quote Ruthlyn Rubin, then 66: "We're all just sitting here taking it for granted that because we have Medicare we don't want to lose one part of it. That's wrong to me. I think we have to spread it around. This is the United States of America. It's not the United States of senior citizens."
BIGGEST 'TOO CLEVER BY HALF' BLUNDER: Democrats thought they found a solution when it turned out that Ed Jany, their preferred candidate to take on Republican Congressman David Jolly in a Pinellas County district this fall, was too late to change his registration to the Democratic Party. Jany would run as an independent. Which was fine, until Jany decided that his professional obligations would keep him from running for office. (The Tampa Bay Times had just highlighted questions about how Jany portrayed his education on the online site LinkedIn.) By then, qualifying was over, and Jolly ran against a Libertarian and a write-in candidate in what had been considered one of the few possible pick-up opportunities for congressional Democrats this cycle.
WORST FUNDRAISING INVITATION: Republican Congressman Steve Southerland was already taking heat from Democratic challenger Gwen Graham over his record on women's issues when a BuzzFeed reporter obtained a copy of a unique invitation to a fundraiser for Southerland. "Good men sitting around discussing & solving political & social problems over fine food & drink date back to the 12th Century with King Arthur's Round Table. … Tell the Misses not to wait up because the after dinner whiskey and cigars will be smooth & the issues to discuss are many," the invitation read.
SALTIEST PITCH: "We're not just gonna do it — we're gonna f—–g do it," attorney John Morgan said in a video of a get-out-the-vote rally obtained by opponents of his Amendment 2, which would have legalized medical marijuana in the state. Supporters of the initiative didn't do it or f—–g do it, though it's not clear that the failure of the proposal had anything to do with Morgan's proclamation that: "Once I get outside the borders of Polk County … I might smoke a lot of grass."
BIGGEST PAPERWORK MISTAKE: It turns out, the dog eating your homework doesn't work any better on state elections officials than it used to work on your teacher. Rep. Reggie Fullwood, D-Jacksonville, submitted a form to elections officials on June 19 that did not have a notary's required signature. After being told of the error, he submitted a revised form the next day — the final day of qualifying for this year's elections — but a second notary failed to make a required checkmark on part of the form. At the time, Fullwood was unopposed. But now, he has to run in a special election because of the snafu and faces opposition in a Dec. 16 primary from Jacksonville City Council member Johnny Gaffney. If Fullwood beats Gaffney, he'll face Republican Lawrence Jefferson in a special election slated for Feb. 17.
MOST UNEXPECTED PRESS CONFERENCE: George Sheldon, the Democratic candidate for attorney general, got some curious reactions when he called a press conference in October to discuss pelvic-mesh implants. In the mold of the multi-state tobacco litigation in the 1990s, Sheldon threatened legal action over the implants, which are alleged to have deteriorated and caused pain for patients. He also asked the Food and Drug Administration to give the implants a "high-risk" classification.
WORST REASON TO DELAY A DEBATE: The second debate between Scott and Crist was delayed by a kerfuffle between the two camps over whether Crist could have a fan on stage. The battle caused a stir in the media, but soon blew over.
LEAST SIGNIFICANT WIN: Sen. John Thrasher, R-St. Augustine, ran virtually his entire campaign for re-election while also seeking the presidency of his alma mater, Florida State University. He was officially approved for the position by the Board of Governors on Thursday, two days after his victory in the election.
TWEET OF THE WEEK: "@TheRickWilson suggests Crist might next run for dog catcher in Paraguay: 'I'll have to move to Paraguay and do this all over again' "—Matt Dixon (@mdixon55), statehouse bureau chief for EW Scripps, upon talking to GOP operative Rick Wilson after the election.
–Brandon Larrabee, News Service of Florida