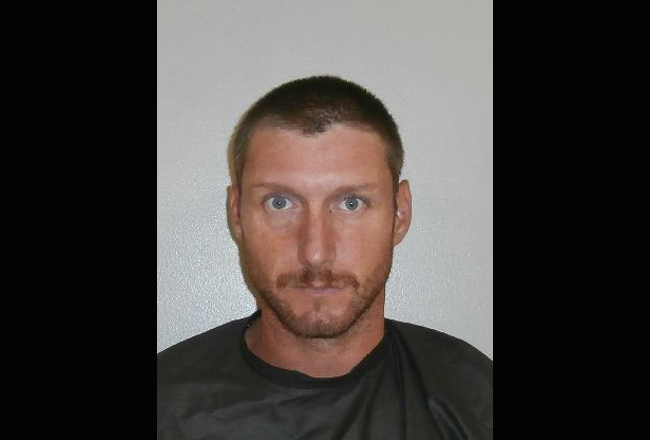 Less than three weeks ago–on June 29–32-year-old Edmon Welch was one of three suspects tied to a home invasion in Bunnell that left an elderly man wounded after he was robbed.
Welch, who has a long arrest record in Flagler County, was booked at the county jail on charges of home invasion, battery on a person older than 65, petit theft and possession of a controlled substance. He is at the Flagler County jail on $27,000 bond (reduced to $14,000, according to the sheriff's office). After a few days in jail–on July 10–he bonded out.
Welch is back at the jail this afternoon after a morning-long manhunt by ground and air, triggered by reports that Welch had committed an armed robbery the day before in the Mondex, or Daytona North.
His charges this time: Aggravated assault with a deadly weapon, tampering with a witness and resisting arrest without violence, though his arrest report states that he fled when a deputy showed up at a house to arrest him, then, two hours later, "physically resisted the police canine's efforts to apprehend him" and "ignored repeated lawful commands to 'stop resisting' and physically resisted efforts to take him into custody." J=He eventually had to be subdued by two deputies before being taken into custody.
His bond this time: $11,500.
The hourly cost of flying Fire Flight: $681.64. Though the county is reimbursed when Fire Flight is used to transport patients to hospitals, it is not reimbursed when called in to assist law enforcement.
The racially-tinged incidents that led to Welch's latest arrest began Wednesday evening around 6 p.m. when deputies received a report of a home invasion at 1605 Laurel Avenue in Daytona North. The resident, Robert Elkins, 52, told deputies that Welch had entered the rear of his home, through an unlocked door, pointed a handgun at him and demanded $200. Ekins told Welch he had no money and a visitor, Johnny McCaskell, 54, gave Welch $10 and two beers to get him to leave the residence.
McCaskell is black. Elkins and Welch are white.
Two hours later, McCaskell, 32, and Elkins's wife, Sandra Elkins, 50, drove up to the Country Store on County Road 305 so Elkins could buy some groceries. There, McCaskell saw his friend Julian "Rooster" Durrance, and struck up a conversation with him outside the store.
A short time later, according to a police report, Welch arrived in a late-model White GMC SUV driven by a white woman the report does not identify. Welch, according to the report, approached McCaskell and Durrance and began a erbal altercation with them. According to the report, Welch demanded $20 from McCaskell, then turned to Durrance "and verbally attacked him by stating, 'you're a nigger-loving motherfucker' and 'I'm going to beat your fucking brains out.'"
You're going to do no such thing, Durrance told Welch, who then aggressively walked toward Durrance, "in a fighting posture," the report states. But no physical altercation took place between the two.
Meanwhile, McCaskell had walked back toward the car, where Elkins was sitting in the passenger seat. Welch approached the car on McCaskell's side and "revealed a black and silver semi-automatic pistol, which was described as being the same weapon used" in the home invasion earlier that day.
After showing the gun, the report states, Welch told McCaskell: "I'm going to kill you, you fucking nigger."
Welch then walked back to the SUV and left in the direction of Mahogany Boulevard. McCaskell told authorities that he feared for his life. Police are linking Welch's alleged threat directly to the statement McCaskell gave police regarding the earlier home invasion–hence the witness tampering charge.
Surveillance footage at the Country Store showed the verbal altercation between all parties and Welch approaching the passenger side of Elkins's vehicle, but police were not able to determine from the footage whether Welch displayed a weapon: the quality of the footage and the distance from the action made that determination difficult, and deputies were not immediately able to obtain a copy of the footage to conduct further analysis. They were to do so.
Both McCaskell and Robert Elkins declined to provide statements to the sheriff's deputies. Police interviewed Durrance at his home. Durrance corroborated McCaskell's statements and the video footage and was cooperative. But he, too, declined to either provide a written statement or to file charges against Welch–or be further involved in the investigation.
Around 8:30 Thursday morning, deputies went to Welch's parents' home on Elder Street in an attempt to locate him and arrest him for aggravated assault on McCaskell, according to a sheriff's release. When a deputy ordered Welch to place his hands behind his back to be handcuffed, Welch fled into the woods, and the two-hour chase began. He was located covered in dense underbrush in the woods near the intersection of Willow Street and Lancewood Street. K-9 Marko was credited with apprehending Welch there, along with deputies Welker and Fiveash.
As part of the search, deputies had stopped passing motorists vehicles to determine if Welch was attempting to leave the area.
"Mr. Welch had become a problem in the Daytona North area," Sheriff Jim Manfre was quoted as saying in a release. "I am glad we have serious charges against him. Hopefully, he will be confined for a lengthy of time so the residents there can have some peace."
Should he post bond again, however, authorities may not detain him further until his court dates.