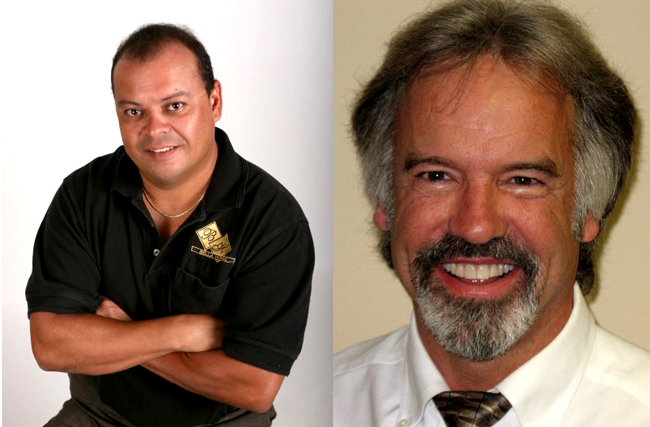 Eddie Herrera, the 42-year-old CEO of Alliance Financial Partners Inc., a member of the Flagler County School Board for eight years and a current member of Enterprise Flagler, was booked into the Flagler County jail earlier today on a battery charge stemming from a fight on Sunday evening with a man he accused of sleeping with his wife, Michelle.
Herrera posted $500 bail on the misdemeanor charge and was released.
Herrera's office is at 1 Florida Park Drive in Palm Coast. Scott Beat's acupuncture practice is at 5 Florida Park Drive. Just before 6 p.m. Sunday evening, Herrera was driving to his office with his daughter. He turned into the parking lot of the two-story building where Beat's office is located. Herrera saw his wife's car in the lot, and Beat's motorcycle at the back of the office, according to a statement Herrera made to the Flagler County Sheriff's office. Herrera went to the back door of the office and started knocking. He didn't get an answer at first. Persisting, Beat answered the door. Herrera said he wanted to speak to his wife, according to the sheriff's report. Beat said she wasn't there.
---
Click On:
Herrera's Jail-Booking Log
---
---
Herrera says it was then that Beat took a swing at him and "grazed" just under his right lip, causing a small scrape.
That's not how Beat told it. Beat told a deputy that as soon as he opened the door, Herrera punched him in the face and "advised him to stop sleeping with his wife," according to the sheriff's report. At that point the two men then started fighting, and were on the ground, until Herrera told Beat (according to Beat's statement) that the fight had to end because his daughter was in the car: Herrera opened the car door to show Beat that she was, in fact, in the car. Herrera told authorities that he then left the scene and was going to contact law enforcement later "because he didn't want his daughter to witness anything," according to the sheriff's report.
When a deputy arrived at the scene, according to the deputy's report, "Scott's eye was black and blue and swollen. He had a laceration to his upper lip that was bleeding while on scene. He had multiple scrapes to his back and side. He was complaining of rib pain and jaw pain. Medical units arrived and he refused attention at the scene. He went to the hospital for medical attention."
A deputy called Herrera at 7:30 p.m. and went to Herrera's home on Lambert Avenue home in Flagler Beach later that evening, where he was arrested and read his rights just before 8:30 p.m. That 5,000-square-foot property, valued at $884,000 by the property appraiser, is listed for sale at $1.5 million and is in foreclosure. JP Morgan Chase filed suit against the Herreras in January for default over their $884,000 mortgage, taken in 2005.
"It was a disagreement and it turned into an altercation," Herrera said by phone Monday. "It started with words and it turned into an altercation. Unfortunately, he ended up in the hospital." Beat did not respond to several calls to his office.
Herrera, a Flagler Palm Coast High School graduate and a Realtor with long roots in the community, was elected to school board in 1998 when he defeated Richard Marier in the Republican primary (the races were partisan then) and Democrat Howard Elliott in the general election. He served two terms, including two years as chairman of the board. He was not opposed in 2002. He could not run in 2006, having moved out of the district from which he was elected and to the Lambert Avenue address. The late Peter Palmer took his seat.
In Spring, Herrera, David Fowler and Sandra Mullen established the financial consultancy located near Beat's acupuncture practice.