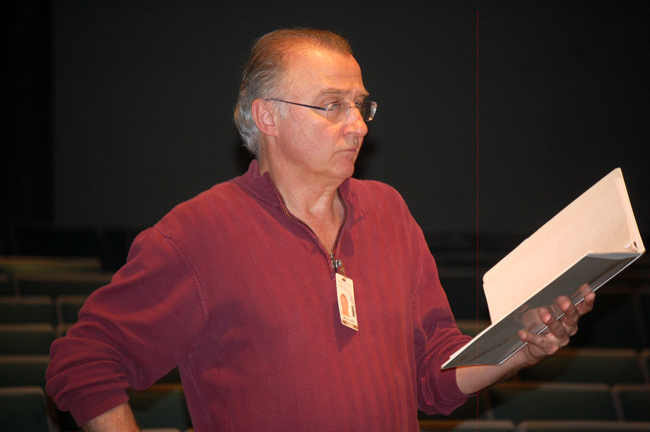 Ed Koczergo, the Flagler Palm Coast High School drama teacher and director of last month's acclaimed student production of To Kill a Mockingbird, resigned before noon today and walked out on close to 150 students in six classes and two scheduled theater productions later this year. Auditions for "The Wizard of Oz," scheduled for this afternoon, were cancelled.
Koczergo, in his third year at FPC and in the Flagler County school district, said he decided to resign when he received a letter from the district informing him that his contract would not be renewed, but that he was welcome to reapply for next year. Close to 200 teachers with less than four years' experience have received similar letters, which are nor unusual, particularly in economically difficult times. Most are likely to be rehired, though the district faces uncertainty as budget constraints may lead to a revamping of class schedules and the elimination of many elective classes. In fact, near the end of Koczergo's first year, a similar situation occurred where numerous teachers were told that their jobs might be in jeopardy. The principal then let small groups know who looked safe and who didn't (Koczergo was deemed safe).
In any case, those factors played only a small role, if any, in Koczergo's decision today.
"I'm not going to let them suck a couple more months out of me and then not hire me back. I'm going out on a high note," he said. Asked about walking out on his students some three months before the end of the school-year, he said: "I feel horrible about that but I can't do it anymore. The fact that they're asking us to continue to work with no assurance that any of these teachers are coming back that are on annual contract is very, very wrong. I feel like I've been fired."
Late Monday evening, in what appeared to be the extension of an olive branch, Jacob Oliva, the principal at Flagler Palm Coast High School–who'd been out sick for a couple of days–wrote in response to an emailed request for an interview about Koczergo: "I am surprised by Mr. Koczergo's resignation. He put his heart and soul into his productions. I understand that he is frustrated with education and is having health issues. I have not spoken to him yet but plan to try and touch base with him tomorrow. I am willing to work on communication issues."
Students, meanwhile, were shaken by the day's events.
"This is just crazy," said Eddie Green, one of Koczergo's star students and the lead in numerous play, including the role of Atticus Finch in Mockingbird, for which he was praised.  Green planned to audition for Oz. "That doesn't sound like him to quit like that," he said. Green had had a class with Koczergo this morning. There'd been no indication of Koczergo quitting. The class discussed theater and went through its usual paces. By lunch-time, news of Koczergo's walk-out was "spreading like wildfire," Green said, though students were referring to it as if Koczergo had been fired.
That, of course is not the case.
"We were rehearsing for our upcoming play, '13 past midnight,'" Green said, "so now I don't know what happens to that show either. You know me, I love acting on stage. Now if he's gone I don't know if I get to do that anymore. Mockingbird was a good show, it was a high note, but I still wanted to continue the year and do the next two show." Not to mention finish out his drama class: "I don't think it's possible for them to bring a new acting teacher so suddenly. I don't know. I'm kind of upset now."
John Sbordone, who built the Flagler Playhouse into a force on the local theater scene since 2006–and who resigned there just last month–said late Monday afternoon he was willing to direct the last two plays at FPC. But Sbordone, who's watched Koczergo's students at work and also directs student plays at Matanzas High School (with one opening Friday) said FPC would have to extend the invitation.
Koczergo, who was making around $62,000 a year (including the $1,500 per show staged after school), had 27 years' experience in the Indiana school system, from where he retired to move to St. Augustine. A different sort of controversy contributed to his transfer from high school to middle school in his last years in Indiana. Affable, Koczergo is not: he is hard-headed and "intense" (in the parlance of students who work with him), though his students are extremely loyal to him and his first four evaluations netted him perfect scores. Not this year: he was told, after the Mockingbird controversy, that he needed to work on his communications skills with the administration. He described last week's letter about his re-employment status as "the last straw."
"Shame on him if he attempts to make it anything related to that," said Colleen Conklin, the school board member who championed Mockingbird and without whose actions the play would not have been reinstated. "This was something that was sent out to over 180 teachers. I enjoyed what he did with our students. I'm disappointed that he's chosen to just walk away from that responsibility." Conklin said she hoped there was more to the story. "It just doesn't make sense to me."
School Superintendent Janet Valentine, who had initially supported the decision to cancel the play then equally supported its reinstatement, was struck by the day's developments. "I hate that somebody is making a decision like that in midstream but I know he can make his own decision and I know it's not a popular letter to get," Valentine said of the non-renewal letters that went to teachers. "But we felt in fairness to all our annual employees that we needed to give them the information that their employment is not guaranteed. We do anticipate hiring the majority of staff back."
Nevertheless Koczergo felt the administration at FPC made him the scapegoat of everything that went wrong with Mockingbird's fate, leading up the cancellation and through the controversy around the play, when, in reality, the judgment calls that led to the cancellation of the play–and the school's and district's ensuing embarrassment over it–were not his. Ripples from the controversy were not limited to the play. Those ripples have led to still-unresolved policy disagreements at the school board over how much authority principals should wield unilaterally when judging a play appropriate for their student body.
Koczergo's main concern as his spoke of his decision was less his students and how they'd cope with the remainder of the year as opposed to his issues with the administration. (Later in the day, he mentioned blood pressure issues.)
"This was going to be the opportunity they needed to get rid of me and I didn't want to sit around half the summer waiting to see if I was going to be interviewed to return," Koczergo said from his phone while driving home to St. Augustine this morning. "And based on my conversation with Lynette Shott, the indication did not seem particularly positive." Shott is one of five assistant principals at FPC. She met with Koczergo on Friday, when the matter of Koczergo's handling of Mockingbird came up again.
The administration criticized Koczergo last November for not getting the script of the play approved before rehearsals began. The administration, in conjunction with the district, canceled the play in reaction to unspecified issues around performers' use of the word nigger on stage. News of the cancellation triggered a public outcry. The school board got involved and the play was eventually reinstated, and staged over four performances to good crowds the last weekend in February. It netted the drama club $6,000, more than any play it had staged before.
"I was also told by Ms. Shott on Friday during my brief meeting of the issue of why I didn't bring the script to Jacob came up again," the director said, referring to Jacob Oliva, the FPC principal, "and of course it was because I didn't have an concerns about the script, and she said it was this 'unawareness' of mine that was a problem. I have no idea what she meant by that. I think she's telling me it was my unawareness that may have cause the controversy but I'm not the one that caused it, and the show of course speaks for itself."
Green, the senior actor, had one message for Koczergo: "Don't quit, don't just walk out on us. We love you we need you, and –I don't know, every single kid that takes his acting class loves him, I'm pretty sure."
Koczergo's students informed his students of his decision in a Facebook letter at 1 p.m. "I love all y'all! I am so sorry if my resignation has caused you any pain. Mockingbird was my triumph and, ultimately, my downfall. It sucked the life out of me. I just can't do it anymore," he wrote, reiterating the issue of the letter. "I just can't do two more shows this year because the stress level is too high and my blood pressure medication can't put a dent in it. If that makes me the Cowardly Lion, so be it."
Several of his students, including Megan Cash, now a student at Wesleyan University, quickly voiced their support: "I'm sorry all the stress pushed you to do this, but I understand," Cash wrote. "You're an amazing teacher, and you really put your all into your work and every show. The shows really attracted large crowds full of excited students anticipating a great piece of art; I had never seen so many students audition before, and it was so beautiful. You really emphasized the importance of speech and articulation, and although those are things that I'm still personally working on, I now see the beauty in them. You had so many stories and so much pizazz, and you will definitely be missed. You're very much appreciated. Thanks for contributing so much."
Shawn-Michael Manniel, the sophomore who played the angry Bob Ewell in Mockingbird, wrote: "Mr.K you are an amazing acting teacher and Ive learned alot from you, But its alright. I just wanted to let you know that Im not mad, and I understand and thank you very much Mr.K for everything, I was hoping to become a major actor at the school, and hopefully I still can become one. But it all depends on what happens."
"When I am on stage getting my ♥ Oscar ♥," Victoria Wiesner wrote, "you will be one of the people I thank."